Class 4A Week 12 Rankings, Notes & Picks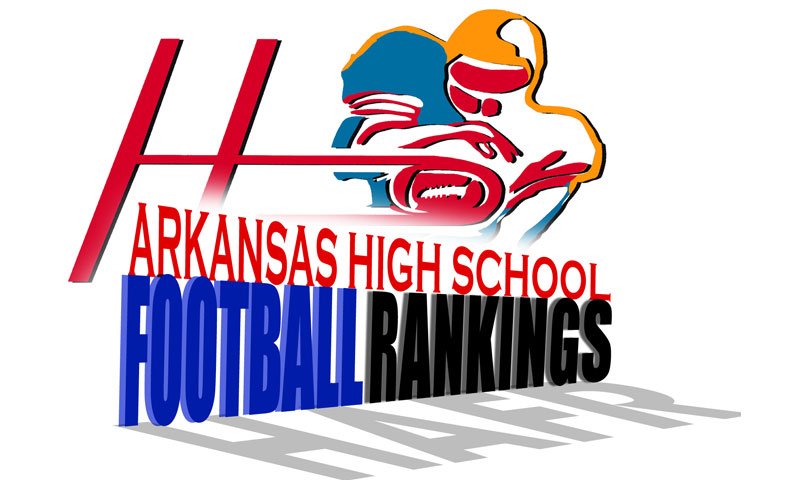 Hootens.com Rankings
Class 4A, Week 12, 2016
Copyright Hooten Publishing, Inc.
1. Nashville (11-0)
Nashville 56, Ftn Lake 29 highlights
2. Warren (11-0)
3. Prairie Grove (10-0)
4. Joe T. Robinson (10-1)
Robinson 56, CAC 21
5. Pea Ridge (10-1)
6. Gosnell (10-1)
7. Shiloh Christian (9-2)
8. Dardanelle (9-2)
9. Hamburg (8-3)
10. Ozark (7-4)
11. Heber Springs (6-4)
12. Stuttgart (8-3)
13. Dumas (8-3)
14. CAC (8-3)
CAC 46, Clinton 32
15. Southside Batesville (8-3)
16. Gravette (7-4)
17. Ashdown (7-4)
18. Pocahontas (8-3)
Nettleton 42, Poky 20
19. Booneville (6-5)
20. Mena (6-5)
21. Arkadelphia (5-6)
22. Trumann (7-4)
Trumann 34, Hoxie 20
23. Monticello (4-7)
24. Dover (7-4)
25. Pottsville (5-6)
26. Crossett (4-7)
27. Malvern (5-5)
28. West Helena (5-6)
29. Highland (5-6)
30. Jonesboro Westside (5-6)
31. Huntsville (4-7)
32. Waldron (5-5)
33. Fountain Lake (2-8)
34. Riverview (4-6)
35. Cave City (4-6)
36. Star City (3-7)
37. Lincoln (3-7)
38. Brookland (3-7)
39. Dollarway (1-8)
40. Lonoke (2-8)
41. Berryville (3-7)
42. Gentry (2-8)
43. Bauxite (0-10)
44. DeWitt (0-10)
45. Baptist Prep (0-10)
46. West Fork (1-9)
47. Subiaco Academy (0-10)
48. Harrisburg (0-10)

HOOTENS.COM GAME OF THE WEEK
No. 5 Pea Ridge at No. 1 Nashville
This is a rematch of last year's semifinal, which Nashville won 42-20 on its way to an undefeated season and state title. The Scrappers have won 26 straight games (haven't lost under second-year coach Mike Volarvich). Junior quarterback Tyler Hanson completed eight of 10 passes for 232 and three touchdowns in the first half of last week's 49-7 win over Dover. Hanson completes 70 percent of his passes this fall (128 of 183) for 2,417 yards and 32 TDs, with four interceptions.
Running behind a veteran offensive line, senior Darius Hopkins has a state-best 39 TDs (37 rushing, two receiving). Senior tackle and Arkansas Razorback commit Kirby Adcock (6-5, 270) spearheads the linemen. Senior Triston Rhodes (6-3, 215) has started every game the past two years at right tackle, while classmate Justin Bean (6-2, 220) started 26 straight games at guard. Senior Austin Bowman (6-4, 245) plays center and junior Antonio Haney (5-8, 200) plays guard. "I'm pleased with them as a unit, they've been solid," Volarvich says.

Junior receivers Domonick Kight (27 receptions, 596 yards and 10 TDs) and Ty Pettway (34 catches, 724 yards and 12 TDs) provide deep threats. Senior outside linebacker Hunter White (107 tackles, 20 tackles for loss and three sacks) "has been our top guy," Volarvich says. Junior cornerback Kailus Hughes (5-5, 130) intercepted a pass to set up a TD last week and returned a punt 48 yards for a TD. Hughes has 71 tackles and two interceptions his fall. "He's one of our five best football players," Volarvich says. "People overlook him because he's so small."

Pea Ridge's only loss this season was 42-21 in Week 7 at Prairie Grove. The Blackhawks beat Shiloh Christian 30-13 in Week 10 and Arkadelphia 30-24 a week ago (Nashville beat Arkadelphia 71-40 in Week 4).. The Blackhawks forced a fumble inside the 20-yard line with five minutes left, then drove for the winning TD. Senior Zaine Holley ran 23 times for 111 yards and scored the winning touchdown last week, while junior Drew Winn ran 10 times for 128 yards and a TD, and caught a 50-yard TD pass. Holley has 194 carries for 1,116 yards and 14 TDs this year, while Winn has 73 carries for 935 yards and 15 TDs. Junior QB Jakota Sainsbury completed 86 of 155 passes (56 percent) for 1,372 yards and 14 TDs.

LAST WEEK
Hootens.com correctly predicted 10 of 14 games (71 percent). For the season, Hootens.com has predicted 265 of 308 games (86 percent).

WEEK 12 PREDICTIONS (favored team in CAPS followed by point spread)
TOP OF THE BRACKET
SHILOH CHRISTIAN (11) at Heber Springs: Heber Springs beat Shiloh Christian 36-17 in the 2011 Hootens.com Kickoff Week. The Panthers shared the 2-4A title this fall, earning the first round bye. Heber Springs junior QB Brandon Loethen has passed for more than 1,900 yards this year. Shiloh Christian clobbered Crossett last week by 36 points. Senior QB Connor Reece has completed 153 of 256 passes (60 percent) for 2,497 yards and 28 TDs, with four interceptions. Senior Brock Berus has 97 carries for 732 yards and 13 TDs, and 22 catches for 503 yards and six TDs.

Dumas at DARDANELLE (6): Dumas dumped Dardanelle 49-21 in the first round in 2008. The Bobcats finished third in the 8-4A this season, thumping Trumann 30-15 in the first round. Dumas rushes for 295 of its 350 yards weekly. Senior fullback D.J. Fuller has 187 carries for 1,273 yards and 25 TDs, while junior Jaquis Fisher has 176 carries for 1,472 yards and 17 TDs. Dardanelle gives up 220 yards and 12.8 ppg. Junior linebacker Tate Vestal has 107 tackles, while sophomore Caynan Taylor has five interceptions. Senior Dakota Rowland leads Dardanelle with 175 carries for 1,169 yards and 18 TDs. Senior tackle Caden Brown made eight tackles last week and graded out at 82 percent on the offensive front. Dardanelle coach Phil Vega compares Dumas' speed to West Helena, which the Sand Lizards beat 45-23 a week ago.

Pea Ridge at NASHVILLE (11): Hootens.com Class 4A Game of the Week.
Gravette at HAMBURG (14): Hamburg throttled Highland and Dumas the past two weeks by a combined 88-18. Senior Laquan Bryant caught a pair of first-half TD passes in last week's 43-point win over Highland. Gravette junior Austin O'Brien ran for three TDs in last week's 37-27 win at Pocahontas. O'Brien ran 183 times for 962 yards and five TDs this year, and caught 40 passes for 532 yards and four TDs. Senior running back Kilby Roberts has 461 yards and six TDs. Junior linebacker Kenton Tajchman paces Gravette with 91 tackles.

BOTTOM OF THE BRACKET
CAC at PRAIRIE GROVE (7): Prairie Grove (2015 state runner-up) earned a first-round bye last week. The unbeaten Tigers repeated as 1-4A champs this fall and outscored conference opponents by an average of 44-15. They shutout two opponents and held five others to two TDs or less. CAC (No. 3 seed from the 2-4A) whipped Mena 42-21 last week, building a 35-7 halftime advantage. The Mustangs rush for just 73 yards weekly, but junior Kamryn Vick gained 162 yards and two TDs against Mena. Vick has 116 carries for 453 yards and 11 TDs this fall. Senior QB Noah Evans has completed 175 of 277 passes (63 percent) for 2,633 yards and 28 TDs, and senior receiver Josh Johnson has 38 catches for 636 yards and eight TDs.

Ozark at GOSNELL (1): This is the first meeting between these programs since the 1998 quarterfinals, which Gosnell won 63-31. The 3-4A champion Pirates won eight straight games since losing to Rivercrest 32-26 in Week 3, beating eventual playoff qualifiers Trumann, Pocahontas and Jonesboro Westside by a total of 25 points. Junior QB Brandon Partee has passed for 824 yards and 14 TDs this season, while senior Ronnie McShan has rushed for 844 yards and 11 scores. Ozark finished third in the 4-4A, but improved drastically during the past month. The Hillbillies have only two victories over teams with a winning record this fall, both in the past two weeks (43-29 over Dover in Week 10 and 23-22 over Ashdown last week). Sophomore QB Dawson Dietz ran 12 times for 102 yards and two TDs against Ashdown, while senior Daniel Richard ran 24 times for 128 yards and one TD. Ozark's offense improved following a 14-0 loss to Booneville in Week 5, when Richard slid from receiver to running back. Richard has 71 carries for 654 yards and 12 TDs this fall. Three of Ozark's seven drives against Ashdown lasted at least 12 plays, and another was a four-play scoring drive.

Stuttgart at WARREN (10): Warren has won eight of the past nine over Stuttgart, including a 21-12 road triumph in Week 2. Warren also beat the Ricebirds 35-0 in the 2006 semifinals and 46-37 in the second round in 2007. Stuttgart beat Warren 27-6 in the 2012 quarterfinals. The Ricebirds tied for the 2-4A title this fall and won six straight games after losing at No. 1 seed Heber Springs in Week 5. The Ricebirds beat Monticello 31-24 in overtime last week. Sophomore Derrick Amos kicked the tying 27-yard field goal on the final play of regulation, then sophomore Tim Johnson caught the winning TD pass in overtime. Undefeated Warren ran roughshod over the 8-4A, with its closest game a 14-point win at Monticello. Senior QB Hayden Lassiter accounted for four first-half TDs in last week's 42-23 win over Jonesboro Westside.

Southside Batesville at JOE T. ROBINSON (21): Southside Batesville earned its first ever playoff win last week at Booneville, 21-13. Senior QB Josh Millikan threw a pair of TD passes, including a 31-yarder to senior Mason Anderson on fourth down with 30 seconds left in the first half. Millikan has completed 70 of 125 passes for 978 yards and 11 TDs this fall, with four interceptions, and rushed for 366 yards and six TDs. Anderson is the workhorse, logging 115 carries for 760 yards and four TDs, and catching 21 passes for 373 yards and four TDs. The Southerners haven't allowed more than 28 points in a game this season. Joe T. Robinson averages 47 points and 395 yards weekly. Senior QB Hunter Eskola completed 11 of 16 passes for 204 yards and four TDs in last week's 44-6 win over Pottsville. Eskola completes 68 percent of his passes this fall for 2,660 yards and 33 TDs, with six interceptions. Talented senior receiver Koilan Jackson has committed to Arkansas. Jackson has 52 catches for 1,066 yards (20.5 yards per catch) and 10 TDs. Jackson, a converted QB, has attempted just four passes this fall, but three went for TDs. He's also rushed for 277 yards and five TDs. Junior inside linebacker Hunter Swoboda has 110 tackles, two sacks, two interceptions and one forced fumble.