Class 3A Week 12 Rankings, Notes & Picks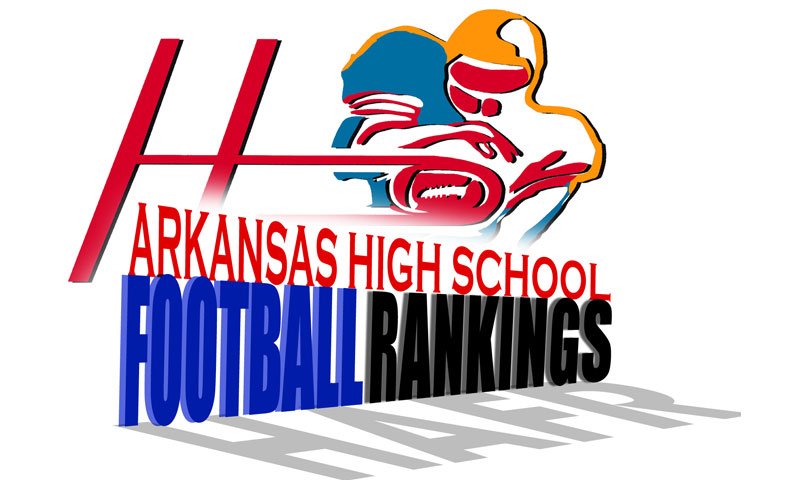 Hootens.com Rankings
Class 3A, Week 12, 2016
Copyright Hooten Publishing, Inc.
1. Charleston (10-0)
Charleston 42, ECS 12 highlights
2. Prescott (11-0)
Prescott 48, Hope 28
3. Glen Rose (10-1)
4. Fordyce (9-1)
5. Centerpoint (8-3)
6. Bald Knob (10-0)
Bald Knob 41, Des Arc 30
7. Junction City (8-3)
Junction 46, Genoa 10
8. Elkins (9-2)
9. Rivercrest (8-3)
10. Newport (10-1)
11. H. Grove Haskell (7-4)
Haskell 21, Ftn Lake 12
12. Atkins (8-2)
13. Piggott (9-2)
14. Clinton (8-3)
CAC 46, Clinton 32
15. Paris (7-4)
16. Mountain View (8-3)
17. Harding Academy (7-3)
18. Smackover (7-3)
19. Walnut Ridge (8-4)
20. Jessieville (6-5)
21. Fouke (6-4)
22. Lake Village (4-7)
23. Melbourne (5-6)
24. McGehee (5-5)
25. Manila (5-6)
26. Cedar Ridge (6-5)
27. Greenland (5-6)
28. Lamar (5-6)
29. Mayflower (6-4)
30. Barton (5-6)
31. Horatio (3-7)
32. Genoa Central (4-6)
33. Perryville (4-7)
34. Gurdon (3-7)
35. Mansfield (2-8)
36. Hoxie (2-8)
37. Osceola (2-8)
38. Cedarville (2-8)
39. Marianna (2-7)
40. Green Forest (2-8)
41. Yellville-Summit (1-8)
42. Episcopal Collegiate (1-9)
43. Marshall (1-9)
44. Corning (0-10)
45. Bismarck (0-10)
46. Two Rivers (0-10)
47. Drew Central (0-10)
48. Rose Bud (0-10)

HOOTENS.COM GAME OF THE WEEK
No. 7 Junction City at No. 9 Rivercrest
Rivercrest, with 33 playoff appearances, won state championships in 1985 and 2010. The Colts lost to Harding Academy 33-18 in last year's state title game. Junction City has made 19 consecutive (out of 20 total) trips to the postseason and improved to 17-0 in first-round games last week with a 38-20 win over Manila, the fifth seed from the 3-3A. 3-3A champion Rivercrest beat Manila 33-13 three weeks ago. Rivercrest guard senior Frederick Ware III (6-3, 350) paces an O line that clears the way for sophomore running back Kentavious Robinson (1,463 yards, 20 TDs) and emerging freshman J.D. Winda (13.2 ypc). Junction City junior linebacker and tackle leader Terrell Gibson and end Austin Gosslar are playing well for the Dragons, who won six state titles in Class 2A starting in 2003. Rivercrest is the only team to beat Class 4A No. 6 Gosnell this season.

LAST WEEK
Hootens.com correctly picked 12 of 14 games (86 percent) last week involving 3A teams. For the season, hootens.com has correctly predicted 226 of 285 winners (79 percent).

WEEK 12 PLAYOFF PREDICTIONS (favored team in CAPS followed by point spread)
TOP OF BRACKET
Smackover at CHARLESTON (21): A rematch of the 2014 state championship game, a thriller won by Charleston 33-26. One year ago, Smackover dispatched Charleston 42-14 in the second round of the playoffs. Smackover, which lost three of four games to end the regular season, trailed (1-3A fourth seed) Melbourne 14-7 at halftime last week and did not pull away until the fourth quarter for a 33-21 win. Charleston has been off two weeks after sweeping the 4-3A, which went 2-2 last week in the first round. Senior QB Jackson Rowland has completed 66 percent of his passes for 2,264 yards and 31 touchdowns with just four interceptions. Junior and leading receiver Sean Michael Flanagan has caught a team-high 40 passes for 735 yards and 12 TDs. Flanagan averages 125 all-purpose yards per game.
CENTERPOINT (2) at Bald Knob: Bald Knob senior Dominic Harp has carried the football a team-high 163 times for 1,109 yards and 12 TDs. Senior slotback DeShawn Gulledge has rushed for 639 yards and 15 TDs, and caught 32 passes for 759 yards and 10 TDs. Gulledge has returned four punts and one kickoff for TDs. Junior QB Clayton Collins has completed 71 of 134 games for 1392 yards and 18 TDs, including eight completions for 154 yards last week in a 40-7 win over Perryville. Senior LB Payton Hydron leads the Bulldogs with 124 total tackles, including 25 TFL, seven seven forced fumbles and three fumble recoveries. Sophomore LB Hunter Woodle has 101 tackles, 22 TFL, four sacks , three forced fumbles and one interception. Centerpoint senior QB Keenan Owens (broken collarbone) dd not play last week in the 14-7 win over Clinton, but sophomore QB Owen Bright completed an efficient 10 of 17 passes for 171 yards and a TD. Senior rover Matt  Baker recorded six tackles, including two TFL. Senior safety Logan Taylor collected eight tackles and an interception.
Junction City at RIVERCREST (6): See hootens.com Game of the Week.
Elkins at GLEN ROSE (8): Glen Rose defense turned away Fouke on a two-point conversion last week to preserve a 27-25 victory. Glen Rose has lost once at home in the past two years (56-20 last year to Prescott). Elkins senior RB Colten Vaught has rushed for 1,071 yards and 29 TDs behind a line anchored by senior RT Denton Foster (6-3, 250). Senior QB Jake Strode has completed 70 percent of his passes for 2,170 yards and 19 TDs with just three INTs. Glen Rose senior QB Aaron Qweatherfird has completed 60 precent of his passes for 2,308 yards and 24 TDs with five INTs.

BOTTOM OF BRACKET
Paris at FORDYCE (8): Paris senior Nate Davidson has rushed for 1,220  yards and 17 TDs this year. He ran for three TDs and caught a 47-yard TD pass last week in a 36-24 come-from-behind win over Walnut Ridge. Davidson's 55-yard TD run with one minute left iced the victory. Fordyce, with a first-round bye, counters with a swarming defense led by senior LB T'juan Thomas (75 tackles, 18 TFL).
Piggott at PRESCOTT (12): Prescott senior QB Derrick Flynn has run and passed for 2,147 yards and  22 TDs this year. Senior DE Chris Cowling (99  tackles) and junior BB Peyton Chandler (113 tackles) pace a defense that allows 10 ppg. Piggott just won its first playoff game in the modern era (1969-present) and its first postseason victory since 1949 by crushing Cedar Ridge 42-14. Piggott's Diamond T boasts four running backs over 500 yards this season: sophomore Gunner Shaw (564 yards, nine TDs), junior Cade Harrell (664 yards, eight TDs), junior John Jones (514 yards, five TDs) and senior Justin Goding (898 yards, 10 TDs). Harrell and Jones pace Piggott with 69 tackles apiece.
H. GROVE HASKELL (6) at Atkins: Teams mirror each other. Haskell junior QB Hunter Hilson has passed for 2.028 yards and 23 TDs with three INTs this fall, including a 17-of-31 performance last week at Mountain View for 210 yards and two TDs in a 31-20 victory. Atkins senior QB Seth Haney has completed 61 percent of his passes for 1,826 yards and 29 TDs with seven INTs. Haskell senior receivers Nathan Watkins and Dillon Hager have made 29 and 46 receptions, respectively, this year for 512 and 694 yards. Atkins senior RB Jessie Jones has rushed for 854 yards and nine TDs behind a line anchored by senior guard Jathan McDaniel and sophomore guard Matt Roberson. Senior WR Cory Childress has a team-high 41 receptions for 672 yards and 17 TDs.
NEWPORT (2) at Harding Academy: 3-3A runner-up Newport dumped 2-3A fourth seed Mayflower 29-8 last week. Defending state champion Harding Academy beat Mayflower 39-22 Week 7.  Newport junior RB Jerry Ellis has rushed for a team-high 1,098 yards and 14 TDs. Harding Academy senior QB Garrison Hendrix has passed for 1,731 yards and 19 TDs with seven INTs. Junior Travis Turley leads the Wildcats with 44 receptions followed by senior Carter Sipe and junior Peydon Harlow with 33 receptions apiece.