Hogs: QB Allen sore; Kelley suspended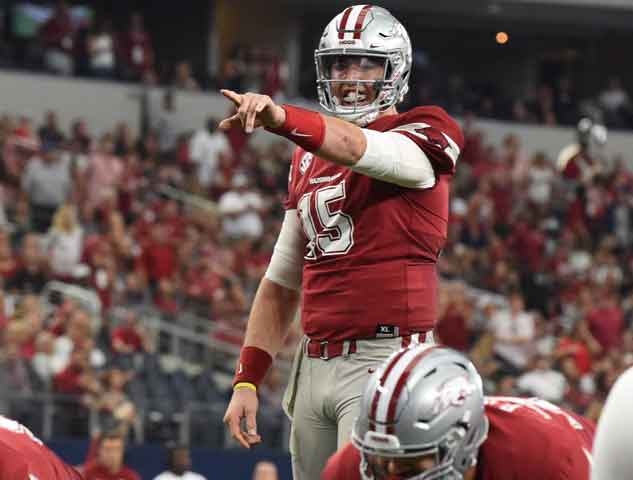 By OTIS KIRK
FAYETTEVILLE - Arkansas coach Bret Bielema announced Monday that redshirt freshman quarterback Cole Kelley has been suspended for his early Sunday morning arrest for suspicion of driving while intoxicated and reckless driving.

Kelley has a court date set for Wednesday.

"He's indefinitely suspended from our program," Bielema said. "This week he will not involved with us and will not play on Saturday."

Arkansas (4-6, 1-5) plays host to Mississippi State (7-3, 3-3) at 11 Saturday morning. CBS will televise the  game.

Kelley came off the bench Saturday at LSU after starting the previous four contests. Senior QB Austin Allen returned to start against LSU. The Razorbacks will finish the regular season the following Friday against Missouri.

"Depending on the information out of there, he's (Kelley) been pretty honest and up-front with me all the way through," Bielema said. "Obviously, there's court proceedings going on, so I won't comment about the specifics, other than he's very disappointed. We were disappointed. It's a learning lesson that I hope he takes full advantage of, as well as our team."

Bielema noted that Kelley has certain things expected of him as a Razorback quarterback.

"The part I think he has to understand is not only to be an Arkansas Razorback but to be a quarterback and start games here is a very, very big deal," Bielema said. "Social media and everything else around it. He's going to be held to a higher standard. The blessing that you give can also be your biggest burden. He's going to have to do a lot of growing up in a short amount of time.

"I've had conversations with his parents and we're all on board moving forward. For however long the suspension, through this week for sure, through Saturday, I think he's got to understand what life can be like without football. And also address all the other issues. If he does all that we'll kind of address it at that point moving forward."

Kelley was able to attend the meetings on Sunday, though that will be the extent of his involvement.

"It was all just coming so fast," Bielema said. "We started our meetings and I wanted to keep him. I kind of wanted him to face everybody to be quite honest. It would have been easy to throw him out of the building yesterday, but I wanted him to have to be around, have to answer questions. From this point, we made this decision after talking … I didn't get a chance to talk to his mom until early this morning. So he won't be involved in anything here in the building this week."

Kelley still has his right foot in a boot and will continue to get medical treatment.

Bielema: "We never take away three things: We never take away academics or academic support. We never take away medical support or anything that goes into that, and also the services that we provide for them here in the building."

With Kelley out, that elevates sophomore Ty Storey to the backup spot behind Allen. Bielema talked about Storey and expectations for him.

"He got a lot of reps last week," Bielema said. "Cole, like I said, got limited reps on Wednesday so Ty got all the reps on Tuesday, half the reps on Wednesday and then took all the reps with the twos on Thursday. Had a package for him that if Cole wasn't able to go, he was going to take over that look. Ty has a lot of talent. He's an engaged football player. Probably no one better with a football IQ or understanding of our offense.

"Dan (Enos) and I both discussed that if there is a way to get him involved in the game, we'd like to do that. Just to keep his spirit going. But in big picture thinking, like I told Ty and Cole at the beginning of the year and then when we made the decision to go with Cole ... obviously when Austin got hurt ... no matter what happened during the course of the season with Cole and Ty when we got to the spring it was going to be an open battle. I told those guys back then they both have tremendous upside and got a great deal to do. Cole got some valuable experience, there's no doubt. But going into spring drills, those guys will be in a open competition."

Against LSU, Allen played for the first time since leaving the South Carolina game at the end of the third quarter with a shoulder injury. At LSU, Allen completed 13 of 23 passes for 140 yards. Kelley, who played the final two series against the Tigers, completed three of 10 passes for 36 yards and an interception.

"Austin, really no (shoulder) issues," Bielema said. "I ran into him on Sunday and said 'How do you feel?' And he said 'Really the only soreness I have is in my legs, just being out there and running around and playing a game as long as he did.' That was really the only thing that was sore. Nothing significant in the shoulder and I think he'll be better this week more than ever."

Allen missed at least two throws that would have resulted in big plays, if not touchdowns.

"He didn't play well enough for us to win," Enos said. "There's some things he missed so to me as a quarterback you are judged pretty simple. We either win or we don't. He's got to play better and we've got to play better around him.

"I think he was out there and got hit. He got some confidence. He got to see if his shoulder is gonna hold up and anytime you play a game speed and LSU on the road you play good people who are well-coached. Hopefully we'll see a step forward this week and he will play faster and a little more confident. Hopefully he'll be able to make some of those plays we didn't make on Saturday."