LSU kicks Hogs 38-10, takes back boot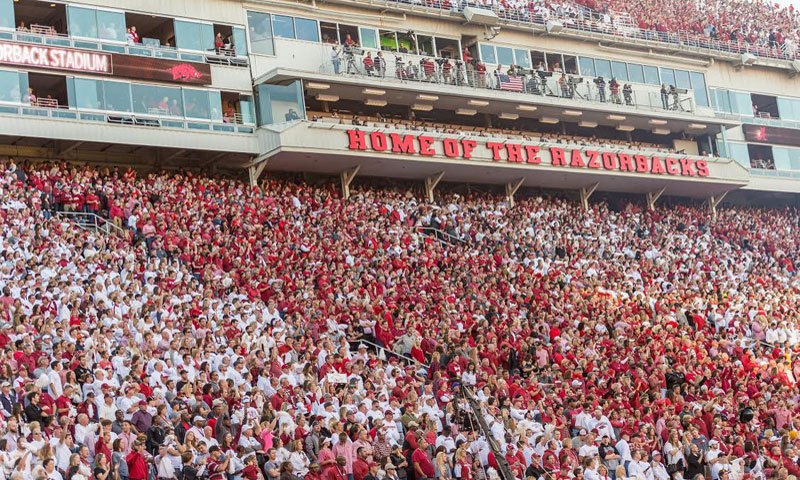 FAYETTEVILLE - Arkansas wanted The Boot, but not as much as LSU wanted to boot Arkansas.

The visiting Tigers of interim Coach Ed Orgeron drop-kicked the Razorbacks start to finish in a 38-10 rout on a chilly Saturday night before 75,156 forlorn fans at Reynolds Razorback Stadium.

The triumph enabled the Tigers to head home to Baton Rouge, La., with the Golden Boot, the trophy accompanying this annual SEC West game that Arkansas owned in 2014 and 2015.

No. 24 LSU improved to 6-3 overall and 4-2 in the SEC and  visits Florida next Saturday, while the Razorbacks, with SEC road games next Saturday at Mississippi State and Nov. 25 at Missouri, drop to 6-4 overall and 2-4 in the SEC.

"Give credit to LSU," Arkansas coach Bret Bielema said. "They played a four-quarter game. I thought we prepared very well Sunday to Saturday but unfortunately we didn't play that well. It seemed as soon as we did something good we shot ourselves in the foot."

LSU running backs Derrius Guice and Leonard Fournette were unstoppable. Normally the second banana to Fournette, Guice tallied LSU's final touchdown on a 96-yard run, completing his career night with 21 carries for 252 yards and two touchdowns.

"Statistically, Guice is one of the most productive runners in college football," Bielema said. "Obviously he doesn't get the same number of reps (as Fournette), but the snaps he gets  he's on our radar. We knew he was a tough guy to bring down."

Fournette scored the first two of his three touchdowns for LSU's first two scores and finished with 98 yards on 17 carries. He logged 44 yards on two passes from quarterback Danny Etling, 10 of 16 for 157 yards without a turnover.

For most of this season as quarterbacks, Etling has been criticized and Allen praised.

Not this night. While netting 210 yards passing and a 44-yard touchdown pass to Camden's Dominique Reed, Allen threw two interceptions, missed some key third-down passes and was sacked three times.

"Austin throws first-down picks," Bielema said. "I love him, but he was out of sync. We have got to get him back to where it was."

LSU thoroughly dominated the 21-7 first half it led 21-0 until Arkansas' improbable touchdown. On third and 22, senior receiver Dominique Reed beat the Tigers deep like yesteryear. The Camden Fairview alum caught the 44-yard TD pass from Allen with 5:52 left in the second quarter one play after the Arkansas QB had been sacked for a 9-yard loss on the heels of an Arkansas illegal procedure.

Freshman running back Devwah Whaley's 34-yard run around left end had been the drive's catalyst until bogging down before the Allen to Reed rescue.

Other than his TD pass to Reed, Allen suffered a mostly nightmare first half, sacked three times and throwing a second-quarter interception directly to linebacker Donnie Alexander who returned it 14 yards to the 18. That set up LSU's second TD drive with Fournette scoring from the seven standing up.

Fournette scored his first TD on a 5-yard run at 8:58 in the first quarter after taking a short Etling pass and running 38 yards to the Arkansas 15.

Guice, splitting time with Fournette especially when Fournette's ankle ailed for a bit, capped LSU's third first-half scoring drive of 80 yards in three plays with a 3-yard TD run at 10:19 of the second quarter.

Etling's 48-yard bomb to Malachi Dupre down the middle marked the drive's biggest play.

Arkansas secured two LSU turnovers in the third quarter but netted only three points from them.

Fournette was powering along an 11-yard run when linebacker Randy Ramsey dislodged the ball and fellow Arkansas linebacker Dwayne Eugene recovered it ending LSU's first possession of the second half with the Hogs on the LSU 28.

Rawleigh Williams rushed for 18 yards to the 10. However a no-gain rush and LSU breaking up and Allen pass after Williams' 4-yard run on first down had the Hogs settling on Greenwood senior Adam McFain's 24-yard field goal at 10:32.

Arkansas senior Cody Hollister recovered the Toby Baker punt fumbled by LSU return man Tre'Davious White at the LSU 40.
LSU so stalled the Arkansas offense that Baker had to punt again.

"Cody does a great job splitting them and recovering the fumbled punt and then we lose eight yards have to punt," Bielema said. "We can't have that."

In between the turnovers LSU scored again.

Fournette scored from three for his third touchdown, but it was Guice's drive. The LSU sophomore evaded safety Josh Liddell's would-be tackle in the backfield for a 38-yard run and for good measure took the next carry 15 yards to the Arkansas 20.

After Ramsey personal foul penalty, Fournette took it from there.

In the fourth quarter mostly behind Guice, LSU drove 84 yards in 13 plays before settling for a 19-yard field goal by Colby Delahoussaye on fourth and 1 with 7:51 left.

Guice broke a spectacular 96-yard TD run, the longest play from scrimmage in LSU history, after Allen's second interception, this one to defensive back Dwayne Thomas, squandered Rawleigh Williams taking an Allen pass 54 yards to the LSU 18.

Allen marched the Hogs one last time from the Arkansas 22 to the LSU 1. He appeared to have salvaged a little Hog pride with a 10-yard TD pass to tight end Jeremy Sprinkle but further review deemed Sprinkle down at the 1.

The next play Whaley fumbled in the end zone, finishing Arkansas' night as badly as it began.