HOGS: Boyd, Whaley back for MSU; notes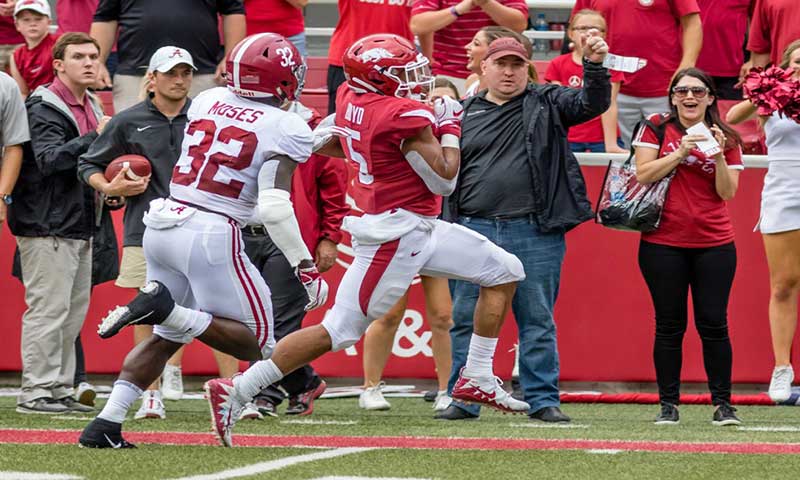 FAYETTEVILLE -  Chad Morris believes he'll have running backs Rakeem Boyd and Devwah Whaley in uniform Saturday when the Razorbacks visit Mississippi State.
Arkansas (2-8, 0-6 in the SEC) and Mississippi State (6-4, 2-4)  kick off at 11 a.m. Saturday on ESPN at Davis Wade Stadium in Starkville, Miss.
Boyd exited with an injured ankle during Arkansas' 24-17 loss Saturday to LSU in Arkansas' home finale. Whaley had surgery on his ankle two days after injuring it during the 37-33 loss to Ole Miss three weeks ago.
However, Boyd and Whaley practiced Sunday garbed in green, the jersey that Morris designates for a restricted practice but with evidence that sufficient healing can occur to play by game time.
"Rakeem was out there yesterday in green, so we anticipate him being back," Morris said Monday, the Razorbacks NCAA mandated off day. "Devwah was actually in green yesterday running around, going through the workout. We're anticipating him being back as well. And De'Vion Warren (the sophomore kick returner/receiver injured two weeks ago during the loss to Vanderbilt) we expect him to be back."
Deon Edwards, a special-teamer and reserve linebacker also injured against LSU, should be available against Mississippi State, Morris said.
Boyd (104 carries for 645 yards and two TDs in 10 games) and Whaley (65 carries for 298 yards in five games) top Arkansas' rushing game. Boyd ran a streak of 102, 109, 99 and 113 yards in the four games leading into Saturday night but ran into a brick wall against LSU. He netted 30 yards on 10 carries. For last Saturday's game, after sacks and lost-yardage plays, the Hogs netted 16 yards rushing on 19 carries.
ABANDON SHIP
Morris abandoned the run during the second half when quarterback Ty Storey, 19 of 38 for 200 yards and one interception, threw two fourth-quarter TD passes to tight end Cheyenne O'Grady. The two TDs rallied the Hogs from down 24-3 to down 24-17, but they were unable to wrest the ball from LSU for the  game's remaining 5:27.
Morris admired "the grit and toughness" his Hogs displayed to get back in the game but said it's obvious they must block and execute better in the run game.
RUNNING INTO TROUBLE
LSU's defense had most to do with the Razorbacks inability to run the ball.
Mississippi State's defense presents similar problems and perhaps more so, Morris and Arkansas offensive coordinator Joe Craddock said Monday.
"Last week, I think LSU was No. 3 in our conference in defense," Craddock said. "These guys (MSU) are No. 1.  Like I said last week about LSU, there's not many weak links out there. Same goes for this week. They are very talented up front. The No. 1 pass defense. And a lot of that is what they are able to do from the D-line standpoint."
Morris said the Hogs go from playing against fast company to even faster company.
"The defense is as good as advertised," Morris said. "It's the fastest overall defense that we've seen. Extremely aggressive."
So, the Hogs try to revive their running game, the foundation for Morris' offense, against a defense even better than the one that just grounded them.
"We have to get back to what we do," Craddock said. "LSU, they were good up front but we were able to cover them up at times and hit some decent runs. Then other times, they were able to win at the point of attack and were able to stop us. We have to focus on ourselves and make sure we know exactly what we're doing every play."
MAKING HOGS SWEAT
Storey, sacked three times and hit countless times an eyelash after release, paid a physical price against LSU and would have something to "Sweat" if the Hogs are forced to be all pass one-dimensional against Mississippi State.
Bulldogs senior defensive end Montez Sweat has recorded 9.5 sacks in 10 games.
"They've got the top pass rusher in the league in Montez Sweat," Morris said. "He's a dynamic player and very disruptive."
BIG-TIME CHALLENGE
The Razorbacks literally are beset this week by a big challenge. Nick Fitzgerald, the 6-5, 230 senior quarterback, not only is by far State's leading passer (111 of 217 for 1,377 yards and 10 TDs vs. seven INTs), but he leads the Bulldogs in rushing with 816 yards and nine TDs.
"It starts there," Arkansas defensive coordinator John Chavis said of MSU's offense in Fitzgerald's hands. "A quality, quality quarterback. A big-time runner. He makes that offense go."
That offense didn't go anywhere last week, skunked 24-0 by Alabama in Tuscaloosa, Ala. "Well, Alabama did what they do," Chavis said.
No. 1 Alabama skunked LSU 29-0 two weeks ago in Baton Rouge, La.