Class 4A Week 12 Rankings, Notes & Picks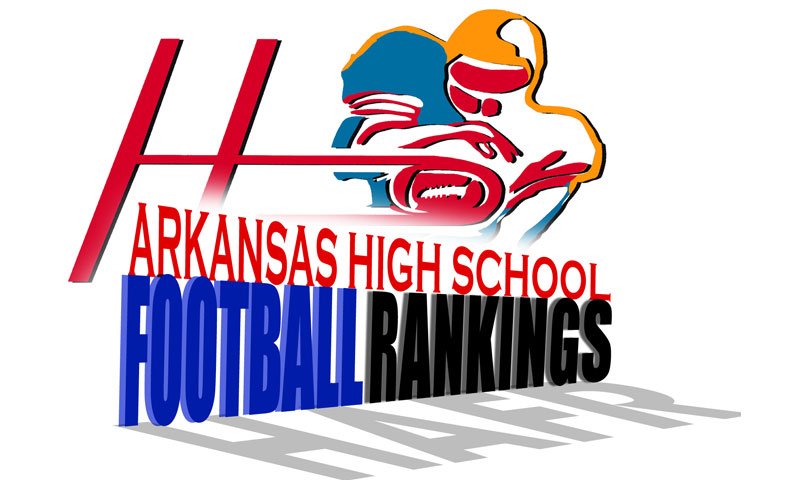 Hootens.com Rankings
Class 4A, Week 12, 2018
Copyright Hooten Publishing, Inc. 
1. Shiloh Christian (10-1)
2. Joe T. Robinson (9-2)
3. Warren (9-1)
4. Ozark (8-2)
5. Dumas (10-1)
6. Rivercrest (10-1)
7. Nashville (9-2)
8. Arkadelphia (6-5)
9. Stuttgart (9-1)
10. Bauxite (9-2)
11. Mena (8-3)
12. Hamburg (8-3)
13. Helena (9-2)
14. Heber Springs (7-4)
15. Dardanelle (9-2)
16. Lonoke (6-5)
17. Trumann (7-4)
18. Elkins (7-4)
19. Pea Ridge (7-4)
20. Lincoln (8-3)
21. Prairie Grove (5-6)
22. Gosnell (5-6)
23. Pottsville (5-6)
24. Jonesboro Westside (7-4)
25. CAC (5-6)
26. Southside Batesville (6-5)
27. Fountain Lake (6-5)
28. Star City (4-7)
29. Pocahontas (4-7)
30. Gentry (3-8)
31. Harmony Grove Haskell (5-5)
32. Bald Knob (4-6)
33. Crossett (2-8)
34. De Witt (4-6)
35. Ashdown (3-7)
36. Berryville (4-6)
37. Riverview (2-8)
38. Brookland (2-8)
39. Dover (2-8)
40. Gravette (1-9)
41. Waldron (2-8)
42. Cave City (1-9)
43. Highland (1-9)
44. Subiaco Academy (1-9)
45. Monticello (0-10)
46. Malvern (0-10)
47. Mills (0-10)
48. Green Forest (1-9)

HOOTENS.COM GAME OF THE WEEK
No. 8 Arkadelphia at No. 3 Warren.
This is a rematch of last year's state title game, which Arkadelphia won 28-27. Warren beat Arkadelphia 31-24 in the 2013 quarterfinals. The defending state champion Badgers started the season 0-5, but ripped off six straight wins, including a 10-point Week 9 triumph over Bauxite. The Badgers have outscored their past six opponents 250-30. Junior quarterback Cannon Turner has more than 1,000 yards passing and another 1,000 yards rushing this year, while senior running back Zion Hatley has rushed for more than 600 yards, despite being slowed by injuries in the opening two months. Turner ran for 108 yards and passed for 73 yards in last week's 37-0 win over Gosnell.
The Badgers held Gosnell to 129 yards rushing. Arkadelphia junior linebacker Kyren Harrison has more than 100 tackles this year, and he returned a fumble 50 yards for a TD against Gosnell. Senior Victor Tademy shuts down one side of the field at cornerback, and he's playing more receiver the past three games (three TD catches, averages 30 yards per reception). Versatile sophomore Brandon "Buster" Thomas sparked the offense the past seven games after returning from a collarbone injury. Thomas plays QB (completes 75 percent of his passes, and averages 10 yards per carry) and receiver (22 catches, 211 yards and one TD). 
Warren has outscored its past six opponents 238-122. But the Lumberjacks must overcome a late-season rash of injuries, notably senior receiver/linebacker Treylon Burks. Senior QB J'Malachi Kinnard and running back/receiver Keemontrae McKnight have taken leadership roles on offense in Burks' absence. Kinnard ran for a pair of first half TDs and threw a 23-yard TD pass to McKnight in last week's 30-point win over CAC. The Lumberjack D gets pressure from end Donovan Ross and tackle Marcus Miller. "Warren is so different this year from last because they don't have Burks," Arkadelphia coach J.R. Eldridge says. "But they are talented up front and spread the ball around." 

LAST WEEK
Hootens.com correctly predicted 12 of 14 games last week (86 percent). Hootens.com has predicted 227 of 264 games this year (86 percent).

WEEK 12 PREDICTIONS (favored team in ALL CAPS)
TOP OF THE BRACKET
Lonoke at OZARK (12): These teams have never played. Expect Ozark to follow the game plan of most teams and crowd the line of scrimmage to slow Lonoke's running attack. Lonoke senior QB Braidon Bryant paces the rushing attack with 841 yards and a 12 TDs, while junior Davonta Adams has 823 yards and a seven TDs. Sophomore Anthony Parks has 93 carries for 802 yards (8.6 ypc) and seven TDs. Ozark drew a first round bye last week, reaping a benefit from its first conference title since 2011. Hillbilly senior Dawson Dietz completes 64 percent of his passes this fall for 1,773 yards and 18 TDs and he's rushed for 447 yards and five TDs. Sophomore Tyler Sanders (1,058 yards and 12 TDs) pace Ozark's rushing attack, while his brother, senior Hayden Sanders, has 34 receptions for 523 yards and seven TDs.
Hamburg at JOE T. ROBINSON (21): Joe T. Robinson has won three straight games, including last week 47-12 over Pottsville in the first round. Senior QB Greyson Tackett has passed for 1,294 yards and 16 TDs. Senior Mekel Kentle has rushed for 880 yards and 14 TDs, caught 25 passes for 457 yards and seven TDs, averages 23.5 yards per punt return and has 56 tackles from his safety spot. Hamburg had five starters out with injuries during last week's 31-20 win over Lincoln. Most of them, including senior QB Jonathan Kelley, are "day-to-day," Coach Cecil Ray Cossey says. Senior Derrick Webb, junior Nic Bridges and "an inspired offensive line," ran wild over Lincoln, the coach says. The Lions ran for 388 yards, with Bridges and Webb combining for 350 yards.
Heber Springs at RIVERCREST (10): Heber Springs has won six straight games since losing at eventual 2-4A champion Stuttgart 36-33 Week 5. Senior Blaze Nelson ran for 305 yards and a TD, while junior QB Adam Martin had four TDs in last week's 31-20 win over Pocahontas. Nelson has rushed for 1,901 yards and 27 TDs this year, while Martin has rushed for five TDs and passed for 1,500 yards and 12 TDs. Rivercrest, winner's of four straight conference titles, beat Fountain Lake by 22 points in the first round. Colt senior QB Demilon Brown has passed for 536 yards and four TDs this year, while rushing for 1,056 yards and 19 TDs. Senior Kentavious Robinson has rushed for 1,688 yards and 19 TDs.
Helena at DUMAS (2): An all-8-4A rematch from Week 4 when Dumas turned a 6-6 halftime tie into a 20-12 victory. Helena's huge offensive line averages almost 300 pounds. Senior QB Armonie Calhoun sprinted 6 yards in overtime for the winning score at Pea Ridge. Calhoun has passed for 689 yards and five TDs this year and rushed for 1,584 yards and 19 TDs. The Cougar D gives up 18.5 ppg, paced by senior linebacker Yarvarious Frazier's 79 tackles. The didn't allow a point in last week's 8-0 overtime win at Pea Ridge and held four conference opponents to two TDs or less. Dumas has five straight wins, capped with last week's 38-7 triumph over Southside Batesville 38-7. Junior QB Chris Harris completes 69 percent of his passes this year for 1,295 yards and 14 TDs, and rushed 1,243 yards and 19 TDs. Senior Kaleb Small ran 11 times for 64 yards and caught three TDs last week. Small has 33 catches for 433 yards and eight TDs this year and rushed for 538 yards and nine TDs. Dumas' D held five league opponents to two TDs or less. Comparing scores: Helena lost to Hamburg 34-32 Week 7 and handed Warren its only loss 60-36 Week 10, while Dumas lost to Warren 38-8 Week 6 and beat Hamburg 36-8 Week 10.

BOTTOM OF BRACKET
Dardanelle at STUTTGART (9): Stuttgart coach Josh Price led Dardanelle to a 70-36 record in nine years before taking over at Stuttgart in 2016. Price's Ricebirds have won three straight conference championships, but standout running back/linebacker David Walker tore his ACL Week 10 and will miss the rest of the season. Junior RB/LB Davian Mayo returns this week (broke hand Week 4) to fill in for Walker. "I'm more worried about our emotions without David (Walker) on the field," Price says. "He was our leader. But we have 15 seniors who need to get us ready." Dardanelle junior Blake Chambers ran in four TDs to rally the Sand Lizards past Jonesboro Westside 31-22 a week ago. Stuttgart beat Dardanelle 54-0 in the second round in 2012.
Arkadelphia at WARREN (3): Hootens.com Class 4A Game of the Week.
Mena at SHILOH CHRISTIAN (17): These teams meet for the first time. Shiloh Christian has won 10 straight games this year, including an impressive 28-21 victory Week 3 over Beggs, Okla., handing Beggs its only loss this year. The Saints smothered Star City a 49-6 a week ago. Junior QB Eli Reece has passed for more than 1,700 yards this year, while versatile junior Jaret Russ has more than 800 total yards and 16 TDs. Mena has six straight victories, including a 14-point decision Week 10 against Dardanelle. Mena averages 370 yards and 30 points per game. Sophomore QB Max Montgomery has passed for 1,967 yards and 19 TDs this year. Versatile junior Zane Stephens has thrown three TD passes, rushed for 597 yards and 11 TDs and caught  42 passes for 504 yards and five TDs.
Bauxite at NASHVILLE (3): This is a Week 10 rematch, which Nashville won 20-14 in overtime. The Scrappers shut out Elkins 36-0 last week (the first time Elkins didn't score a point in three years). But Nashville hasn't advanced to the quarterfinals since winning the 2015 state title, losing in the second round the past two years to run-heavy Pea Ridge and Booneville. Nashville junior Carmillias Morrison (939 yards and seven TDs) and sophomore Keyshawn Stewart (1,070 yards and 11 TDs) pace the Scrapper rushing attack. The improved D rallies around junior linebacker Devonte Witherspoon (121 tackles, four sacks) and senior safety Jordan White (86 tackles, two interceptions and two forced fumbles). Senior receiver/safety Levester Gillard has emerged as Nashville's only two-way player. Gillard (23 catches, 209 yards and two TDs, and 24 tackles and four interceptions) picked off Bauxite's pass in the end zone in overtime to end the game two weeks ago. Bauxite's 21-6 triumph last week at Trumann was its first in the playoffs since beating Episcopal Collegiate by 35 points in the first round 2009. The Miners haven't won multiple playoff games in a year since losing advancing to the 2007 semifinals where it lost to Shiloh Christian. Bauxite relied on senior QB Seth McDowell at Trumann, when he ran 24 times for 85 yards and a TD. McDowell has rushed for 932 yards and 19 TDs this year, while senior halfback Dawson Dabbs has 1,393 yards and 13 TDs. Senior linebackers Emmanuel Hervy and Eason Sandidge pace the D with 83 apiece, while senior end Zack Lasage has 44 tackles, including five sacks.