Gameday: Hog seniors go for 3 straight over LSU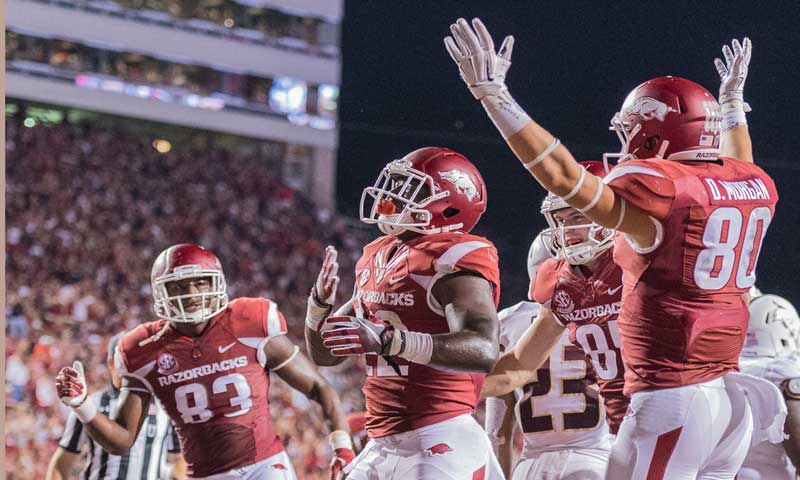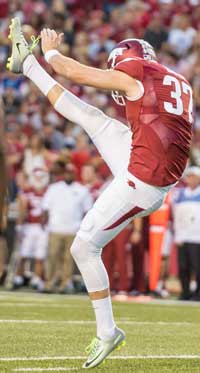 P TOBY BAKER
FAYETTEVILLE - Who is most overdrawn at the adrenaline bank could determine the outcome of Saturday night's Arkansas vs. LSU game at Reynolds Razorback Stadium.

The SEC West game between the College Football Playoff No. 25 Razorbacks (6-3, 2-3) and No. 24 LSU (5-3, 3-2) kicks off at 6 p.m. on ESPN.

Both spent considerable emotions last Saturday.

The Tigers played their annual gut-wrencher against No. 1 Alabama, fighting for popular interim Coach Ed Orgeron who is trying to succeed fired Les Miles as LSU's permanent head coach.

Through three quarters LSU locked the Tide in a fiercely contested scoreless tie until Alabama prevailed 10-0.

Meanwhile, Coach Bret Bielema's Razorbacks, embarrassed in a 56-3 rout by the Auburn, roared back to flog then-No. 11 Florida 31-10 at Reynolds Razorback Stadium.

Orgeron didn't deny the post-Alabama emptiness within his team and himself.

"All of us had to deal with some kind of emotional letdown," Orgeron said.  "I think all of us had that hurt in our belly."

Even a Death Valley crowd trying last year to inspire them against Arkansas after the Tigers lost at Alabama didn't help the Tigers. Arkansas won, 31-14 in Baton Rouge.

In 2014, after losing another gut-wrencher in overtime to Alabama, the Tigers froze in a 17-0 loss to the Hogs in Fayetteville.

"In the past, we have not played well after Alabama games," Orgeron said. "But we plan on changing that. Our staff did a tremendous job this week. But we have to keep up the energy. I'll make sure we're ready to go. We respect this Arkansas football team. We know how good they are."

As nearly always except at quarterback, LSU appears the more talented team, but Bielema's Razorbacks appear the the better emotionally spaced by schedule. There was an open date week between the Oct. 22 debacle at Auburn to heal physically and emotionally and regroup more gradually for last Saturday.

"I don't know if it was all emotional," Bielema said of defeating Florida. "I think they were ready to play. I think they had two weeks of building up. We knew that during the bye week we were gonna have to get ourselves ready for a four-week run. I think our guys will be ready to rock and roll and ready to play."

With only SEC road games at Mississippi State and Missouri after playing LSU, the Razorbacks play their last home game of the season Saturday against LSU.
That means the last Reynolds Razorback Stadium game for 18 Arkansas seniors, some of whom were 2012 signees by former Coach Bobby Petrino and redshirted under John L. Smith while others were initially recruited by Smith before signing with Bielema. Bielema added to the this year's senior class with 2013 freshman of his own plus junior college transfers.

It's a hodgepodge class but a tight one bound by good times and bad.

"We're a very close-knit class I'd say," senior left tackle Dan Skipper said. "We come from all different backgrounds, all different walks of life, but we all have a high respect level for each other. All of us kind of took a risk.  There's just a huge respect level through the locker room."

There's a huge desire to claim a third consecutive victory over LSU and retain The Boot trophy that the Arkansas vs. LSU winner receives annually.

"It's the biggest rivalry game we have," Arkansas senior tight end Jeremy Sprinkle said. "If we win, it will be the first time we beat them three times in a row. That's a big deal for us trying to keep The Boot here."

The Tigers badly want the victory, but former Arkansas assistant coach  Orgeron knows the Hogs get a bigger kick out of The Boot.

"Look, I have in-laws in Arkansas," Orgeron said. "I coached at Arkansas. I know what it means to them. Although it would be nice to bring The Boot home, I don't think that will be our single most motivation this week."