Farm Bureau Insurance Awards Show Watch List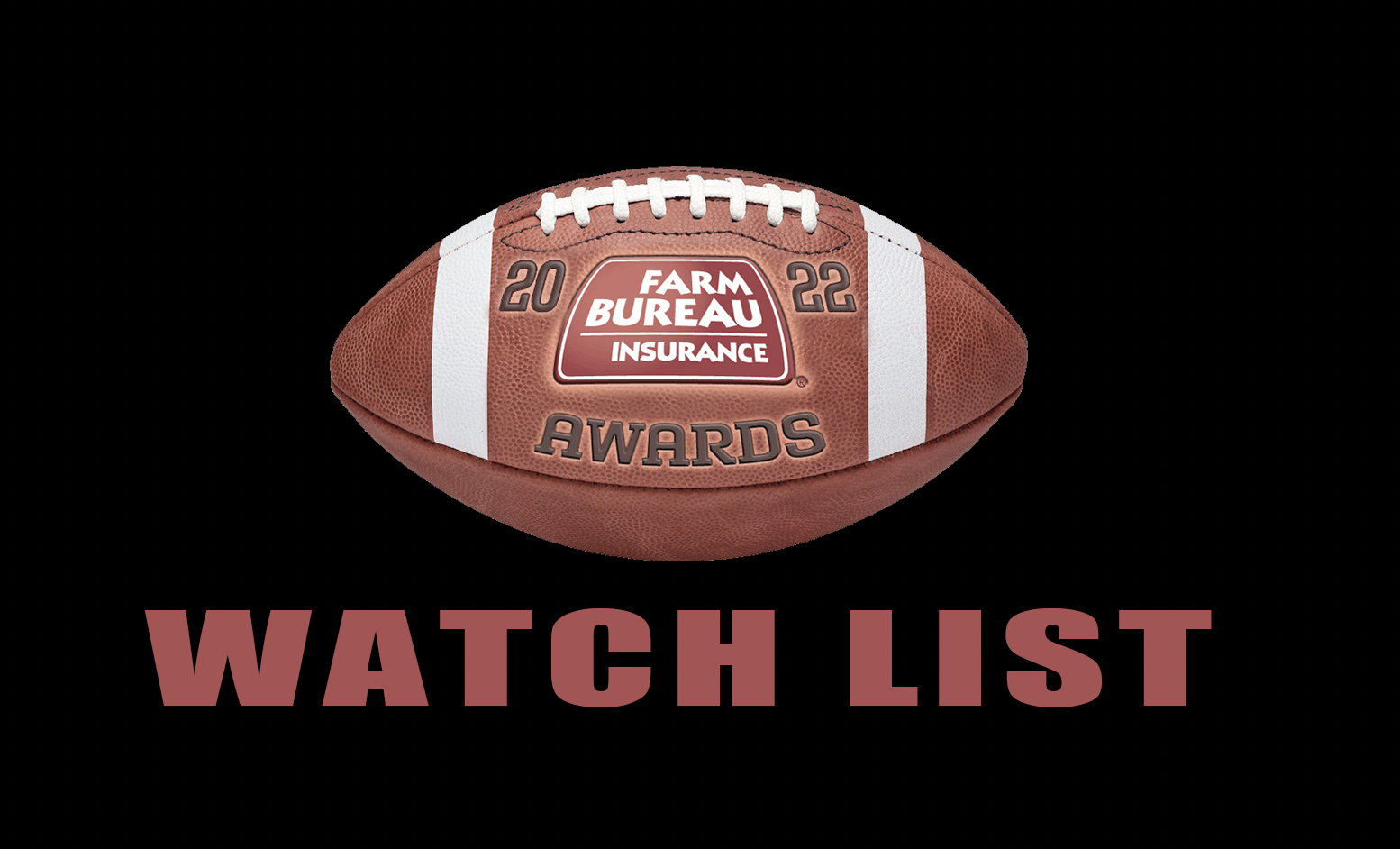 LITTLE ROCK - Farm Bureau Insurance is pleased to announce the finalists for the 2022 Farm Bureau Insurance Awards.
                The Farm Bureau Insurance Awards honor Arkansas' top offensive player, defensive player, and coach of the year for each classification. The staff at Hooten's Arkansas Football selects finalists from each category on the "Watch List", and those finalists and their families will be invited to attend the Farm Bureau Insurance Awards on Dec. 12th.
            Mack Wallace, Vice President of Sales for Farm Bureau Mutual Insurance Company of Arkansas, Inc. said: "It is truly my pleasure on behalf on Farm Bureau Insurance to take part in recognizing the incredible achievements of the student-athletes and coaches being honored here. They are some of the greatest in the state, and Farm Bureau Insurance wishes them continued success this season."
            Farm Bureau Insurance has supported education and community involvement in Arkansas for more than 70 years.
7A/6A OFFENSE
Boogie Carr, Conway
Donovyn Omolo, Conway
Kel Busby, Pulaski Academy
Walker White, LR Christian
Ty Durham, Bentonville West
Nick Bell, Bentonville West
Carson Morgan, Bentonville West
Jarrell Shephard, West Memphis
Kaylon Morris, Fayetteville
Drake Lindsey, Fayetteville
Abe Owen, Cabot
Carter Nye, Bentonville
CJ Brown, Bentonville
Josh Ficklin, Bentonville
Joey Su'a, Bentonville
Hunter Houston, Greenwood
Grant Karnes, Greenwood
Aiden Kennon, Greenwood
Malachi Gober, North LR
Hudson Brewer, Har-Ber
Justin Crutchmer, Lake Hamilton
Easton Hurley, Lake Hamilton
Allen Thomason, Pulaski Academy
Jaylin McKinney, Pulaski Academy
John Mark Charette, Pulaski Academy 
Dede Johnson, Searcy
Isaac Gregory, FS Southside
Jacob Jenkins, Rogers
Sam Sanders, LR Catholic
Evion Jimerson, Cabot
Mytorian Singleton, Bryant
Chris Ganaway, Bryant
Lawson Hutchins, Bryant
Rome Fields, WR, Conway
Kris O'Neal, WR, Conway
Donnie Cheers, Marion
Carter McElhaney, Greenbrier
Shadarious Plummer, El Dorado
Deandrea Burns, El Dorado
Malachi Henry, Van Buren
Breylin Russell, Benton


7A/6A DEFENSE
Fred Giles, Jonesboro
Wil Thyer, Jonesboro
Robert Burgess, North Little Rock
Diemere Manuel, NLR
Quincy Rhoades, NLR
Josh Buxton, Bentonville West
Braden Jones, Bentonville West
Cylon Young, West Memphis. 
Brooks Yurachek, Fayetteville
Deuce Cooper, Fayetteville
Nick Stone, Bentonville
Brock Skidmore, Bentonville
Trevor Martinez, Bentonville.
Evans Williams, Greenwood
Izic Clenney, Lake Hamilton
Hunt Harrison, Pulaski Academy
Preston Spann, Pulaski Academy
Romelo Bell, Pulaski Academy
Cole Eichler, LB, LR Catholic
Tyler Mosely, Bryant
Malachi Graham, Bryant
Miguel Graham, Bryant
Brandon Johnson, Bryant
JT Allen, Bryant
Ethan Primus, Bryant
Wade Simpson, Conway
R.J. Lester, FS Northside
Hunter Goodwin, Benton
Ben Ridings, LR Christian
Bo Nolen, Fayetteville
Jerrimiah Nichols, Marion
Brian Witherspoon, Marion
Carter Waldo, Marion
5A OFFENSE
Joe Trusty, Alma
Zach Grant, Beebe
Joseph Wright, Brookland
Aaron Alsobrook, Camden Fairview
Martavius Thomas, Camden Fairview
Arthur Alvarez, Clarksville
Drew Vega, Dardanelle
Peyton Funk, Farmington
Braden Long, Harrison
TAlon Stephens, Harrison
Derrick Hicks, Hot Springs
Kyler Wolf, HS Lakeside
Noah Freeman, Joe T. Robinson
Hunter Austin, LR Parkview
D.B. Bennett, LR Parkview
Alex Martin, LR Parkview
Garrion "B.J." Curry, Magnolia
Weston Pierce, Maumelle
Anton Pierce, Mills
Noah Tindall, Morrilton
Keandre Pope, Nettleton
Curtez Smith, Nettleton
William Howell, Pine Bluff
Courtney Crutchfield, Pine Bluff
Ethan Miller, Prairie Grove
Conor Whetsell, Prairie Grove
Bodie Neal, Shiloh Christian
Eli Wisdom, Shiloh Christian
Wesley McKissack, Vilonia
Jack Vines, Vilonia
5A DEFENSE
Mike Townsley, Batesville
David Stettmeier, Farmington
Drake Boatright, Dardanelle
Tristan Thompson, Harrison
Tayvion Haney, LR Parkview
Omarion Robinson, LR Parkview
Jabrae Shaw, Mills
Blake Brown, Nettleton
Jordan Pigram, Nettleton
Ashtyn Williams, Joe T. Robinson
Jonathan Lyons, Pea Ridge
Ryder Orr, Prairie Grove
Cooper Daar, Shiloh Christian
Noah DeJarnatt, Shiloh Christian
Thomas Reece, Shiloh Christian
Blayne Warden, Southside
Jay Morman, Valley View
Carson Winters, Valley View
Brian Huff, Valley View
Ben Redix, White Hall
Rashod Connely, Wynne
Alonzo Holmes, Wynne
Allen Jones, Wynne
4A OFFENSE
Donovan Whitten, Arkadelphia
Latonnieo Hughes, Arkadelphia 
Jonathan McElroy, Ashdown
Jayden Fricks, Ashdown
Jobe Chalk, Clinton
Brody Emberton, Clinton
Tayshawn Paskell, Crossett
Eli Ashcraft, DeWitt
Will Moss, DeWitt
Da'Shawn Chairs, Elkins
Chris Bell, Gentry
Ty Hays, Gentry
Floyd Williams, Gosnell
Taderian Partee, Gosnell
Rhett Hilger, Gravette
Gabriel Holmes, Gravette
Kyle Ferrie, Harding Academy
Carson Cooks, H.G. Haskell
Peyton Russell, H.G. Haskell
Damien Hendrix, Lamar
Drew Moore, Lincoln
Bradon Allen, Lonoke
Cedric Simmons, Malvern
Jalen Dupree, Malvern
Tyrique Newman, McGehee
Jayden Felix, Mena
Alex Mendiola, Nashville
Sloan Perrin, Nashville
Eli Masingale, Ozark
Landon Wright, Ozark
Connor Baker, Pocahontas
Bricen Villareal, Pottsville
Michael Rainer, Rivercrest
Coby Turner, Rivercrest
Mason Taylor, Star City
C.J. Turner, Star City
Cedric Hawkins, Stuttgart
Murphy Williams, Trumann
4A DEFENSE
Marveon Berry, Arkadelphia
Max Wilson, Arkadelphia
Ethan Cruce, Dumas
Zanuel Martin, Elkins
Cam Williams, Gosnell
Brooks Burrow, H.G. Haskell
Levi Mercer, Harding Academy
Wyatt Simmons, Harding Academy
Kenan Sneed, Heber Springs
Cody Amato, Lonoke
Elijah Roberts, LR Hall
Austin Wilkerson, Star City
Kameron Harper, Stuttgart
Maddox Lassiter, Warren
Jaylin Lee, Warren
Delphino Rivera, Warren
3A Offense
Brandon Scott, Charleston
Breyvn Ketter, Charleston
Reese Mercheska, Charleston
Cody Elliott, Booneville
Dax Goff, Booneville
Trey Wren, Melbourne
Kylan Crite, Newport
CJ Young, Newport
Trevor Locke, Quitman
Nassir Donohoo, Quitman
Sage Treadwell, Hoxie
Torian Bell, Jr Osceola
Walker Ward, Walnut Ridge
Jace Clark, Centerpoint
Heath Ballance, Glen Rose
Ian Smith, Bismarck
Carston Poole, Prescott
Tra Dickens, Prescott
Bradyn DuPuy, Rison
Kriston Belin, Fordyce
Caleb Johnson, CHG
3A Defense
Wiley Carroll, Charleston
Drew Elmore, Mansfield
Carter Bray, Melbourne
Kamden Norberg, Yellville-Summit
Montrell Varner, Hoxie
Cam Buys, Walnut Ridge
Kai Watson, Walnut Ridge
Julius McClellan, Magnet Cove
RaShawn Bell, Prescott
Tidorian Thompson, Prescott
Roger Boswell, Rison
2A OFFENSE
Bennett Johnson- Bigelow
Luke King- Hazen
Jason Sullivan- Carlisle
Tyrome Hurst III- Earle
K.J. Hayes- Mineral Springs
Eli Sharp- Dierks
Andrew Hill- Dierks
Gray Lee- Episcopal
Chandler Cheek- England
LaRay Brown- Marked Tree
Jacob Woodfield- Mount Ida
Zy Johnson- Hampton
Dennis Gaines- E. Poinsett County
Cooper Johnson- Conway Christian
Tranell Black- Clarendon
Jack Kearby- Des Arc
Trevion Reed- Des Arc
Jaedon Zurliene- Poyen
2A DEFENSE
Drayton Standridge- Mount Ida
Chandler Perkins- Mount Ida
Romeo Lucero- Mineral Springs
Jace Amerson- Mineral Springs
Jack Kearby- Des Arc
Drake Riley- Hector
Chandler Cheek- England
John Robert Bateman- Episcopal
Austin Webb- Poyen
Cody Samples- Poyen