No. 7 LSU holds off Hogs 24-17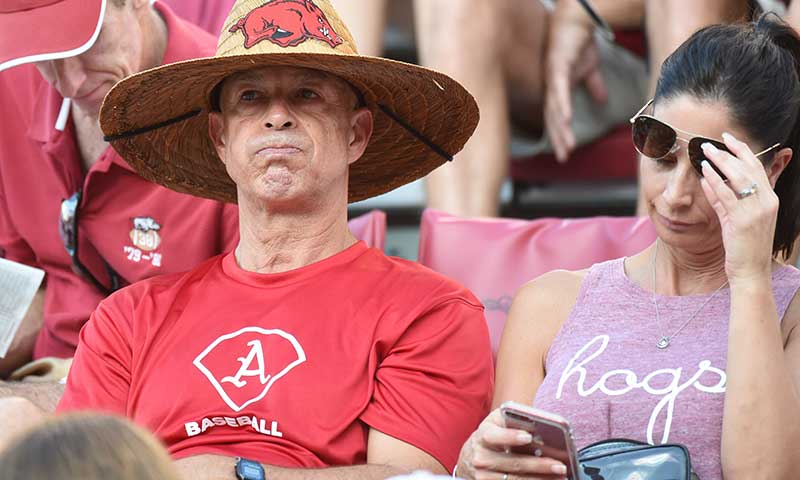 FAYETTEVILLE -  LSU's nationally No. 7 Tigers held Arkansas to 16 net rushing yards Saturday night yet still had to fight to the finish holding off the  surprisingly resilient Razorbacks, 24-17 before 48,950 weathering 36 chilling degrees at Reynolds Razorback Stadium.

Arkansas was down 14-0 before finishing the first half down 14-3 and trailed 24-3 from 3:12 left in the third quarter until Arkansas quarterback Ty Storey and tight end Cheyenne O'Grady connected for 11 and 32-yard touchdown passes  at 12:37 and 5:27 of the fourth quarter.

Unfortunately for Arkansas, O'Grady's touchdown dance celebrating his second score drew an unsportsmanlike conduct penalty forcing the Razorbacks to kick off from their 20.

Clyde Edwards-Helaire returned the ensuing kickoff from his 16 to the LSU 41. And after LSU quarterback Joe Burrow completed a 14-yard pass on third and six to the Arkansas 41, the Tigers played keepaway driving the ball to the Arkansas one at the game's end.

So the ordeal continues for Arkansas and first-year Coach Chad Morris with the Razorbacks 2-8 overall/ 0-6 in the SEC West after their Fayetteville farewell. They  finishing on the SEC road next Saturday at Mississippi State and the Nov. 23 day after Thanksgiving at Missouri.

Coach Ed Orgeron's Tigers, 8-2, 5-2 in the SEC, host Rice in a non-conference game next Saturday in Baton Rouge, La. and finish with a Nov. 24 SEC game at Texas A&M.

"I thought our team fought hard," Morris said. "There was no quit.  We got within a score and we just needed one more stop but we just couldn't find a way to get that ball back."

Given the game's first three quarters and their inability to run the ball, it amazed they came that close.

"We knew LSU has an elite defense," Morris said. "And they definitely showed that. We couldn't run the football. We were poor on first down. I think we averaged two yards on first down. And we were 2 of 12 on third down. That's difficult to move the football when those two areas aren't in sync."

Yet but for Burrow finding receiver Justin Jefferson (6 catches for 117 yards) ahead of safety Kamren Curl for a 40-yard first-quarter touchdown,  it's a 0-0 first quarter.

And but for a controversial borderline targeting, game-ejecting targeting call on Arkansas defensive end Michael Taylor, turning a second and 17 sack into a LSU first down at the Arkansas 14, the Tigers likely don't  get Nick Brosette's 12-yard touchdown run for the 14-0 lead  capping a 14-play, 77-yard drive at 7:24 of the second quarter.

Arkansas trailed 14-0 and had not advanced beyond its first half  41 until a freakish two turns of events set up Connor Limpert's 24-yard field goal with the attempt snapped one second before halftime.

Arkansas had forced a LSU punt and benefitted from two LSU penalties, an illegal block  and a dead ball unsportsmanlike conduct  setting the Hogs up at their 36 with 39 seconds.

LSU linebacker Michael Divinity flushed Storey from wanting to pass and dislodged the ball which LSU safety Grant Delpit recovered at Arkansas' 36.

Burrow intended a first down pass but Arkansas defensive end Sosa Agim not only sacked him but dislodged the ball that senior linebacker Dre Greenlaw recovered on the run, more like a limp playing on an injured ankle, and returned 24 yards to the LSU 33  with 21 seconds left.

"Sosa was just doing  his job and went and got the quarterback and got the ball out," Greenlaw said.  "I saw it right there. I had to make sure I picked it first because a lot of times  you see people run by the ball and the ball's still rolling.   So I made sure to pick it up first.  When I finally got going, just this ankle man -  I tried to hit another gear and just couldn't do it.   Sosa made it happen.  I tried to put it in for him but I just couldn't do it.

Backup quarterback Cole Kelley passed deep into the end zone incomplete.
Storey tried again and connected 27 yards to senior Jared Cornelius at the six with six seconds left.

Storey made one bid for a TD pass to Cheyenne O'Grady but it was batted away incomplete  with one second to spare for Jordan Silver's snap to holder Jack Lindsey for Limpert's three points  despite Arkansas mustering but 61 yards in first half total offense.

Arkansas went three and out after forcing a LSU first possession punt in the third quarter then got struck by Burrow and Jefferson again. Their 35-yard pass put the Tigers on the Arkansas 13. Edwards-Helaire ran his 13-yard TD the next play.

By then "they made us one-dimensional" Morris said of forsaking the run with top running back Rakeem Boyd netting but 30 yards on 10 carries and eventually exiting with an injured ankle.

Storey paid a price, officially sacked three times and hit just after throwing on countless occasions including somehow throwing an incompletion avoiding a sack nearly on his back.

Through all the pressure, Storey was only intercepted once.

"I thought Ty was tough," Morris said.  "He stood in the pocket and he took some hits. The grit that he showed kept us in the game, especially late third quarter into that fourth quarter."

Storey had been sacked on fourth and nine from the LSU 39 preceding LSU's last score, Cole Tracy's 40-yard field goal, set up Burrow's 26-yard pass to Dee Anderson  for the 24-3 lead with 3:12 left in the third quarter.

Now forced completely all pass, Storey ignited the Hogs in the fourth quarter with a third and 10 31-yard pass to wide receiver  La'Michael Pettway to the LSU 45 followed by a 23-yard pass to tight end Grayson Gunter and finally the 11-yard TD to O'Grady.

"I think we just got into a rhythm and the offensive line was doing a good job giving us time," Storey said.  "And CJ made some great plays along  with some other guys stepped up and made plays. It just felt like we kind of had to get a kickstart to get in rhythm. Once we got it going we put some points on the board.  We didn't look very good in the first half. We looked really bad. Thankfully we made some adjustments that kind of opened it up a little bit and started driving it a little bit."

O'Grady credited the Storey to Pettway play for the kick start.
Morris fretted O'Grady's first touchdown celebration.

"He obviously made some tremendous catches," Morris said of O'Grady's 6 for 75 yards.  "I thought the play before, the touchdown before, was close to being unsportsmanlike and I actually addressed it with him on the sidelines. I said you have to play smart. My exact words were you've got to be composed. And I knew, I knew that if there was anything remotely close that he was going to get called. We weren't composed."

No he wasn't, composed O'Grady said postgame with remorse.

"Definitely out of control and that's not going to happen again. It was just a very immature move on my part, and it's definitely not going to happen again."

There was no last chance after O'Grady's last dance.
LSU's keep away left the Razorbacks one SEC possession short for the third time in a SEC game.