RECRUITING: Pocahontas' Baker rolls it up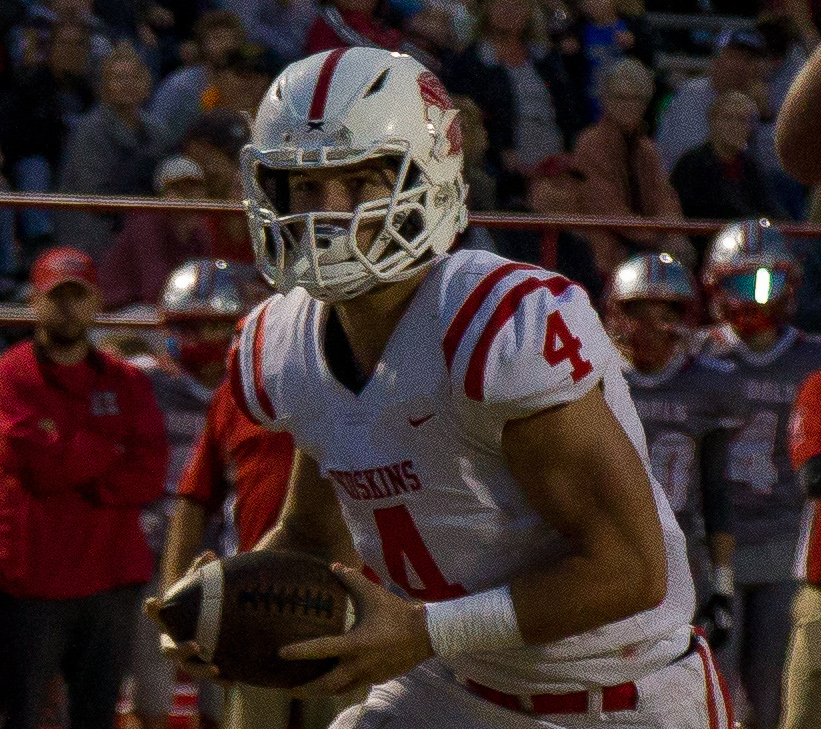 Pocahontas (9-1) captured its second consecutive conference championship (first outright title since 2015) with last week's 41-14 victory over Highland.
The Redskins hope the playoff fortunes are better this time than in 2015 when won 10 games but were bounced in the second round after receiving a first-round bye. They haven't advanced to the playoff quarterfinals since 2007.

A solid senior class, which finished as league runners-up in junior high, fueled the consecutive conference championships.

Senior quarterback/safety Connor Baker (6-0, 205; Crystal Robertson photo) is the leader of Pocahontas' senior group and is poised to etch his name in the state record books. Baker has 96 career rushing touchdowns and needs one more to tie the current state record of 97 held by former Clarendon Lions, Tennessee Volunteers and New York Jets running back Cedric Houston.

Baker has not played in the second half of 5 games this season because of Pocahontas' dominance. Yet, he has 236 carries for 1,916 yards and 32 TDs and completed 57 of 80 passes (71.3 percent) for 883 yards and 8 TDs.

"As he's gotten closer to the record, we've played against a lot of stacked boxes," Coach Charles Baty says. "No one wants to be the team that gives up the record. But, we are still putting up 400 yards of offense."

Baker's athletic prowess doesn't surprise anyone in Pocahontas. His dad was an all-state Redskins baseball player and his mom ran track at Texas Christian University.

Baker moved up to the varsity for the final 4 games of his freshman season after driving the junior high's runner-up finish. He had 20 carries for 165 yards and 2 TDs in his first varsity game at Gosnell, and the next week went for 179 yards and 2 TDs at Highland.

Baker (laser-time 4.6 speed) earned all-state honors at running back as a sophomore with almost 1,300 yards and 20 TDs. He transitioned to QB as a junior so the Redskins could get his hands on the ball every play.

"He does magical things with the ball," Baby says.
Baker ran for 2,211 yards and 42 TDs, and passed for 615 yards during his all-state junior campaign.

Pocahontas coaches moved Baker from linebacker to safety in mid-season because of his workload on offense.

"So he could get some rest on plays and not feel like he has to be in on every tackle," Baty says. 

Baker has 59 tackles, 5 TFL and 3 sacks this fall. He's a force in passing situations with 18 pass breakups and 4 interceptions. He returned an interception 81 yards for a TD against Trumann.

Division II programs Arkansas Tech, Harding University and Ouachita Baptist have offered him a scholarship. Baker attended a Memphis game last month, and Tigers coaches ventured to Pocahontas to visit Baker and his coaches. He'll attend Arkansas State's game this week against Massachusetts.

"He's done his part by going to camps, and we as a coaching staff have done our part by sending out tons of film to everyone," Baty says. "I think he's a Division I player and can't believe more teams aren't after him. I think he'll play defense in college, but I could see him at running back. I can't wait to see what he looks like when he plays on one side and isn't playing worn out. He has no time off when he's on the field. He gets after it every play, and he wants to make every tackle. When we blitz him off the edge, it's absolutely phenomenal."

Senior FB/DE Reed Bigger (6-1, 235) paves running lanes for Baker with crushing blocks. Bigger, an all-state linebacker last season, also deep snaps. 

Bigger plans to graduate in December and plans to enroll in college early. "He's a monster, a mean dude," Baty says.

Most in-state DII schools have inquired about Bigger, Baty says, and he could go to a smaller or D-III school on academic scholarship.

Senior WR Harrison Carter (6-3, 180) caught 6 passes for 115 yards last week against Highland. Carter could play college football, but he's probably more interested in being a college student, Baty says.

Senior offensive lineman Braden Vancil (6-2, 320) could play D-II football, the coach says.

Two juniors who have been instrumental this fall could develop into college prospects — left OT/DE Caleb Bettis (6-3, 270) and RB Reagan Womack (6-2, 225). Womack (4.7 speed) will likely succeed Baker as Pocahontas' QB next season.

 "Bettis is slender and has the frame to play Division I ball," Baty says. "Womack wants to play college ball. I can see him at the D-II or D-III level, growing and putting his hand in the dirt as a defensive end."

Sophomore linemen Zane Baltz (6-3, 240), Ryan Matthews (6-6, 225) and Landen Gettings (5-9, 315) could develop into college prospects. 

Matthews broke his leg Week 1 against Nettleton, but was cleared for full contact last week. 

"Baltz is our best lineman," Baty says. "Gettings (315-pound bench press, 450-pound squat) is our strongest player as a sophomore." 
Freshman Carter Couch (6-3, 230) hasn't had an errant snaps this fall while starting every varsity game at center. Couch's dad and uncles played football at Pocahontas, and one of his uncles played at Arkansas State. "He'll grow into a college body," Baty says.

Pocahontas' quest for playoff success begins Friday against 1-4A No. 5 seed Lincoln (5-5). A showdown with Nashville (7-3) or Bauxite (7-3) would await in the second round.

"We think we are a complete team," Baty says. "This is the best draw I can remember us getting since I've been here (in 2014). We are very excited about our possibilities."