HOGS try to ice No. 7 LSU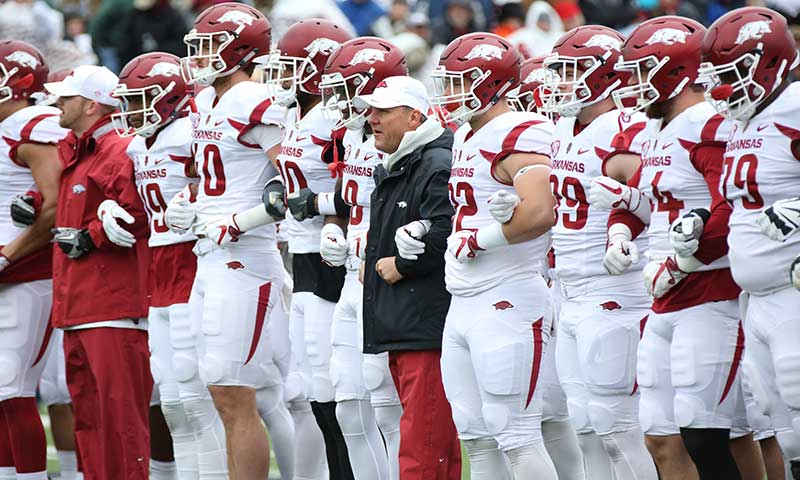 FAYETTEVILLE - Comparing records and rankings, it would take a cold night in hades for the Arkansas Razorbacks to beat the LSU Tigers Saturday.
That might be Arkansas' best hope.
The seventh-ranked Tigers hail from typically hot and humid Baton Rouge, La., but the temperature could dip to 32 degrees Saturday night by the end of this SEC West game at Reynolds Razorback Stadium.
LSU (7-2, 4-2 in SEC West) may have a hangover from last week's 29-0 loss to No. 1 Alabama, and emotions likely run high on Senior Night for the Razorbacks (2-7, 0-5) in the Fayetteville finale for 2018.
Arkansas' lone victories are over lower division Eastern Illinois and over 2-7 Tulsa of the non-power five American Athletic Conference.
Among LSU's conquests, Coach Ed Orgeron's Tigers have beaten College Football Playoff fifth-ranked Georgia, 15th-ranked Mississippi State, 24th-ranked Auburn, and offensively talented Ole Miss. Southeastern Louisiana-Lafayette was LSU's lone non-conference cupcake among non-conference victories over then-No. 8  Miami Hurricanes and traditionally tough Louisiana Tech.
Other than Alabama, LSU seems the SEC school where NFL scouts visit most and linger the longest to evaluate prospects, especially on defense. LSU linebackers Devin White and Michael Divinity, defensive end Rashard Lawrence, safety Grant Delpit, cornerback Greedy Williams and others seem NFL bound someday.
"When you look at their back end, their secondary is as good as it gets," Arkansas first-year coach Chad Morris said. "These are all NFL guys who are going to play at a very high level on Sundays. They lead the league in (forcing) turnovers and interceptions. They're second in the country in interceptions. And when you watch them, you can see why. They've got the size. They've got the speed.  They break on the ball ... experienced and very physical. Their secondary is as good as we've seen. And Rashard Lawerence is as disruptive a D-lineman as we've seen.  Michael Divinity, their Jack 'backer, is very active. Then Devin White is one of the top linebackers in the country."
Until the Alabama game, LSU's offense had shown a real spark behind quarterback Joe Burrow, who transferred from Ohio State.
In LSU's 36-16 win over Georgia, Burrow completed 15 of 30 for 200 yards, including six for 108 yards to receiver John Jefferson. Burrow also netted 66 yards rushing with two touchdowns, while running backs Clyde Edwards-Helaire netted 146 on 16 carries, and Nick Brosette netted 64 yards on 16 totes.
Even Alabama forced but one LSU turnover.
"Offensively, they do a really good job of not turning the ball over," Morris said. "They only have eight turnovers all year long. So that's keeping you in a lot of games right there."
LSU does have a checkered bad weather history, as in 2000 during a 14-3 loss to a .500 Arkansas team in a downpour in Little Rock. Arkansas dumped LSU 17-0 in 2014 under frigid conditions as predicted for this game.
Oregon, a native Louisianan, knows the Louisiana aversion to the cold.
"It's probably going to be cold," Orgeron said. "In our guys' minds, we have to block that out. We have to get back on track."
The elements, barring lightning moving the Razorbacks inside the Walker Pavilion, are part of most Arkansas practices.
"We practice out in it," Morris said. "Whether it is 35 degrees, three degrees or minus-three degrees, it really has no bearing on the way we play. It's a mindset for us."
The Hogs have had a bye week to get over the disappointment of a 45-31 SEC loss to Vanderbilt, while LSU tries to move past the disappointment of losing badly to Alabama.
"We need to be careful about having a (Alabama) hangover and respecting Arkansas," Orgeron said. "They put 31 points on Alabama (in a 65-31 loss), and we didn't put any. We have to respect their football team. They're going to play their best, and it's going to be a hostile crowd."
And homeboy hostile on the field, too. At least six Razorbacks likely to play Saturday night hail from Louisiana.
"With that being their home state, it's a big deal for them," Morris said. "Every game is a big deal, but the opportunity to play a team from your home state, these guys take incredible pride in that."