HOGS: Close the screen door!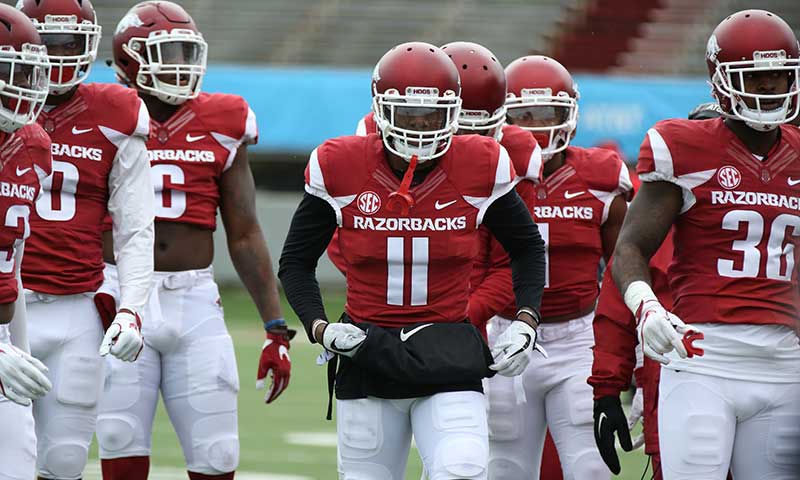 FAYETTEVILLE - Closing the screen door won't keep the Arkansas Razorbacks warm Saturday night when temperatures drop into the 30's at Reynolds Razorback Stadium.
But it would slow down an LSU offense that will try to draw Razorback defenders upfield and toss screen passes for big gains just as Vanderbilt did two weeks ago.
Arkansas (2-7, 0-5 in the SEC) plays host to No. 7 LSU (7-2, 4-2) at 6:30 p.m. Saturday on the SEC Network.
Vanderbilt repeatedly made the Razorbacks pay for their defensive aggression with screen passes to running backs and tight ends en route to a 45-31 SEC success.
The Hogs, idle last week, have tried to seal the screen door that Arkansas coach Chad Morris says LSU will try to open.
"You have to be sound and not get out-flanked, out-leveraged, no motions," Morris said. "And you've got to retrace. That's something we didn't do a very good job of, and we've got to make sure of that this week. I'm sure they've seen film. They understand what was a big deficiency for us two weeks ago, so we anticipate them throwing a lot of screen passes on us. I would."
LSU ranks No. 103 nationally and 12th in the 14-team SEC in passing offense, averaging 192 yards per game with an SEC-low six passing touchdowns.
HIT AND MISS
Before the Commodores sailed for 45 points on the Razorbacks, John Chavis' defense pitched a shutout, 23-0 over Tulsa in Fayetteville.
"On defense, obviously they're hit and miss," LSU coach Ed Orgeron said. "but I know they're going to play their best game against us. They have some good rushers, can put some pressure on the quarterback. Chavis likes to blitz. I know the type of athletes they have at Arkansas. I know the type of crowd they're going to have. So we're expecting their best shot."
Orgeron knows about Arkansas crowds as a Razorbacks grad assistant to Ken Hatfield in 1986 and '87 and coaching against the Razorbacks as the head coach at Ole Miss and  as LSU's defensive line coach and then head coach.
OFFENSIVE ACCOLADES
As for touting Arkansas' offense, Orgeron is quick to compare  Alabama scores. Alabama outscored Arkansas 65-31. LSU whiffed as the Tide rolled on the Tigers 29-0 last Saturday at LSU's  Death Valley in Baton Rouge, La.
"They put 31 points on Alabama, and we didn't put any," Orgeron said. "Obviously we have to respect their football team."
He cited Arkansas starting quarterback Ty Storey and running back Rakeem Boyd.
"They're progressing on offense," Orgeron said. "I think Chad has a very good scheme, good quarterback. I know No. 5 (Boyd) is an excellent running back. He hits the hole fast. They have some athletes like they always have. Very strong offensive line."
The Razorbacks finish their 2018 campaign on the SEC road at 11 a.m. Nov. 17 at Mississippi State and against Missouri at 1:30 p.m, Nov. 23, the Friday after Thanksgiving in Columbia, Mo.
GIBSON MENDED
After weeks of practicing in a green restricted-contact jersey so his ailing body could play on Saturdays, Arkansas senior right guard Johnny Gibson of Dumas relished last week's bye week.
"For one thing it got me out of my green jersey," Gibson said. "I could wear my actual practice jersey. A lot of recovery. A lot of recovery. Got to get away from the game a little bit. Getting away (last weekend) from the facility and recharging with the last three games."
Family and fans from Dumas are coming up for Gibson's Senior Night farewell.
"I know a lot of people said, 'If it was going to be a late game they could make it,'" Gibson said. "I know my family will be here. I wish my grandma could come to the game but she said, 'It's too many people for her.' But she's coming up to my apartment to stay and will be here after the game. It will be the first time she's come to Fayetteville. I will be looking forward to."