Camara kicks UCA past Lamar 44-41 in OT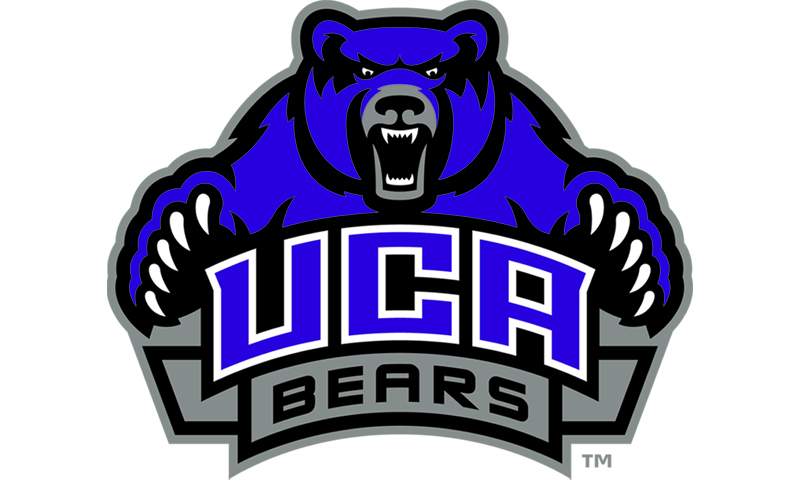 CONWAY - Senior placekicker Eddie Camara capped the University of Central Arkansas' senior night with a 25-yard field goal in overtime to give the Bears a 44-41 victory over the Lamar Cardinals in Southland Conference action at First Security Field at Estes Stadium.
Camara's game winner came after fellow senior Blake Childress forced and recovered a fumble on the second play of Lamar's overtime possession. The Bears (6-5, 5-2) then went to work from the 30. On second and 10, senior quarterback Ryan Howard hit junior tight end Justin Dickey for 13 yards and a first down at the 12. Two rushing plays netted 5 yards and after a Lamar timeout, the Bears elected to kick the field goal on third down.
Camara, the career leader in PATs at UCA and No. 2 in career field goal percentage, kicked his third field goal of the night for the win. Camara, from Cedar Hill, Texas, had a 38-yarder midway through the third quarter, then gave UCA a 41-33 lead with 2:20 to play, connecting on a 40-yarder.
The Cardinals (6-4, 3-3), who ran up 674 yards of total offense, tied the game at 41-41 on a 5-yard pass from Caleb Berry to Mark Roberts with just 40 seconds remaining. UCA won the toss for the overtime period and elected to go on defense to start. Berry rushed for a 3-yard loss to open the overtime, then completed a short pass to Kade Harrington over the middle.
Childress, a linebacker from Mesquite, Texas, tackled Harrington, forcing the fumble and bringing on an officials' review to confirm the fumble.
The Bears won despite gaining just 438 yards on 70 plays. Lamar ran 106 plays for 674 yards, including 554 passing yards by Berry. He completed 43 of 67 passes for four touchdowns and two interceptions. Both were by UCA freshmen, Artez Williams and Tremon Smith. Childress finished with a team-high and career-high 12 tackles, including 3.5 tackles for loss and a sack for minus-12 yards. Junior Dillion Winfrey also had a career high with 11 tackles, including two for loss.
As a team, the Bears recorded 14 lost-yardage plays. Junior defensive end Jonathan Woodard had two sacks, moving into sole possession of second place on the career list with 25.

Senior wide receiver Dezmin Lewis caught seven passes for 114 yards and a pair of touchdowns in his final home game. Senior quarterback Ryan Howard completed 21 of 34 passes for 334 yards and three touchdowns, with a lone interception. UCA won the turnover battle 4-1 after suffering seven turnovers a week ago in a loss against Abilene Christian.
Lewis opened the scoring with an 11-yard reception from Howard on UCA's opening possession after Lamar punted from its own end zone. The Cardinals tied it at 7-7 on a 3-yard pass from Berry to Reggie Begelton, who caught 13 passes for 193 yards and two touchdowns. Lamar took the lead on another Berry touchdown pass before UCA sophomore Jatavious Wilson returned the ensuing kickoff 91 yards for a touchdown, the third return for a score of his young career, to tie it at 14-14 with 4:27 left in the first period.
Juan Carranco made a 36-yard field goal for Lamar and Howard connected with Lewis again for 49 yards down the left sideline for a 21-17 UCA lead after one quarter. Lamar re-took the lead on a 29-yarder from Berry to Begelton, but Howard responded with a 44-yarder to Courtney Whitehead, good for a 28-24 lead with 3:05 left in the first half.
Camara's 38-yard field goal was the only score in the third quarter, but the teams combined for 30 points in the fourth period and overtime. Senior running back Willie Matthews added a 4-yard touchdown run and Camara kicked a pair of field goals. Matthews led the Bears with 81 hard-fought rushing yards. Wilson finished with 228 all-purpose yards _ 145 on kick returns, 80 on receptions and 3 rushing yards.
The Bears improved to 4-0 in the overall series with the Cardinals. It was UCA's first overtime victory since a 49-42 win over Nicholls State in 2007 at Estes Stadium.
UCA has its first open date next Saturday before finishing the regular season at Sam Houston State on Nov. 22 in Huntsville, Texas.
"