HOGS: Morris, Oregeron storylines aplenty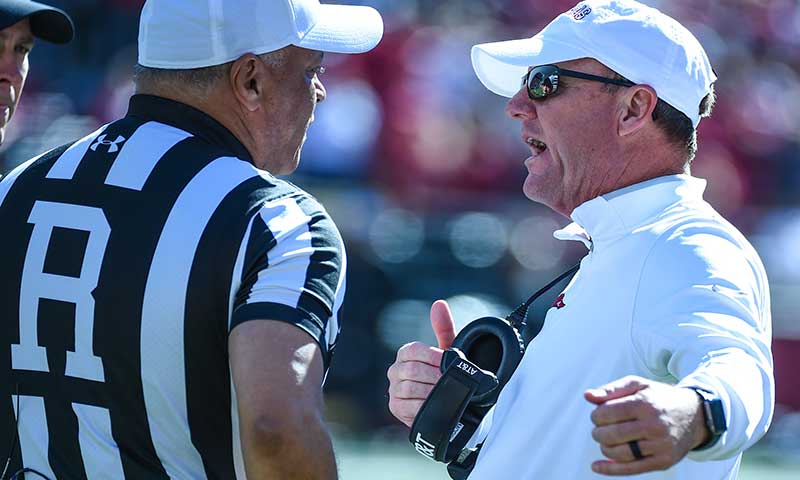 FAYETTEVILLE - Off Tuesday's practice, Arkansas coach Chad Morris went into Wednesday's practice believing linebacker Dre Greenlaw, nickel back Kevin Richardson and receiver Jared Cornelius have healed from injuries going into the Razorbacks'  home finale Saturday night against LSU.
Arkansas (2-7 overall/0-5 in the SEC) last played Oct. 27 in its 45-31 loss to Vanderbilt at Reynolds Razorback Stadium and plays host to SEC West rival LSU (7-2, 4-2), seventh in the College Playoff rankings, at 6:30 p.m. Saturday on the SEC Network.
"I thought they (Greenlaw and Cornelius) moved around well," Morris said before Wednesday's practice. "I anticipate them being back and better today than yesterday. These guys should be a full go and ready for Saturday."
Morris added that Richardson (ankle) is "back fully right now and ready to go."

WHALEY UNLIKELY
Morris is not so optimistic about running back Devwah Whaley returning this week.  Whaley underwent ankle surgery after the Oct. 13 loss to Ole Miss in Little Rock.
"It's doubtful for this week," Morris said, "but we anticipate him back hopefully for sure next week."
DALTON DONE
Junior special-teamer Nate Dalton has not played or been seen at practice since committing a dead ball personal foul after a returner's fair catch during the Oct. 20 victory over Tulsa.

"No," Morris replied when asked if Dalton remains on the team. "He has chosen to step back and focus on his academics."

ED AT ARKANSAS
On Wednesday's SEC teleconference, LSU coach Ed Orgeron talked of his 1986 and 1987 years at Arkansas under Ken Hatfield, first as an assistant strength coach and then as a graduate assistant defensive line coach.
"It was my first time in Division I football," Orgeron, a graduate of Northwestern (La.) State, said. "I worked under Coach Hatfield and learned how to defend the option, the Wishbone. I learned the 3-4 defense. I learned the weight room and the academic side. It was a totally enhancing two years for me. I really enjoyed my time at Arkansas."

MORRIS AT OLE MISS
Turns out Orgeron almost hired Arkansas' current head coach.
Morris was the high school head coach in Stephenville, Texas, out of which Orgeron then the head coach at Ole Miss, recruited quarterback Jevan Snead. Orgeron said on Wednesday's SEC teleconference he interviewed Morris during Snead's recruiting visit to Oxford, Miss.
"I think he's (Morris) an excellent coach, an excellent recruiter," Orgeron said. "He knows everybody in Texas. He did a tremendous job (as offensive coordinator) at Clemson. I consider him a friend, and I know he's going to have a lot of success there."

Morris was asked about Orgeron interviewing him, first at an Oxford eatery and then at Orgeron's house, Morris said.

"Jevan went on an official visit up there and called me and said, 'Coach, I need you to come up here," Morris said. "I got on a plane and flew up there and went through the rest of the official visit with him. I went to an interview with Coach Orgeron and the whole bit. I did wind up having another followup interview at the ACA (American Football Coaches Association) convention down in San Antonio and we had a chance to visit."
Obviously Morris didn't get the job since his college coaching resume doesn't include Ole Miss.
"I remind him of that every now and then when I see him that he didn't hire me," Morris said, laughing. "So he said, 'It worked out pretty good anyway.' It's all good. Coach has done a fabulous job everywhere he's been."