Class 5A Week 11 Rankings, Notes & Picks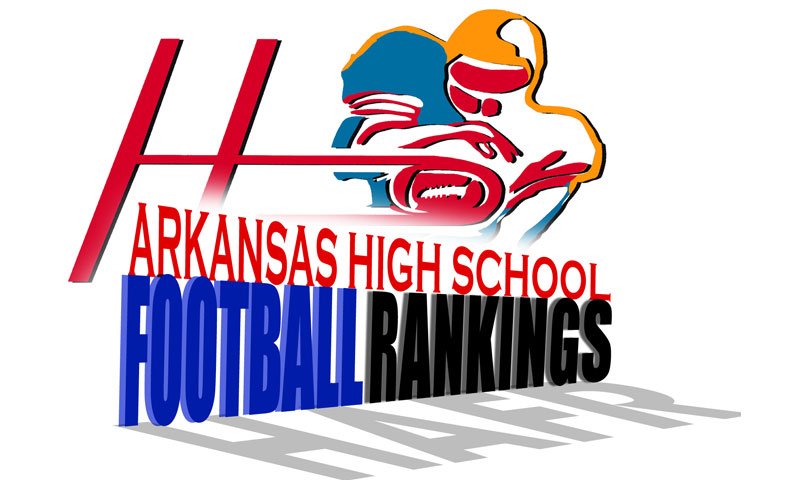 Hootens.com Rankings
Class 5A, Week 11, 2016
Copyright Hooten Publishing, Inc.
1. Pulaski Academy (9-1)
2. Wynne (10-0)
3. Morrilton (5-5)
4. Sylvan Hills (9-1)
5. Alma (7-3)
6. Batesville (7-3)
7. LR McClellan (7-3)
8. White Hall (9-1)
9. Greenbrier (8-2)
10. HS Lakeside (6-4)
11. Forrest City (7-3)
12. Harrison (8-2)
13. Watson Chapel (6-4)
14. Blytheville (6-4)
15. LR Christian (4-6)
16. Magnolia (5-5)
17. Valley View (5-5)
18. Hot Springs (4-6)
19. Vilonia (5-5)
20. Nettleton (5-5)
21. Beebe (4-6)
22. Farmington (3-7)
23. Camden Fairview (3-7)
24. Paragould (4-6)
25. De Queen (3-7)
26. Maumelle (2-8)
27. Mills (3-7)
28. LR Parkview (1-8)
29. Hope (0-10)
30. Clarksville (1-9)
31. Greene Co. Tech (0-10)
32. LR Fair (1-9)

GAME OF THE WEEK
No. 3 Morrilton at No. 2 Wynne
This matchup is more fitting of the semifinals than the first round. Morrilton forfeited four victories in midseason but rallied into the playoffs with five straight wins.

Morrilton ambushed Alma 28-26 in Week 6 (two days after announcing the forfeitures) and hasn't been challenged since. Senior quarterback Caleb Canady has completed 134 of 199 passes (67 percent) for 1,940 yards and 24 touchdowns, with four interceptions. Junior running back Danny Smith (878 yards, 10 TDs) emerged in the backfield the past month as opponents gang up to stop senior receivers Grahm Heidenreich (41 catches, 675 yards and 11 TDs, and Deiontae Duncan (56 catches, 853 yards and seven TDs). Senior Lane Grandberry (43 tackles, two sacks and two fumble recoveries) paces a tenacious defense that allows just 12.7 points per game. "He's our leader," Coach Cody McNabb says. Seniors Al Chambers (51 tackles, two interceptions) and Sam York (34 tackles), junior Lakin Dillard (27 tackles) and sophomore Dalton Keller (24 tackles) form one of the top secondaries in Class 5A. But they'll need to play more physical this week against Wynne. "They do more reading the option and tackling this week than in most of our games when they cover and knock down balls," McNabb says.

Wynne coach Chris Hill led Morrilton to a runner-up finish in 2005. Hill guided Wynne to a runner-up finish in 2014, then changed from the Spread to the Flexbone the next season. The Yellowjackets responded this year with 10 dominating victories. They average 51 points per game, and the starters didn't play in the second half in five games. Junior fullback Ta'Von Hicks has rushed for more than 1,200 yards and 20 touchdowns this fall. Senior slotback Jaylon McDaniel had three carries for 151 yards and three TDs in last week's 48-0 win at Nettleton. Senior Davontai Pounds caught a 27-yard TD pass a week ago, and he averages 16 yards per carry this fall. The Yellowjackets give up 15 points per game after shutting out Nettleton last week (allowed just 64 yards). Hicks anchors the unit at noseguard, while junior Logan Jessup dominates at end. McDaniel leds the Yellowjackets in tackles, while safety Pounds has six interceptions and he's returned two punts for TDs. Wynne hasn't lost a home playoff game since falling to eventual state champion Camden Fairview in 2012.

LAST WEEK
Hootens.com correctly predicted 15 of 16 games (94 percent). For the season, Hootens.com has correctly predicted 175 of 201 games (87 percent).

WEEK 11 PREDICTIONS (favored team in CAPS followed by point spread)
TOP OF THE BRACKET
Magnolia at PULASKI ACADEMY (33): The Bruins own a Class 5A-best 50 wins in the modern playoff era. The Bruins swept the 5A Central this year and haven't lost a conference game in seven seasons. Senior running back Jaren Watkins ran for three TDs in the first half of last week's 48-point win over Mills. Watkins has rushed for more than 1,300 yards and 15 TDs this year. Junior Tra Johnson has 32 catches for 608 yards and 10 TDs, while senior Ray Jackson has 35 catches for 632 yards and five TDs. Magnolia advances to the playoffs for the first time since 2010 after winning four of their final five games, including a 21-14 triumph over Watson Chapel in Week 7 and last week's 55-12 win over rival Hope. The Panthers haven't won a playoff game since upending CAC by three points in the first round in 2008. Sophomore Kadyn Roach has 151 carries for 1,355 yards and 13 TDs, while senior QB Parker Ribble has 134 carries for 532 yards and seven TDs. Ribble completed 24 of 59 passes for 446 yards and five TDs in the run-first offense.
Forrest City at GREENBRIER (4): Forrest City has just one playoff win in school history (1975). The Mustangs earned the No. 3 seed last week, blasting Blytheville 56-28. Sophomore Randal Moore threw four TD passes against Blytheville, and he's passed for 1,724 yards and 25 TDs this season. Big-play receivers Trajen Norment (38 catches, 793 yards and 13 TDs) and Noah Thomas (37 catches, 548 yards and eight TDs) highlight an attack that gains 355 yards per game. Greenbrier finished second in the 5A West, losing only to Alma (received a forfeit victory over Morrilton). The Panthers put up 375 yards per game. Senior QB Carter Burcham has passed for more than 2,000 yards this year, but he threw two interceptions in last week's 21-17 win over Vilonia.

LR Christian at WHITE HALL (14): Little Rock Christian has a history of winning in the playoffs as a No. 4 seed (beat 5A East champ Forrest City 29-27 in 2009). The Warriors advanced to the playoffs this season after upending LR Fair 51-3 a week ago. White Hall went 0-10 last year but finished 9-1 this fall, earning the No. 1 seed and a share of the 5A South title. Senior Lance Smith ran for four TDs in last week's 56-21 win over De Queen. Smith now holds the White Hall single-season record with 30 TDs.
Harrison at BATESVILLE (13): Harrison makes the playoffs for the third time since 2006. The Goblins went 3-2 in games away from F.S. Garrison Stadium this year. Harrison gobbles up 321 yards per game. Junior QB Noah Ditmanson has passed for 601 yards and nine TDs and rushed for 506 yards and seven TDs. Batesville finished second in the 5A East this season. Senior Kylan Robinson returned from an injury last week, catching one pass in a 38-0 win over Valley View. "He'll touch it a lot more this week, I promise," Batesville coach Dave King says. Robinson has 65 carries for 543 yards and five TDs this year, and he's caught 30 passes for 577 yards and three TDs. Senior QB Zach Griffin has passed for 1,099 yards and 11 TDs this year, and he's rushed for 251 yards and five TDs. Junior standout fullback/linebacker Trey Ford won't return from a broken collarbone until at least the semifinals, King says.

BOTTOM OF THE BRACKET
Morrilton at WYNNE (2): Hootens.com Class 5A Game of the Week.
LR MCCLELLAN (1) at HS Lakeside: A rematch of last year's quarterfinal, which LR McClellan won 50-37. LR McClellan finished second in the 5A Central this season, losing to No. 1 Pulaski Academy 22-18 in Week 9. Senior running back Pierre Strong fractured his collarbone against Pulaski Academy. Strong goes to the doctor Friday morning, "and there is a slim chance they release him to play that night," McClellan coach Maurice Moody says. Strong has more than 1,400 yards this year. Senior QB Dalvion Childs missed most of the Pulaski Academy game (ankle injury) and didn't play in last week's 54-8 win at LR Parkview, but he'll return this week. LR McClellan senior inside linebacker Ma'laizh Surrell has more than 100 tackles this year. The Crimson Lion held LR Parkview to 45 yards a week ago. HS Lakeside won its first conference title since 1975 last year, and the Rams earned a share of it this season. Senior QB Fisher Alexander has completed 76 of 136 passes (56 percent) for 1,370 yards and 12 TDs this fall, with five interceptions. Alexander's top target, senior Caleb Dean, hauled in two TDs against Hot Springs. "They look like they are best friends and have an uncanny understanding of each other on the field," Moody says.

Blytheville at ALMA (16): Alma captured the 5A West title by winning its final four games of the season following a two-point loss at Morrilton. Airedale senior QB Noah Dotson completed 129 of 217 passes (59 percent) for 1,835 yards and 18 TDS this year, and he's rushed for 854 yards and seven scores. Junior Brayden Johnson has 64 catches for 976 yards and six TDs. Alma's D gets plays from inside linebacker Jaedon Mitchell (91 tackles) and Gage Jensen (79 tackles). Blytheville starts three seniors on offense, including QB Desmond Moore and running back Demekko Clark. Moore has passed for 918 yards and 10 TDs this year, while Clark has rushed for 1,877 yards and 24 TDs.
Watson Chapel at SYLVAN HILLS (7): Sylvan Hills hosts its first playoff game since 2007 when it beat El Dorado 28-21. The Bears' only loss this season was 35-23 at Pulaski Academy in Week 7. Since, they've beaten LR Fair, LR Parkview and Beebe by a combined 140-21. Senior QB Jordan Washington has passed for more than 1,500 yards and rushed for more than 900 yards this year. Watson Chapel was in control of the 5A South after beating White Hall 41-36 with a last-minute pass in Week 7. But the Wildcats lost two straight games and salvaged the No. 3 seed last week with a 21-14 win at Camden Fairview. Senior Jaquan Dorsey shifted to QB the past two games, completing 22 of 54 attempts for 500 yards and three TDs.