Class 2A Week 11 Rankings, Notes & Picks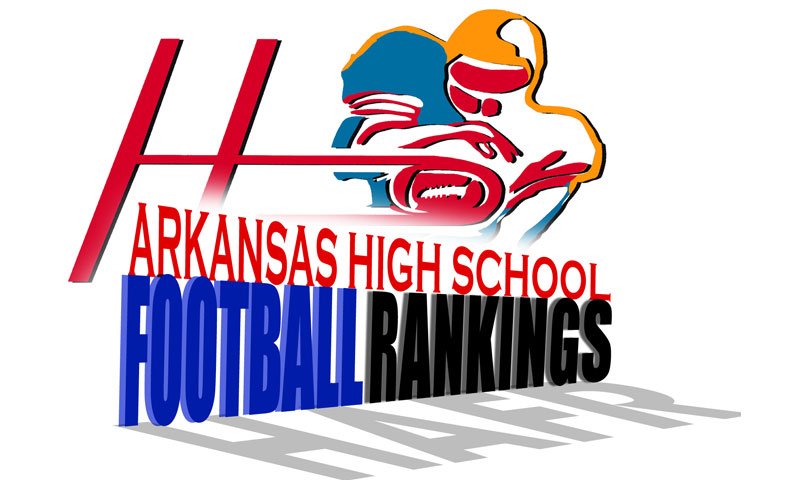 Hootens.com Rankings
Class 2A, Week 11, 2016
Copyright Hooten Publishing, Inc.
1. England (10-0)
2. Hampton (9-0)
3. Hector (9-1)
4. Danville (10-0)
5. Des Arc (9-1)
6. Rison (6-3)
7. C. Harmony Grove (5-4)
8. Bearden (5-4)
9. Hackett (9-1)
10. Conway Christian (8-2) 
11. Mount Ida (9-1)
12. Murfreesboro (7-3)
13. Dierks (6-4)
14. Foreman (7-3)
15. Earle (6-3)
16. E. Poinsett County (6-3)
17. McCrory (6-3)
18. Cross County (8-2)
19. Quitman (7-3)
20. Lavaca (6-4)
21. Carlisle (6-4)
22. Mountainburg (6-3)
23. Marked Tree (6-4)
24. Salem (5-4)
25. Parkers Chapel (4-5)
26. Woodlawn (4-5)
27. Hazen (4-6)
28. Lafayette County (2-8)
29. Mineral Springs (3-7)
30. Clarendon (3-7)
31. Strong (2-8)
32. Magnet Cove (3-7)
33. Palestine-Wheatley (6-4)
34. Bigelow (3-7)
35. Augusta (2-7)
36. Brinkley (3-6)
37. Cutter M. Star (3-7)
38. J.C. Westside (4-5)
39. Spring Hill (2-8)
40. Magazine (4-6)
41. Poyen (1-9)
42. Decatur (1-8)
43. Western Yell County (1-9)
44. Marvell (0-9)
45. Rector (1-7)
46. Midland (0-10)
47. Mountain Pine (0-9)

GAME OF THE WEEK
No. 6 Rison at No. 3 Hector
This is a rematch of a state quarterfinal matchup last year, won by Rison 45-36. Over the past three weeks, nine Rison starters have missed games due to injuries or disciplinary reasons, the most during head coach Clay Totty's 19 seasons at the school. Rison still stayed close to No. 2 Hampton two weeks ago in a 44-33 loss, eating up 36.5 minutes of the 48-minute game clock. A week ago, sophomore and third-team running back Roshawn Martin led Rison with 116 yards in a 35-8 win over Woodlawn. Rison churned out 404 yards and 22 first downs against a Woodlawn defense that had all 11 defenders within 5 yards of the line of scrimmage. Hector counters with senior quarterback Tanner Gaines, who has run more often this year with 120 carries for 920 yards and 13 TDs. Gaines has completed 65 percent of his passes for 1,981 yards and  23 TDs with seven interceptions. Junior Jadon Graham paces the Hector receivers with 64 receptions for 1,000 yards and 13 TDs. Hector switched from a five-man to a four-man front in the off-season and has performed better against running teams. Senior end Logan Church leads the team in tackles and sacks followed by senior linebacker Zach White (62 tackles).

LAST WEEK
Hootens.com correctly picked 17 of 22 games (77 percent) involving Class 2A teams. Hootens.com is 194-49 (80 percent) for the season.

WEEK 11 PLAYOFF PREDICTIONS (favored team in CAPS followed by point spread)
LEFT SIDE OF BRACKET
DANVILLE has a first-round bye.
Quitman at CARLISLE (6): Carlisle can be physical up front, and senior RB Ty Golleher (shoulder) is healthy again, carrying 31 times last week for 188 yards with TD runs of 11 and 85 yards in a 16-14 loss to McCrory. Carlisle seems to play to the level of its opponent. It fell at Augusta 50-32, pushed Des Arc in a 32-28 loss, then had to rally past Brinkley and Clarendon, a pair of three-win teams. Quitman owns a quality loss, 36-30 to Conway Christian.
J.C Westside at MOUNT IDA (42): Despite the weekly fumbles and the lack of team speed, Mount Ida secures the 7-2A top seed with a smashmouth running game featuring junior RB Cade Helms (995 yards, 10 TDs) and sophomore RBs Jonathan Lagrange (818 yards, 16 TDs) and Gage Dyer (630 yards, 11 ypc).
Conway Christian at BEARDEN (6): Conway Christian poses the most complex passing attack with the best execution Bearden has faced this season. Conway Christian sophomore QB Jacob Wood (2,447 yards, 30 TDs, four INTs) and senior WR Seth Smith (1,025 receiving yards, 23 ypc, 16 TDs) will challenge Bearden linebackers and secondary. But Bearden junior QB Tyler Berry has quietly produced all-state numbers, rushing for 727 yards while completing 76 percent of his passes for 979 yards and nine TDs.

Lafayette County at CROSS COUNTY (12): Cross County survived a scare last week when Marked Tree appeared to strip the ball from a CC ball-carrier late in the game and return it for the winning TD. Officials ruled the runner down, and Cross County escaped with an 18-14 win, thanks in large part to eight receptions for 146 yards and a TD by senior WR Marcus Boykin.
Salem at MCCRORY (6): McCrory personnel finally settled on defense with junior DE-DT Jamone McCoy (6-3, 265) racking up 11.5 tackles last week at Carlisle. Sophomore tailback T.J. Alford had been carrying the football 20 times a week and averaging 150 yards, but senior Tyler Hall has reasserted himself lately, running for 70 yards at Carlisle. Salem runs the football out of the I formation behind senior pulling guard Stephen Shoup (5-11, 190).
Palestine-Wheatley at C. HARMONY GROVE (45): C. Harmony Grove plays host to the Hector vs. Rison winner next week. Rison defeated visiting Harmony Grove 34-26 Week 8 for its biggest win of the season.
Rison at HECTOR (9): See hootens.com Game of the Week.

RIGHT SIDE OF BRACKET
DES ARC has a first-round bye.
Marked Tree at MOUNTAINBURG (2): Mountainburg has endured injuries, but  senior QB Quincy Pixley still makes the Dragons go. Marked Tree sophomore QB Jack Brown might enjoy more success passing the ball than handing off to junior RB Julian Booker, formerly the starting QB. A year ago, Mountainburg stunned Hermitage and all-state RB Monte Thomas 43-20 in the first round of the playoffs.
Hazen at HAMPTON (34): Hazen popped spiraling Palestine-Wheatley 44-6 last week to earn the 6-2A final playoff berth. Hampton has passed every major test this year, including a 44-33 win Week 9 over Rison to clinch its first outright league title since 1982.
East Poinsett County at FOREMAN (2): EPC managed just 161 yards last week in a 26-0 loss to Earle. Senior QB Chanc Gray and junior RB Eric Driver combined for 100 tough yards. Foreman healthy again with senior fullback and team captain Kolton Moore (ankle) is ready to go and just 30 yards shy of 1,000 yards this season. Senior Flexbone QB Tucker Hall has already topped 1,000 yards and sophomore HB Kyren Batey needs just 28 yards to top 1,000.

Parkers Chapel at ENGLAND (42): Top-ranked England hands Parkers Chapel its sixth loss of the season and its fourth consecutive first-round exit. PC lost at Hector 56-14 in the first round of the 2015 playoffs. 
Magnet Cove at HACKETT (21): Hackett senior QB Ely Stormes has passed for 1,495 yards and 24 TDs with just four INTs. Sophomore Brady Hester and senior Robert Collins average 24 and 21 yards per reception. Sophomore RB Cooper Shipman has rushed for a team-high 817 yards.
Lavaca at MURFREESBORO (10): Murfreesboro is one of the hotter teams in 2A football, having won five straight after a 50-20 midseason loss to Mount Ida. A week ago, junior backup QB J.C. Motley took a reverse pitch and passed to the end zone where the ball was tipped by defenders and then caught by senior wideout Troy Stone for the 26-20 victory.
Dierks at EARLE (2): Earle junior QB Gerry Bohanon (ankle) and freshman FB Jaylon Cooper (hamstring) are healthy again, and the Bulldogs tore up EPC last week 26-0. Earle limited EPC to 161 yards, while Bohanon accounted for more than 300 yards and four TDs. One year ago, Magnet Cove upset Earle in the first round of the playoffs, and Dierks, with a win over Mount Ida three weeks ago, will be the first Spread operator Earle has faced in 2016.