Bowl-eligible Hogs flog Florida 31-10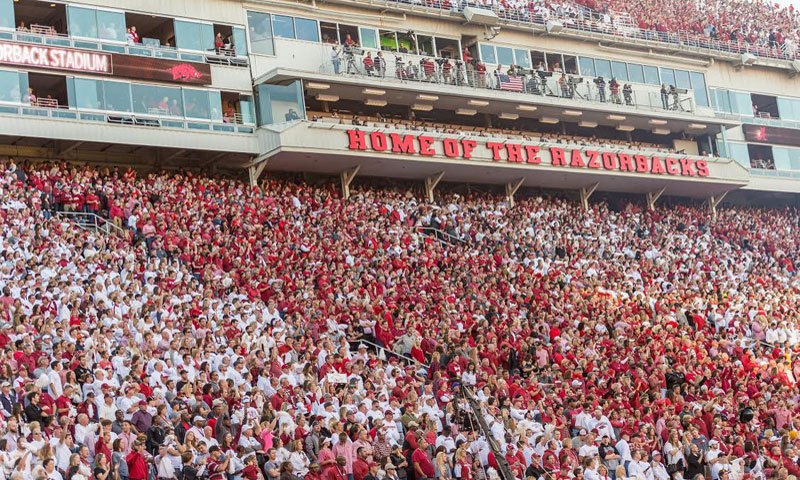 FAYETTEVILLE - Not just the Chicago Cubs ended a long tale of woe this November. The Arkansas Razorbacks broke one, too.

Previously 0-9 in SEC games against the Florida Gators since 1992, and clobbered 56-3 their last game at Auburn, the Razorbacks flogged Florida 31-10 Saturday before 74,432 at a soldout Reynolds Razorback Stadium.

Florida (6-2 overall and 4-2 in the SEC East) arrived respectively ranked ninth, 10th and 11th by the Amway Coaches poll, the Associated Press poll and the College Football Playoff rankings but threw Saturday's game away their very first play.

Arkansas strong  safety Santos Ramirez picked off Florida quarterback Luke Del Rio's pass first tipped by free safety Josh Liddell and returned it for a 24-yard touchdown.

"I caught the ball and ain't no lineman catching me," Ramirez said. "So I ran right in and the rest is history."

Arkansas' offense scored on the first of running back Rawleigh Williams' two TDs, and the Razorbacks were rolling their bowl eligibility record to 6-3 and 2-3 in the SEC West. They host LSU on Saturday in their final home game for 2016.

"That was the tone-setter for us the whole day," Arkansas junior QB Austin Allen said of Ramirez's TD. "Against Florida we finally righted the ship. The defense started with a chip on their shoulder and being able to get the first play a pick-six was a huge momentum for us and the whole stadium. The defense didn't look back."

And Florida seldom ran forward. Yielding an unprecedented 543 rushing yards in the 53-point loss at Auburn, Arkansas held Florida to a meager net 12 yards rushing.

The turnaround  with the bye week was a concerted defensive staff effort, Arkansas coach Bret Bielema said.

"To come out of that Auburn game and realize we couldn't stop the run," Bielema said, "I just said, 'I don't care what we do, we're going to stop the run on defense don't care if we play 11 guys, if we have to play with 12, I'll take the penalty. We are not going to have somebody run the ball on us. And I think they had 12 yards today, so that message was delivered and sent and accepted, and I think that was really good.'

Meanwhile against one of the nation's top-rated defenses, the Razorbacks rolled 466 total yards.

Quarterback Austin Allen completed15 or 26 for 243 yards and a TD. The Razorbacks netted 223 rushing yards with Williams gaining 148 and his two TDs on 26 carries and freshman Devwah Whaley netting 69 on 14 totes.

Both units made some changes with sophomore walk-on Johnny Gibson of Dumas drawing his first ever Arkansas start at right offensive guard, while freshman McTelvin "Sosa" Agim of Hope started at defensive tackle with senior Florida native Jeremiah Ledbetter moving to defensive end.

Between them, Ledbetter and Agim had seven tackles, shared one for a loss, and both had QB hurries harassing Del Rio.

"I think it played out great," Ledbetter said. "He's an athletic guy at that  3-technique and me out setting the edge I thought that was a good combination. And to dominate Florida, that was extra special for me being recruited by them. Just to show them that you made a mistake.  Playing these Arkansas Razorbacks, we showed them the dominance."

The Auburn game embarrassed them, Agim said, and embarrassed some Razorbacks alums home on a NFL bye week.

"We took it to the heart because they (Auburn) set a record on us," Agim said. "We really weren't feeling too good after that. Some of our alumni talked to us, and they weren't feeling too good. People like Trey Flowers, Martrell Spaight, Sebastian Tretola. They came and talked to us and showed us how it hurt them, too, and how they still put on the Razorback red and how we have to take control of this."

The Razorbacks took control, Florida coach Jim McElwain said, even apologizing to Gator fans and media.

"First and foremost, you guys have made the trip down here, and I apologize you had to sit through that.," McElwain said. "My hat's off to Bret and those guys. They took that week off and came out to prove something and they proved it. "

Each team's defense scored a TD, and Arkansas' offense tallied two TDs during the first half that Arkansas led 21-7 at intermission.

Florida's first offensive play went Arkansas' way.  Punted back to their 11, the Gators opened with a Del Rio pass. Arkansas free safety Liddell of Pine Bluff Dollarway tipped it, Ramirez caught it and took it to the house for a 24-yard TD with 12:20 left in the first quarter.
Liddell intercepted a Del Rio pass at the Arkansas 3 in the second quarter.

Arkansas' offense tallied after its defense forced a punt.  Freshman running back Devwah Whaley broke a 13-yard run one tackler away from a touchdown then took an Allen screen pass 43.

A great block by left guard Hjalte Froholdt, injured during the second quarter, freed Whaley for his big screen pass gain.

The Hogs survived Allen nearly throwing an interception before a Florida pass interference penalty set up first and goal from the six. Running back Williams took it from there carrying two would-be Gators along for the final two yards of his 6-yard touchdown run for a 14-0 Arkansas lead at 5:06 of the first quarter.

Allen, not with usual sharpness for much  of the half, was trying to reach tight end Jeremy Sprinkle when defensive back Duke Dawson picked it off with in stride momentum for his 37-yard touchdown interception return with 2:44 left in the first quarter.

Allen connected three times on Arkansas' 87-yard second-quarter touchdown drive.

Allen completed passes of 15, 31 and five yards to the senior tight end from White Hall before Allen threw a 7-yard touchdown pass to Drew Morgan, 7 catches for 95 yards.

Arkansas dominated second half possession time and for the game had the ball 39:21.

Both teams kicked fourth-quarter field goals, a 36-yarder by Adam McFain and a 49-yarder by Florida's Eddy Pineiro, before Williams tallied the final TD breaking a 41-yarder with 5:40 left before the game's end.

"Rawleigh put the nail in the coffin," Bielema said.