RECRUITING: Talent abounds at No. 2 Prescott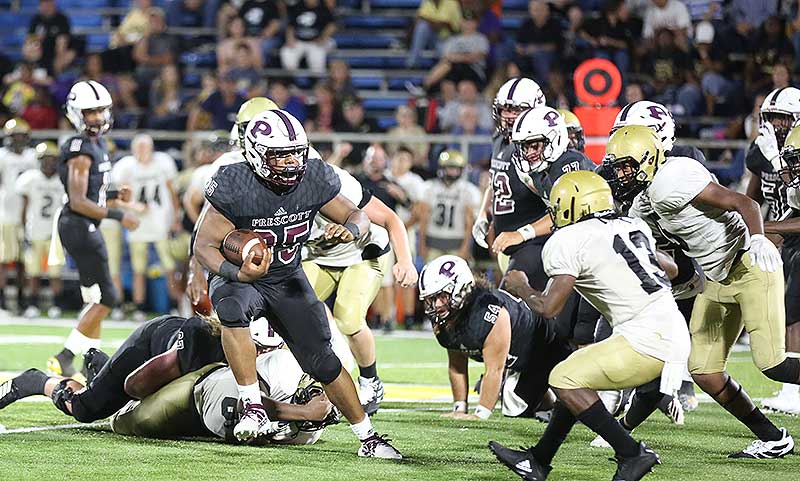 Class 3A No. 2 Prescott plays at eighth-ranked Glen Rose (8-1) Friday for the 5-3A title, and the winner secures homefield advantage throughout the playoffs.
Don't expect the high stakes to shake the undefeated Curley Wolves, who've advanced to at least the semifinals four of the past five years. Prescott has notched double-digit wins six straight seasons and won four of the past six conference titles.
Prescott first-year head coach Brian Glass deflects attention from himself and places it on players. "We have a great group that expects to win," says Glass, who served as Prescott offensive coordinator from 2002 until taking over as head coach in the spring.
Watch extended highlights of Prescott wins early this season over Gurdon (HERE) and over Centerpoint (HERE).

Senior quarterback Jacobi Nolen (6-1, 212), who earned all-state honors in 2019, likely does again this fall. He's completed 57 of 92 passes (62 percent) for 1,377 yards and 21 touchdowns with only one interception, a Hail Mary attempt on the final play of the first half Week 6 at Centerpoint (a 42-20 Prescott victory).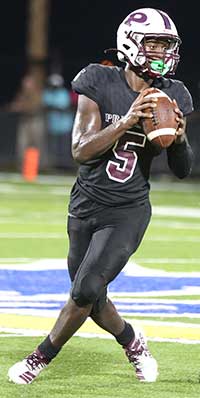 Nolen (#5 in Rhonda Sharp photo)

also averages 5.7 yards per carry. As an outside linebacker, he has logged 68 tackles and three sacks.
Nolen played his best in Prescott's opener, a 43-36 win at rival Gurdon by completing eight of 12 passes for 215 yards and two TDs. He ran 16 times for 100 yards and a TD and amassed 14 tackles. At Centerpoint, Nolen completed 16 of 19 passes for 236 yards and three TDs.
Northeast Oklahoma and every in-state Division II school have offered scholarships to Nolen. "They are all fighting over him, trying to come up with the best package," Glass says. "He was all-state last year, and this year is a bigger, stronger version of himself."
Senior receiver Jeffery Williams (6-1, 175) has emerged as one of Nolen's top targets with 17 receptions for 581 yards (34.2 yards per catch) and seven TDs. He exploded last week against Jessieville with six catches for 182 yards and a TD. Williams has offers from Arkansas Baptist and Monmouth.
Senior running back-linebacker-defensive tackle Alex George (6-1, 255) "is unbelievable," the coach says. "He has the best feet I've seen. You think you're looking at a 150-pounder when he runs." George (4.7 speed) has 39 carries this year for 368 yards and 12 TDs. George (#35 in Rhonda Sharp photo above) has scored multiple TDs in five games his fall, including three a week ago against Jessieville.
George (525-pound squat, 375-pound bench press) "is one of the strongest players I've ever been around," Glass says. NEO and Arkansas Baptist have offered him.
Senior tackles Justin Wilson (6-4, 270) and Jeff Arnette (6-4, 265) anchor the line, and both are coveted by area colleges. Williams (325-pound bench press, 525-pound dead lift) "is the first modern-era four-year starter at Prescott," the coach says. "He was our most outstanding player last week (63-12 win vs. Jessieville)." Wilson racked up 11 tackles and returned an interception 30 yards to set up a TD against Jessieville. NEO has offered him a scholarship, while Henderson State and Ouachita Baptist are among the in-state D2 schools recruiting him.
Arnette plays left tackle on offense and every spot on the defensive line. He owns offers from Henderson State and NEO.
Junior cornerback Omarion Dickens (6-1, 180; 10 tackles) has been slowed this year with an ankle injury. Kansas offered him a scholarship in the spring. Dickens (4.6 speed) ran track for Hot Springs Lakeside as a freshman, clocking a 52-second split in the mile relay.

Junior running back Jaylen Hopson (5-8, 160; 4.4 speed) "is a legitimate burner," Glass says. "Everybody is waiting on him. Kansas says if he grows two inches, they'll offer." Hopson has carried 42 times this fall for 658 yards (15.7 yards per carry) and 11 TDs. He ran 13 times at Centerpoint for 118 yards and three TDs.
Junior Jacaylon Zackery (5-9, 160) has 19 catches this fall for 441 yards (23 yards per catch). Multiple in-state D2s are evaluating him.
Henderson State has evaluated linebacker Jason Patrick (6-1, 185). The junior has 79 tackles this fall, including 16 stops against Gurdon. Last week at Jessieville, Patrick logged 14 stops and an interception. He has reached double-digit tackles in six games this fall.
Junior receiver Caleb Harris (6-4, 230) could develop into a Division I recruit with his size. Harris has 20 catches this fall for 328 yards and seven TDs. He runs the 110- and 300-meter hurdles in track and throws the shotput (54 feet, eight inches as a freshman). The talented basketball player "is an outstanding athlete," Glass says.
Sophomore Carston Poole (6-2, 175) cracked the starting lineup at safety this fall (30 tackles) and could shift to QB in 2021. Poole has an offer from Henderson State.