Hogs: Tight end Cantrell brings tenacity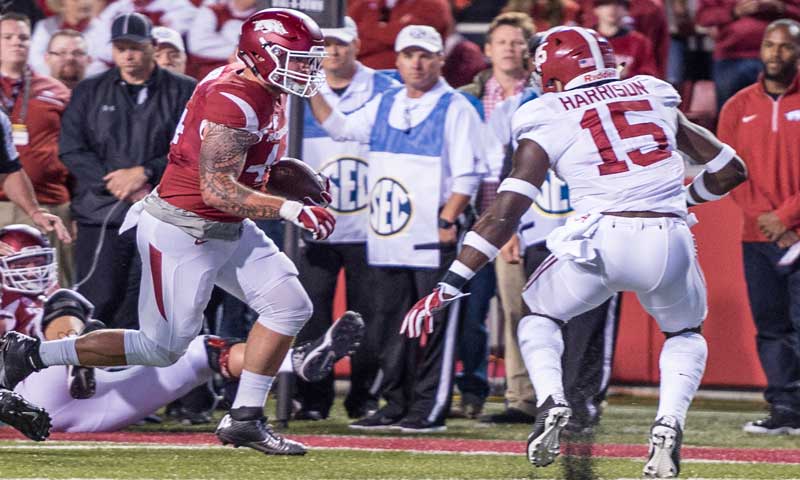 FAYETTEVILLE - Even through a 1-3 SEC start, some Razorbacks can make their coaches smile.
Austin Cantrell is one of them. Football coaches love a tough guy in tough times. That's what the bearded backup tight end from Roland, Okla., has done as a redshirt freshman.
"Austin is probably one of my favorite guys," Arkansas coach Bret Bielema said. "He brings a little smile to your day. Obviously he was from Oklahoma, but a local kid who said, 'yes' to us right away and he loves it.  He loves the game."
Had he still been at Arkansas to coach him, there's no doubt Danny Ford would have called Cantrell "one of our older younger players." That was Ford's Southern-fried euphemism for a rookie playing with maturity beyond his years.
Cantrell (6-4, 269) has that look.
"He looks 30," Bielema said. "You've got to keep reminding yourself that he's a redshirt freshman."
Barry Lunney, the tight ends coach who recruited Cantrell, concurs.
"It's hard to keep remembering he's just a freshman," Lunney said. "He's so physically mature and mature in how he carries himself."
Bielema collected different types of tight ends by the boatload when he coached Wisconsin, and in four years assembles an ever increasing cast of them at Arkansas.

The Razorbacks needed a rugged, blue-collar blocker smart enough to play on a variety of special teams and tight end derivatives like H-back and be an honest threat in the passing game. Cantrell has been a backup and a compliment to senior Jeremy Sprinkle in in two-tight ends.

Cantrell has caught at least one pass per game for the 5-3 Hogs. He logs nine catches for 75 yards this year, including two for 14 during the 34-30 SEC victory over Ole Miss.

"He's been good," Arkansas offensive coordinator Dan Enos said. "He's still got a ways to go in a lot of areas, but he's a tough player. Very physical. He's certainly a guy that we've asked a lot of for being a young player to do a lot of different things and he's handled it pretty well."
Amen, says Lunney.
"The guy who plays that tight end position does a lot of things for us mentally," Lunney said. "He has done a good job for a freshman."
Bielema listed Cantrell's tasks.
"He plays in the line of scrimmage," Bielema said. "He plays fullback. He plays wing. He's my pp (punt protector) on punt. I put him there because he's pretty accountable and trustworthy. As this program continues to build, he'll be a guy you can build around in certain regards."
Lunney said the staff knew that from the get-go.
"He was our type of guy," Lunney said. "A tough guy who doesn't back down from anything and likes football a lot."

On the college level, Cantrell acknowledged last year he redshirted was tougher in spirit than technique.
"I think I have come a long way as far as blocking and in the passing game a little bit," Cantrell said.
Surprisingly, given it moved him ahead of talented peers, Cantrell said his blocking "probably" had the farthest to come.
"When I got here, my footwork was terrible," Cantrell said. "My hand strike wasn't very good. But I think I have come a long way from that."
Long enough to play more this season than he anticipated.
"I was thinking maybe 10 or 20 plays a game and I have been averaging around 40," Cantrell said. "So that is a little bit of a surprise."
In Arkansas' SEC games, Cantrell has caught passes and blocked against Alabama, Texas A&M and Auburn, ranked first, fourth and ninth in Sunday's College Football Playoff rankings, and Ole Miss, ranked 12th by the Associated Press at the time..