Hogs: receivers relish expanding roles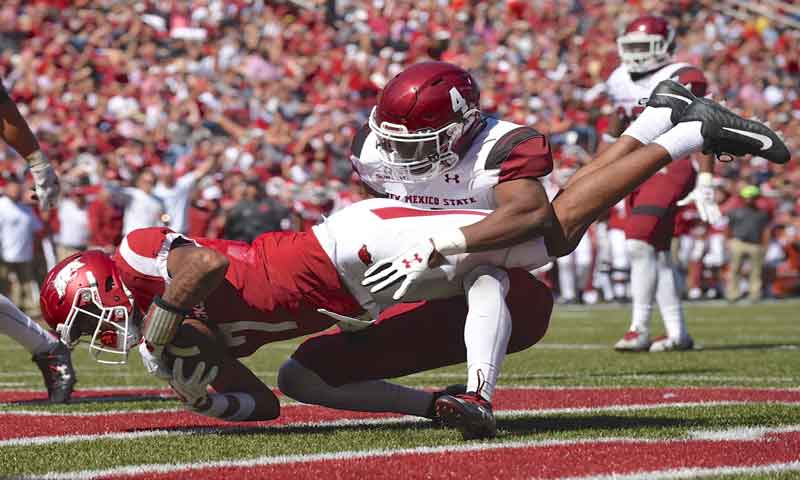 By OTIS KIRK
FAYETTEVILLE - Four different Razorback receivers caught passes last week at Ole Miss, and three of them carried the football on reverses in the 38-37 victory.
Arkansas receiver coach Michael Smith was pleased with the production and thrilled to snap a three-game losing skid.
"Yeah, it was definitely a good feeling in that locker room," Smith said. "We're on to Coastal Carolina. We're just trying to encourage the guys to continue to keep keeping on because wins do make it a lot better around here."
Arkansas (3-5, 1-4) will play host to Sun Belt Conference member Coastal Carolina at 3 p.m. Saturday for homecoming at Reynolds Razorback Stadium. The SEC Network alternate channel will televise the game.
Junior college transfer Jonathan Nance (in Craven Whitlow photo vs. New Mexico State) paces Arkansas with 31 receptions for 436 yards and five touchdowns. Nance had been fairly quiet for two games before catching four passes for 34 yards and rushing twice for 45 more yards at Ole Miss. Deon Stewart caught four passes for 49 yards, including a 23-yard touchdown from quarterback Cole Kelley.
"Jonathan played well," Smith said. "Deon played very, very well, but I was glad to see Jonathan get back out there. He's always kind of busting my chops about, 'Coach, let me run one of those dashes.' To give him the opportunity, the first play of the second half and see him break away was good, and it got him going in the pass game. We just gave him a hard time for getting caught."
Sophomore JUCO transfer Brandon Martin entered the season highly touted, but battled injuries. He worked his way into the rotation, beginning with the South Carolina game, and has caught seven passes for 76 yards. He was a teammate of Nance at Mississippi Gulf Coast Community College.
"He (Martin) did well Saturday, did very well," Smith said. "He just didn't have anything thrown to him Saturday. I'm just putting guys out there now. The thing that's been encouraging is that we've gotten to a point where I feel comfortable putting guys in the game.
"To be honest with you, when Dan (Enos) calls a play, I'm not looking to see who's out there because I have confidence in all of them making the play. When his time comes, he has to be ready. It's just like the opportunity came for him in South Carolina. He made a play for us. That's what I expect from all of them."
Smith coached T.J. Hammonds this season until the Joe T. Robinson grad moved to running back for the Ole Miss game. Hammonds responded with 11 carries for a team-high 89 yards.
"I was happy for T.J.," Smith said. "To get a guy like T.J., to get the opportunities he got and do what he did Saturday was awesome to see. I'm happy for him. Any way he can help us win football games, I'm ecstatic to see him out there doing those things."