Hogs: WR Hatcher welcomes challenge from UF corners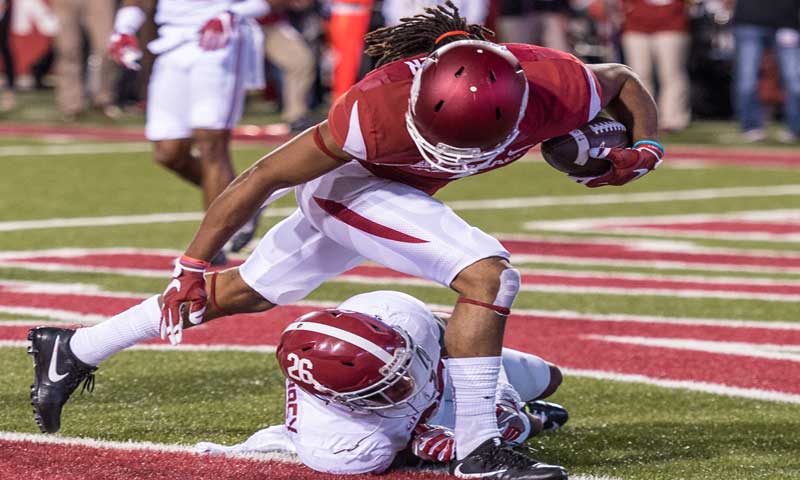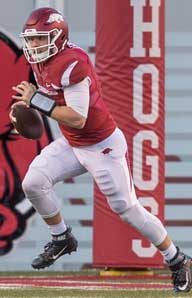 Jr QB AUSTIN ALLEN
FAYETTEVILLE - After practice Wednesday night, Arkansas starting quarterback Austin Allen announced himself fit, and a sophomore was projected as likely fit at right tackle for the Razorbacks' SEC game against Florida.
Arkansas (5-3, 1-3 in SEC West) and 10th-ranked Florida (6-1, 4-1 SEC East) collide at 2:30 p.m. on CBS at Reynolds Razorback Stadium.
Allen (sprained and bruised knee) and Brian Wallace (toe) were injured and eventually removed from Auburn's 56-3 rout of Arkansas on Oct. 22 at Auburn, Ala.
Neither practiced during last week's bye week, but both are back at it this week.
"It's all good," Allen said. "I feel great. Just got to rehab with (trainer) Matt Summers and his crew all day, so they … got me feeling real good. I would say I'm totally full go. I've practiced all week."
On Wednesday morning's SEC Coaches/Media teleconference, Arkansas coach Bret Bielema said Allen has become accustomed to bouncing back from physical poundings.

"Really no different than what we have seen all the other weeks," Bielema said. "There was concern (about Allen's injury vs. Auburn) coming out of that game, but it was really just a bruise where he got rolled up from behind."
ALLEN BLAMES SELF FOR SOME HITS
Allen said some of the pounding he takes is his fault for not getting rid of the ball quicker.
"I think a little bit of those hits might have been on me," Allen said. "Just trying to wait on something down the field to develop and try to make a big play or something like that. I've just been working on getting through my reads quicker. If something's covered downfield, getting to my check down and just trying to get the guys the ball."
Speaking at Wednesday's Northwest Arkansas Touchdown Club luncheon, Rick Neuheisel, the CBS football analyst and former head coach of Colorado, Washington and UCLA, admired Allen's courage but said he needs to hang on to the ball less so he can take less hits.
"I think the quarterback is tougher than nails," Neuheisel said. "I think he has IT, when you're looking for moxie at that position. Does that mean he's playing perfectly? No. He holds the ball probably a little too long, because he's tough. So if I'm coaching him, I've got to impress upon him I need it out of your hands faster."
WALLACE BACK ON LINE
Wallace's right tackle availability for the Florida game looked grim when he limped out of the Auburn game and stayed sidelined the entire bye week, but the rest seems to have recovered him, offensive line coach Kurt Anderson said.
"He is doing well," Anderson said after Wednesday's practice. "He has practiced the last two days and he has looked really, really good. He's gutting though a little pain here and there with a little movement here and there, but I see a lot of positive in him. I feel good about him."
So does his quarterback.
"I think Brian really had a good bye week," Allen said. "Just getting his body right and getting in film room and taking mental reps out at practice. He's come back his week and really practiced well with high intensity. He works his tail off, and I'm sure he'll have a good game on Saturday."
Colton Jackson, the redshirt freshman from Conway who opened the season as the starting right tackle andmoved to backup guard, operated at first-team right tackle during the bye week and continues this week at right tackle behind Wallace.

CORNERS LET GATORS STACK BOX
Neuheisel, Arkansas players and coaches cited Florida cornerbacks Teez Tabor and Quincy Wilson for playing such blanketing pass defense that Coach Jim McElwain's Gators can afford to stack the box against the run.
Arkansas receivers coach Michael Smith was asked if Tabor and Wilson are as proficient and physical as the defensive backs Arkansas has faced in SEC West losses to Alabama, Auburn and Texas A&M.
"I think they are," Smith said. "They like getting there hands on you. I rate these guys probably the two best corners with the accolades they've received."
Arkansas senior Keon Hatcher, a big, physical receiver, looks forward to matching against Florida's best.
"Just mano-y-mano, you know," Hatcher said. "Man to man. It's competition. Who's going to win the battle? I expect our guys to come out there ready to compete."