Hogs: Wise doubtful for UF; Floridian Razorbacks ready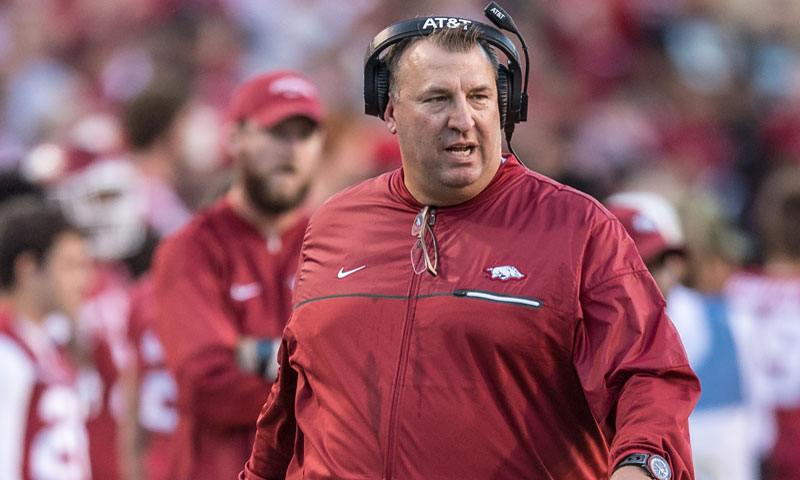 FAYETTEVILLE - Arkansas head coach Bret Bielema has signed four recruiting classes with Floridians, but Saturday marks the first time any as Razorbacks will play a Florida team.
The University of Florida (6-1, and 4-1 atop the SEC East), ranked 10th by the Associated Press and 11th in Tuesday night's College Football Playoff rankings, and unranked Arkansas (5-3, 1-3 in the SEC West) clash at 2:30 p.m. Saturday on CBS national TV.
Three Floridians on the Arkansas defense, defensive backs Ryan Pulley and De'Andre Coley and tackle Jeremiah Ledbetter, were media available Tuesday night after practice.

Sophomore cornerback Pulley of Fort Myers didn't have much to say about his recruiting past with the Gators now coached by Jim McElwain, the Florida head coaching  successor to Will Muschamp now coaching South Carolina.

PULLEY WANTED OUT     
"They recruited me from the previous coaches," Pulley said, "but I wanted to get out of the State of Florida, so that really wasn't a big thing."
A much bigger thing, they all said, is righting the ship. The Hogs were routed 56-3 by Auburn on Oct. 22 in their last game followed by a bye week, and the Gators are 9-0 against Arkansas in SEC games, last playing the Hogs in 2009.
"The bye week healed our wounds, and we put that Auburn stuff behind us," Pulley said.  "And we are ready to go out here and play a Top 10 team."
Is there a concerted effort not to let the 56-3 debacle at Auburn define Arkansas' season?
"That ain't going to define us," Pulley said.  "We put that behind us during the bye week, and we watched film. Do what we've got to do and moved on to Florida."

COLEY HEALTHY
Coley, the junior from Miami's Northwestern High and top backup to  starting safeties Josh Liddell and Santos Ramirez, says he's healthy after a star-crossed non-outing against Auburn.
Coley had to miss the first half against Auburn after being suspended for a targeting penalty during the second half in the victory over Ole Miss the previous week. Turns out he couldn't have played it anyway because he accidentally stepped in a pothole during the week and sprained his ankle.
"I was on the phone with my mom and next thing I know I stepped in a pothole," Coley said. "It was real bad. I feel 100 percent now. I'll be out there Saturday with my teammates."
And apparently against some old teammates and opponents.
"It feels great playing against some of my old friends and teammates," Coley said.  "It's gonna be a good game. I feel like a high school game."
Has he talked to them during the week? "Naw," Coley said. "I'm just trying to focus on us right now."

LEDBETTER  VERSATILE
Senior defensive tackle Ledbetter originally was from Orlando but moved to Georgia his senior high school season and came to Arkansas via Hutchinson (Kan.) Junior College.

Any extra incentive for him going agains the Gators? "Being from Florida, I've got a chip on my shoulder," Ledbetter said

"Coming out of juco, they did recruit me to play defensive end and defensive tackle. But Coach B and his staff convinced me to come here. Just the integrity he holds and what he represents. That's what I like about Arkansas."
Ledbetter and five-star true freshman McTelvin "Sosa" Agim of Hope have played both end and tackle this season."

WISE DOUBTFUL
Both may display their versatility Saturday because starting senior end Deatrich Wise is injured and has not worked a full practice since the Auburn game.
"He didn't do a lot today," Arkansas defensive line coach Rory Segrest said.  "We'll see what he can do the rest of the week."
How much did the extra bye week work on fundamentals help Agim?
"He's done well," Segrest said. "We have a lot of young guys who have stepped up their game this past week, and Sosa has come along and  really made some progress."

WINSTON READY
Senior JaMichael Winston, a captain and starter last year, likely will start if Wise can't. "He's always been a great leader for our front," Segrest said. "He is really stepping up his game a little bit. This bye week has really helped him."

ELLIS UP FOR ACADEMIC HEISMAN
Arkansas senior middle linebacker Brooks Ellis of Fayetteville, a pre-med honors student in exercise science and biology, is one of 12 finalists named Tuesday for the Campbell Trophy, called college football's Academic Heisman.
Arkansas' linebackers coach Vernon Hargreaves, who has coached at eight schools since 1980, was asked if Ellis is one of the smarter he ever coached.
"Probably THE smartest," Hargreaves said. "Brooksie probably tops them all. He is a 4.0 student and going to be a doctor.  It doesn't get better than that."
This Florida game is something of a family affair for Hargreaves.
His son, Tampa Bay Bucs first-round pick Vernon Hargreaves III, was an All-American at Florida. Daughter Chanelle plays volleyball for Florida.
"It will be an interesting deal for the family," Hargreaves said. "We got some history there, but as it stands right now it's all Arkansas."