Hogs: Allen, others healed for No. 10 Florida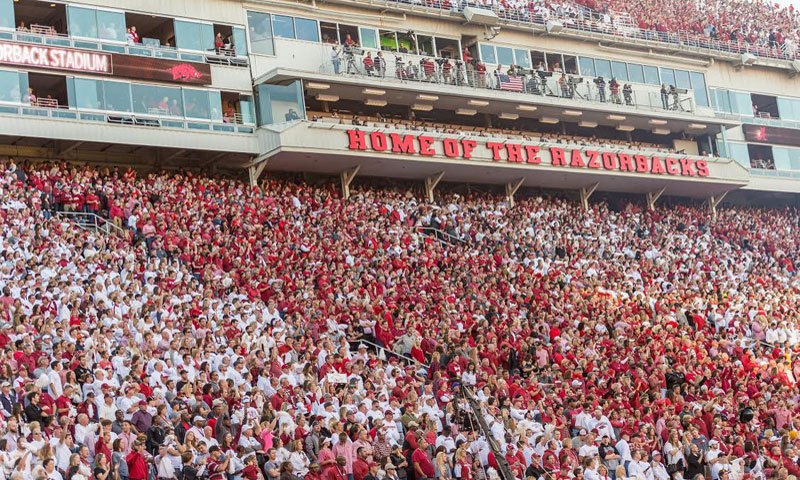 FAYETTEVILLE - Arkansas starting quarterback Austin Allen launched game-week practice operating first team and is good to go against the Florida Gators Saturday, Arkansas coach Bret Bielema and offensive coordinator Dan Enos said Monday.
The Razorbacks (5-3 overall and 1-3 in the SEC West) and the No. 10 Gators (6-1 and at 4-1 leading the SEC East) meet at 2:30 p.m. Saturday on CBS national television at Reynolds Razorback Stadium.
Allen sprained a knee during Arkansas' last game, a 56-3 SEC loss Oct. 15 to the Auburn Tigers.
Allen was withheld from the four bye week practices last week. Allen would not have played if the Razorbacks played last Saturday, Bielema said last week.

"Austin didn't get any work last week, but he was out there yesterday (Sunday)m afternoon," Bielema said at his weekly Monday  press conference. "Ran the whole time with the ones. So feel good about where that is."
Does feel good mean good to go? "Yeah," Bielema said noting Allen has done his part rehabbing.
"I don't think anybody in the country could work as hard getting back as quick as possible than Austin," Bielema said.  "Everything 'I'm doing great!' He refuses to take any negativity, which I think in turn helps him out."
Enos said Allen's Sunday  mobility "looked good."

WALLACE STILL HOBBLING
Sophomore starting right offensive tackle Brian Wallace (a severe toe injury), junior starting right offensive guard Jake Raulerson, senior starting defensive end Deatrich Wise, senior starting  tight end Jeremy Sprinkle and junior backup safety De'Andre Coley were among those withheld from the bye week practices nursing injuries.

"Brian Wallace is the only one that continues to be a little bit limited," Bielema said Monday. "Otherwise, everybody is back better than ever."

AN URGENT MESSAGE
Redshirt freshman Colton Jackson of Conway, the early-season starting right tackle moved to reserve guard after Wallace took the right tackle starting job, has practiced at first-team right tackle during Wallace's absence.
Enos was asked about Jackson's return to tackle.
"He's done OK." Enos said. "He's still a freshman, so we'd like to see his sense of urgency get a little better. He gets a little casual I think at times, and I think he needs to understand the speed of the game and how the SEC is and the strain of it  every single play.  We've seen him continue to develop and get better."
Bielema avoided specifics but said others also worked at right tackle during the bye week.

WINSTON  READY
Wise, the Hogs' most heralded defensive player in preseason, has been plagued by an injured hand and other injury issues," Bielema said.
Senior defensive end JaMichael Winston, a starter last year as Wise came off the bench, has worked first-team end in Wise's absence.
"Mike practiced really, really, really well," Bielema said. "He's a senior who has played a lot of good football."
Raulerson and Coley are expected closer to full strength this week.
Junior center Frank Ragnow of Chanhassen, Minn. whose father died of a heart attack on Oct. 1, spent part of the bye week back in Minnesota visiting with his mother and siblings, Bielema said.

RANDY SHANNON RETURNS AS FOE
Bielema, Enos and defensive coordinator Robb Smith were asked about the knowledge that Florida linebackers coach/co-defensive coordinator Randy Shannon has on Arkansas' personnel and procedures.
Shannon in 2013 and 2014 coached Arkansas' linebackers under Bielema.
"You have to be smart about what you're doing," Bielema said of making sure signals aren't the same as when Shannon coached with the Razorbacks.
Shannon's last year on Arkansas's staff was Smith's first.
"Randy is a good football coach," Smith said. "I'm sure he has a good idea of what we do here. But at the end of the day it's about us and about our execution."

GATORS CHOMP CHUBB
Bielema, Enos and defensive coordinator Robb Smith were impressed with Florida flogging Georgia, 24-10 last Saturday and holding superb Georgia running back Nick Chubb to 20 yards on nine carries.
"They played so hard in that game it was amazing," Enos said. "I watched it on TV and then watched it twice now on tape and they just were very physical. They beat them up front."
HOLY COW!
Since, he grew up in Prophetstown, Ill., Bielema was asked if he pulls for the Chicago Cubs in the World Series.
He does, he said, instilled since boyhood by his dad. While coaching Wisconsin, Bielema said he was honored to sing "Take Me Out to the Ballgame"  during the seventh-inning stretch of a Cubs-Phillies game at Wrigley Field.

"They booed me at first because they said the whole Wisco thing, and you're in Chicago," Bielema said. "But I rocked it, man. 'Hey Phillies fans, sit down. Cubs fans let me hear you!'  They came alive and I got pretty good standing ovation. So it was fun."