Class 6A Week 10 Rankings, Notes & Picks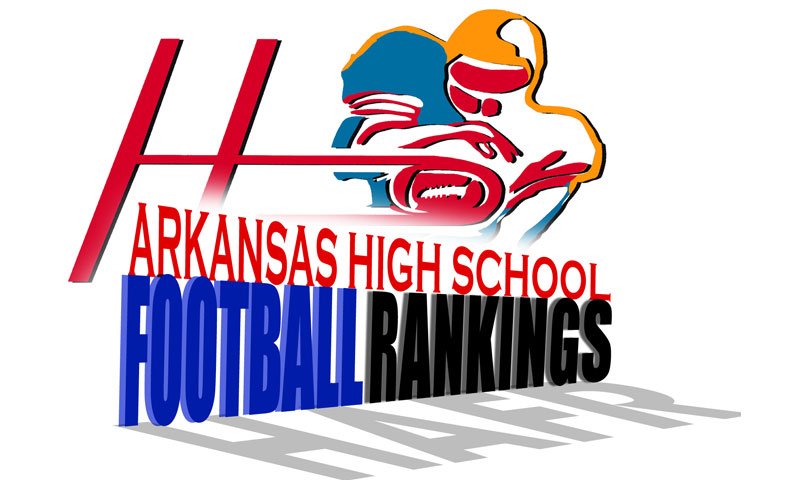 Hootens.com Class 6A Rankings
Week 10, 2022

Copyright Seventy Seven's Publishing

1. Greenwood (8-1)
2. Pulaski Academy (8-1)
3. LR Catholic (9-0)

4. Lake Hamilton (8-1)

5. Benton (7-2)

6. LR Christian (7-2)

7. Marion (7-2)

8. West Memphis (6-3)

9. El Dorado (4-5)

10. Russellville (4-5)

11. Sheridan (3-6)
12. Searcy (3-6)
13. Greene Co. Tech (2-7)

14. Mountain Home (2-7)

15. Van Buren (1-8)

16. Greenbrier (2-7)

17. Sylvan Hills (2-7)

18. Siloam Springs (0-9)

19. Jacksonville (0-9)

WEEK 10 PREDICTIONS (Favored team highlighted in yellow and in ALL CAPS)

LAST WEEK

Hootens.com predicted correctly 8 of 9 games involving Class 6A teams last week and is 76-14 (84 percent) in Class 6A.

GAME OF THE WEEK

No. 4 Lake Hamilton (8-1, 6-1) at NO. 2 PULASKI ACADEMY (8-1, 6-1) The winner earns the No. 2 seed in the West and a first-round playoff bye. Both team's lone losses came against conference champion Greenwood. 
Lake Hamilton has rushed for 2,128 yards and passed for 971. Justin Crutchmer leads the way with 855 yards and 10 TDs. QB Easton Hurley has passed for 971 yards and 11 TDs while rushing for 126 yards and 6 more scores. "It's a huge game because it also puts you on the other side of the bracket from Greenwood," Lake Hamilton Coach Tommy Gilleran said. "Overall, I think our kids are playing really well. After the Greenwood loss, we worked on some things, doing some things differently. They [Pulaski Academy] do a lot of things well. We've got to disrupt some of that. PA's defense is good too. We've got to make some plays."
Pulaski Academy is led by junior QB Kel Busby, who has passed for 2,966 yards and 34 TDs. "We just made this game bigger," PA coach Anthony Lucas said, referring to the 33-22 loss to Greenwood last week. "We're looking forward to it. We've got to play a great game defensively. I thought our defense played well against Greenwood. Going into this week, we cannot turn the ball over. If we turn the ball over again this week, we'll find ourselves with 2 losses." 
6A-EAST

EL DORADO (4-5, 4-4) at Jacksonville (0-9, 0-8): Defending state champion El Dorado has clinched a spot in the playoffs last week despite losing 42-16 to LR Catholic. The Wildcats will be the fifth seed. Jacksonville has not won a game since beating Watson Chapel on Oct. 1, 2021, a stretch of 13 consecutive losses.

BENTON (7-2, 7-1) at Sheridan (3-6, 3-5): Benton can clinch the No. 2 seed and a first-round bye with a win. The Panthers are coming off a 55-38 win over West Memphis, Benton's sixth consecutive game of scoring 55 or more points. Sheridan can finish tied for sixth, and a mixture of ties could send the Yellowjackets to the playoffs.

Marion (7-2, 7-1) at LR CATHOLIC (9-0, 8-0): Marion has clinched a home playoff game and could gain a share of the conference title and a possible top seed with a win. The Rockets have continued to be the surprise of the state, winning their first nine games. The Rockets beat El Dorado 42-16 last week behind QB Sam Sanders, who passed for 276 yards and 5 TDs.

Searcy (3-6, 3-5) at WEST MEMPHIS (6-3, 5-3): Searcy can enhance its playoff chances with a win. The Lions are led by RB Dede Johnson, who has rushed for 1,468 yards and 19 TDs. West Memphis, coming off a 55-38 loss to Benton, is led by the QB-WR duo of Keland Mills and Jarrell Shephard. Mills passed for 473 yards and Shephard caught 16 passes for 317 yards and 4 TDs against the Panthers.

Greene County Tech (2-7, 1-7) at SYLVAN HILLS (2-7, 2-6): Greene County Tech has been eliminated from playoff contention. Sylvan Hills needs a win to guarantee itself no worse than a tie with Searcy and Sheridan.
6A-WEST

GREENWOOD (8-1, 7-0) at LR Christian (7-2, 5-2): Greenwood pulled away from Pulaski Academy for a 33-22 win, claiming its 55th consecutive home victory and the conference title. LR Christian will the fourth seed and host a first-round playoff game next week.

VAN BUREN (1-8, 1-6) at Siloam Springs (0-9, 0-7): Van Buren's lone win came against Greenbrier. Siloam Springs has given up an average of 47.7 points per game. 

Greenbrier (2-7, 1-6) at MOUNTAIN HOME (2-7, 2-5): Greenbrier needs a win to possibly force a three-way time with Mountain Home and Van Buren. The Bombers can clinch a playoff spot with a third consecutive win. 

RUSSELLVILLE (4-5, 4-4) is open