Class 5A Week 10 Rankings, Notes & Picks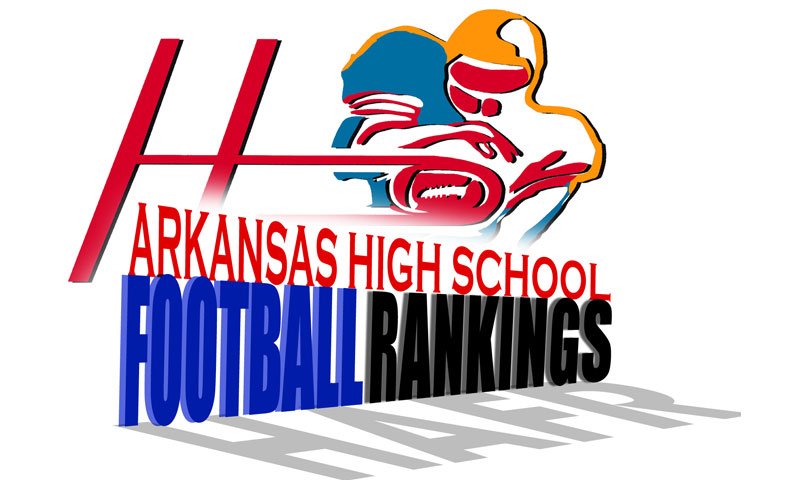 Hootens.com Class 5A Rankings
Week 10, 2022
Copyright Seventy Seven's Publishing
1. LR Parkview (7-2)
2. Joe T. Robinson (8-1)
3. Shiloh Christian (8-1)
4. Camden Fairview (8-1)
5. Mills (8-1)
6. Farmington (6-3)
7. Valley View (8-1)
8. Prairie Grove (7-2)
9. Hot Springs (6-3)
10. Wynne (7-2)
11. Nettleton (7-2)
12. Harrison (6-3)
13. Magnolia (6-3)
14. Southside (5-4)
15. Batesville (6-3)
16. Morrilton (6-4)
16. Pine Bluff (5-3)
18. Vilonia (5-4)
19. Alma (6-3)
20. White Hall (3-6)
21. Beebe (5-4)
22. Maumelle (3-6)
23. HS Lakeside (2-7)
24. Dardanelle (3-6)
25. Texarkana (3-6)
26. Pea Ridge (3-6)
27. Watson Chapel (1-8)
28. Brookland (2-7)
29. Forrest City (1-8)
30. Hope (1-7)
31. Paragould (1-8)
32. Clarksville (0-9)
33. De Queen (0-9)
LAST WEEK
Hootens.com correctly predicted 15 of 16 games (94 percent) involving 5A teams and has correctly 182 games (84 percent) this season.
WEEK 10 PREDICTIONS (favored team highlighted in yellow and ALL CAPS)
HOOTENS.COM GAME OF THE WEEK
No. 1 LR PARKVIEW (7-2, 6-0) at No. 4 Camden Fairview (8-1, 6-0): The winner takes the league title and No. 1 seed. Camden Fairview won the 5A South championship last season, while Little Rock Parkview hasn't won a conference title since claiming the former AAAA Central in 1984.
LR Parkview tallied 494 yards (328 rushing) in last week's 42-14 win over Hot Springs Lakeside. Senior receiver Hunter Austin caught a touchdown pass in the first half and Coach Brad Bolding says Austin "has been playing really well." Junior QB Eric McGehee passed for 166 yards and a TD, and ran for another TD against HS Lakeside. The Patriots rotate 3 RBs: Senior D.B. Bennett ran for 100 yards and a TD last week, junior Jaden Ashford had 13 carries for 89 yards and 1 TD, and standout sophomore Cameron Settles ran 14 times for 82 yards and 2 TDs.
Camden Fairview senior QB Martavius Thomas (12-19 passing, 157 yards, 2 TDs; 60 yards rushing, 1 TD in 34-7 win over Hot Springs) got help from senor RB Aaron Alsobrook (19-127 rushing, 2 TDs; 4-33 receiving). Seniors Michal Griffith, Arquavion Martin and junior Jabari Spencer each recorded double-digit tackles.
5A CENTRAL
Maumelle (3-6, 1-6) at BEEBE (5-4, 3-4): Maumelle surrendered 579 yards in last week's 49-28 setback at Vilonia. Beebe snapped a 3-game losing streak with last week's 42-20 win at Watson Chapel. The Badgers used a safety and a 2 quick TDs to break the game open in the second quarter.
Pine Bluff (5-3, 4-3) at JOE T. ROBINSON (8-1, 7-0): Pine Bluff is poised to go to the playoffs in its first season in Class 5A. The Zebras didn't play last week, and two weeks ago lost to Morrilton 28-13. Senior QB William Howell has passed for 856 yards and 12 TDs this fall, while junior Landon Holcomb has passed for 642 yards and 7 TDs. Joe T. Robinson is 5A conference champion after winning the Class 4A state title last season. The Senators defense, led by senior linebacker Ashtyn Williams and freshman LB Tank Reece, held White Hall to 193 yards last week.
MILLS (8-1, 6-1) at Vilonia (5-4, 5-2): Vilonia made the playoffs after last week's 49-28 win over Maumelle. Senior Jack Vines (6-96 receiving, 1 TD), senior Eli Mosier (4-102 receiving, 1 TD) and Cadien Gipson (5-109 receiving, 1 TD) sparked the passing game. Mills has a school-record 8 regular-season wins and will be the No. 2 seed in the playoffs.
WHITE HALL (3-6, 2-5) at Watson Chapel (1-8, 0-7): White Hall's Marshon Jordan had 12 tackles in last week's 42-7 loss to Joe T. Robinson. The Bulldogs finished with 193 yards. Watson Chapel gave up 315 yards in last week's 20-point loss to Beebe.
MORRILTON (6-4, 4-4) is open.
5A EAST
VALLEY VIEW (8-1, 6-0) at Batesville (6-3, 4-2): Valley View has the No. 1 seed sewn up, and finishes as outright league champs with a victory. Valley View's Jett Bradshear registered 9 tackles, while Jay Morman made 6 stops in last week's 37-7 victory over Nettleton. Junior QB Carson Turley passed for 156 yards and 2 TDs and ran for 70 yards and 1 TD. Batesville must win or have a Southside loss to qualify for the playoffs for the first time since 2020.
BROOKLAND (2-7, 1-5) at Forrest City (1-8, 1-5): Neither team makes the playoffs. Brookland snapped a 7-game losing streak with last week's 21-14 win over Paragould, with senior Joseph Wright running for 2 TDs. The Bearcats held Paragould to 122 yards. Forrest City trailed Wynne 42-6 in the second quarter last week, before losing 49-13.
WYNNE (7-2, 5-1) at Nettleton (7-2, 4-2): Both teams are in the playoffs, and the winner likely gets the No. 2 seed. Wynne outgained Forrest City 538-158 in last week's 49-14. QB John Watson ran for 166 yards and 2 TDs and threw a TD pass, while Alonzo Holmes had 3 carries for 79 yards and 1 TD. Junior fullback Cobey Davis has rushed for 1,052 yards this fall. Nettleton senior Keandre Pope ran 24 times for 90 yards in last week's 34-7 loss at Valley View, while sophomore QB Maddox Hampton passed for 194 yards and a TD.
SOUTHSIDE (5-4, 3-3) at Paragould (1-8, 0-6): Southside must win and get help (Valley View beating Batesville) to make the playoffs in its first season in Class 5A. QB Savion Hall passed for 100 yards and ran for 35 more in his second varsity start, while Canon Chaffin tallied 2 TDs. Southside's defense forced 6 turnovers. Pierce Duncan intercepted 2 passes, while LB Andrew Plummer racked up 20 tackles. Senior Isaac Wallis made 10 tackles, 1 interception and blocked a punt. Paragould played well in last week's 21-14 loss to Brookland.
5A SOUTH
De Queen (0-9, 0-6) at TEXARKANA (3-6, 2-4): Neither team will make the playoffs. Texarkana junior QB Nate Wall passed for 311 yards and 5 TDs, and he ran for 155 yards and 2 TDs in last week's 65-35 win at Hope. De Queen has been outscored by an average of 40-9 this fall.
HOT SPRINGS (6-3, 4-2) at HS Lakeside (2-6, 2-4): The City Bowl doesn't have a playoff spot on the line, but both coaches agree it still holds special meaning and bragging rights. A Hot Springs victory gives the Trojans 7 regular-season victories, and they've won at least 7 regular-season games only twice in the past 30 years. Junior Perry Jones ran 18 times for 128 yards and 1 TD in last week's 34-7 loss to Camden Fairview. HS Lakeside trailed top-ranked LR Parkview 21-14 in the third quarter last week before allowing 3 unanswered TDs. Sophomore tailback Grady Ohman ran for both Ram TDs.
Hope (1-8, 1-5) at MAGNOLIA (6-3, 3-3): Magnolia is the No. 4 seed and plays at Joe T. Robinson in the first round. The Panthers ran for 372 yards in last week's 40-0 win at De Queen. Senior Garrion Curry finished with 184 yards and 3 TDs in the first half. Hope gives up 50 points per game in its current 5-game losing streak. The Bobcats gave up almost 600 yards and 65 points last week to Texarkana.
5A WEST (ALL GAMES MOVED TO THURSDAY)
Clarksville (0-9, 0-6) at DARDANELLE (3-6, 1-5): Dardanelle senior QB Drew Vega had 258 yards (152 passing, 106 rushing) in last week's 59-14 loss to Alma, while senior LB Drake Boatright finished with 12 tackles and 1 sack. Clarksville tries to avoid its first winless season since 2014.
Prairie Grove (7-2, 5-1) at FARMINGTON (6-3, 4-2): The winner likely gets 2nd place in the conference (although Prairie Grove could win and slip to No. 3). Prairie Grove seniors Coner Whetsell and Ethan Miller each ran for more than 100 yards in last week's 55-22 loss to Shiloh Christian. The Tigers led 22-21 at halftime.
Pea Ridge (3-6, 1-5) at HARRISON (6-3, 4-2): Harrison finishes anywhere between the No. 2 and No. 4 seed. Harrison's Braden Long ran 9 times for 131 yards and 4 TDs in last week's 56-0 win over Clarksville, while Lucas Dean had 2 TDs (1 rushing, 1 receiving). Pea Ridge won't make the playoffs. The Blackhawks trailed Farmington 49-14 at halftime last week in 49-16 defeat.
Alma (6-3, 3-3) at SHILOH CHRISTIAN (8-1, 6-0): Shiloh Christian has secured the No. 1 seed, while Alma has 6 wins but will miss the playoffs. The Saints rallied from a 22-21 halftime deficit last week to beat Prairie Grove 55-22. Sophomore Zeke Strong returned the second-half kickoff for a TD, then the Saints recovered two onside kicks and a pooch kick before Prairie Grove snapped the ball.