RECRUITING: Rison more than UA commit Chavis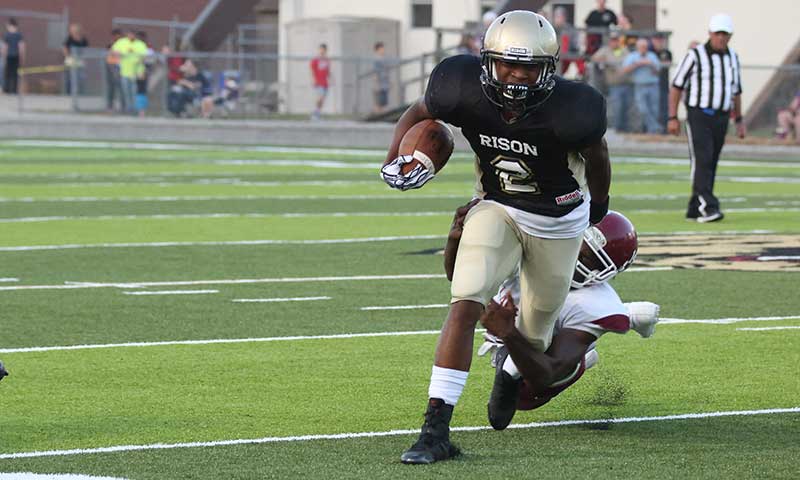 RISON HC CLAY TOTTY
Rison is steeped in tradition, winning seven state titles in the modern playoff era (from 1968-present), while adding another recognized by the Arkansas Activities Association in 1950.
The Wildcats have captured 25 conference championships in the past 50 years. The long list of notable former Wildcats includes running back/safety Tyrell Johnson, who spent four years (2008-2011) with the Minnesota Vikings and parts of the next three years in the off-season programs and on practice squads with the Miami Dolphins, Detroit Lions and Atlanta Falcons. 
Rison still teems with talent. Ranked No. 9 this week by Hootens.com, the undefeated Wildcats (9-0) have clinched the 6-3A title with the top defense in Class 3A, allowing less than six points per game.
Senior running back/cornerback Malik Chavis (6-2, 185) (in R Sharp photo above) committed to the Arkansas Razorbacks in March, turning down an offer from Memphis. Chavis, playing in just seven games this year due to a back injury, has 43 carries for 428 yards and six touchdowns. He took his only reception for a TD, and the senior averages 22 yards per kickoff return. Focusing mostly on defense this fall, Chavis has 28 tackles.
"Teams don't throw on him, and when they do, he does a great job defending it," Rison coach Clay Totty says. "He doesn't get to make a lot of tackles and pad the stat sheet because of our scheme. He's playing his role very well."
Chavis (4.39 speed at the UA camp in June) should become more offensive minded in the playoffs. In Week 3, he sprinted 86 yards for a TD against Strong that was negated by penalty, then sped for another long TD the next play before leaving the game with an asthma attack.
Senior lineman D.J. Watson (6-2, 280) has been evaluated by UAPB and D2 members Arkansas-Monticello, Arkansas Tech, Ouachita Baptist and Southern Arkansas. Totty projects Watson to play offensive guard in college. "He has great feet for his size," the coach says.
Watson became a social media sensation last spring when a video went viral of him squatting 465 pound with his butt touching the ground. Watson, who's academically eligible for college, bench presses 305 pounds and power cleans 250 pounds.
Senior running back/safety RoShawn Martin (5-9, 165) could be the hidden gem in Cleveland County. Martin clocked 4.52 speed at a combine in the summer. "We are promoting him as hard as we've ever promoted anyone," Totty says. "He can play. If a team will take a chance, they'll get someone who goes hard all the time." Opposing coaches rave about Martin's blocking ability and rugged running style. Totty has contacted every in-state D2 school about Martin (23 ACT).
Martin has been on Rison's sideline "as long as I can remember," the coach says. First as Rison's waterboy while following his cousins and former all-state performers Wayne Rainwright and Rock Caldwell around. Martin has rushed for TDs this year, caught passes, blocked punts, returned punts and kicked off.
Rison's most noted prospect could be sophomore Jamarien Frye (6-2, 210). Frye's dad, former Wildcat Shermar Bracey, signed with Arkansas before going to junior college. Bracey then started two years at Arkansas State.
Bracey ran for 1,922 yards and 29 TDs while helping Rison win the 2000 state title in a one-point overtime thriller over Shiloh Christian.
Frye's legend sprouted in junior high when he led the junior Wildcats to a conference title. In his varsity debut this fall, he ran 16 times for 112 yards and a TD against rival Fordyce. Frye has rushed more than 1,000 yards this year.
Frye, who power cleans 270 pounds, last year won the district championship in the 100-meters while wearing tennis shoes after leaving  his track shoes at home.
"He likes contact, and that separates him from most people," Totty says. "I hate to brag on him because he's so young, but he's capable. He still needs to mature in other areas, but he has talent."