HOGS heal up, prep for future; notes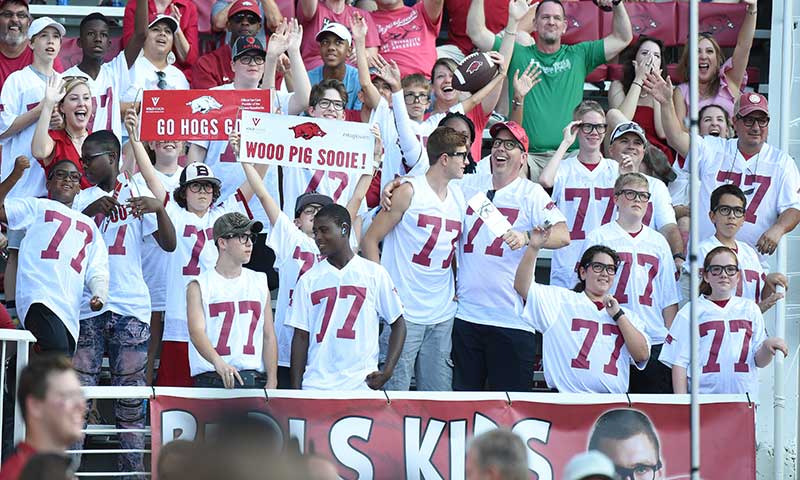 FAYETTEVILLE -  Arkansas continued Wednesday during its bye week to refresh starters who have played nine games in nine consecutive weeks and maximize time with young redshirts and reserves.
The Razorbacks (2-7 overall, 0-5 in the SEC) practice Monday through Thursday this open-date week then regroup Sunday for next week's game vs. LSU.
Arkansas plays host to No. 4 LSU on Nov. 10 in the season finale at Reynolds Razorback Stadium, then finishes Nov. 17 at Mississippi State and Nov. 23 at Missouri.
First-year coach Chad Morris and the maximum assistants allowed on the recruiting road will head to high school games Thursday and Friday nights before getting a rare Saturday off.
"We've got a chance to get some guys healthy and get their legs back after going nine straight games," Morris said Wednesday. "Obviously with the grind taken on the team and the depth, we had a chance to come in this week and focus on ourselves and technique. And really diving into the attention of some of our younger players getting some live work. That's been our message so we can come out of this week a little more healthy than what we've been."
GREENLAW MENDING
Morris was asked about senior starting weakside linebacker Dre Greenlaw, sidelined by an injured ankle during the first quarter of Saturday's 45-31 loss to Vanderbilt. He also mentioned senior receiver Jared Cornelius (ankle) and senior nickel back Kevin Richardson (ankle).
"He (Greenlaw) has not practiced this week," Morris said. "We anticipate him being back for next week. Cornelius will be questionable still. He has not practiced with his ankle as well. Same way with Kevin Richardson."
Junior running back Devwah Whaley had ankle surgery after the 37-33 SEC loss to Ole Miss on Oct. 13 in Little Rock, but might return in November. 
"We think right now with Devwah it's still questionable," Morris said. "We will wait and see on him. He ran a little bit yesterday so we'll see how he progresses."
THIS WEEK
Morris delved deeper into this week's practice format.
"The starters were there and got some good work in," Morris said Wednesday morning. "Then we pull them out. We get a lot of good individual kinda fall camp mentality. A fall camp mentality mindset for these young guys, redshirt guys, younger guys who we'll do some live work with full pads, some scrimmaging and so yesterday was a really good day. We'll continue that process the rest of the season now that there's not gonna be any bowl practices. We will continue to develop these younger guys."
UTILIZING REDSHIRT RULE
With the new rule allowing players to play a maximum four games and still redshirt, Morris formulates plans for these final three games.
True freshman quarterback Connor Noland of Greenwood can play in two of these final three games and still maintain his freshman eligibility.
Freshman offensive tackle Noah Gatlin of Jonesboro, an early-season starter when junior starting left tackle Colton Jackson was still rehabbing from July back surgery, and freshman defensive lineman Isaiah Nichols of Springdale can be freshmen again next year if used judiciously.
"We've got a few guys who still have a game, possibly two games underneath them that we would like to see get in and get some game experience," Morris said. "I know Isaiah Nichols has another game. Noah Gatlin has another game. So we anticipate these guys getting in and doing some playing."
Regardless if they play in these final games, freshman defensive back LaDarrius Bishop of Ashdown and freshman defensive end Nicholas Fulwider of Tyrone, Ga., are among the rookies Morris mentioned getting thorough evaluations this week.
WHIRLY-BIRDING
Though he's not using it this week, Morris has ridden a helicopter while recruiting and said he will utilize a helicopter going from site to site during the state high school playoff stretch from November into December.
"I've used it numerous times," Morris said. "I've used it at SMU (Morris head coached SMU from 2015-2017) in recruiting. You know it allows you to get into some of the smaller areas and schools. It obviously cuts down on drive time. Then also just the appearance of it you know. Just being different. In recruiting, it's all about being on the cutting edge and being different and putting an interest in it."