Class 5A Week 10 Rankings, Notes & Picks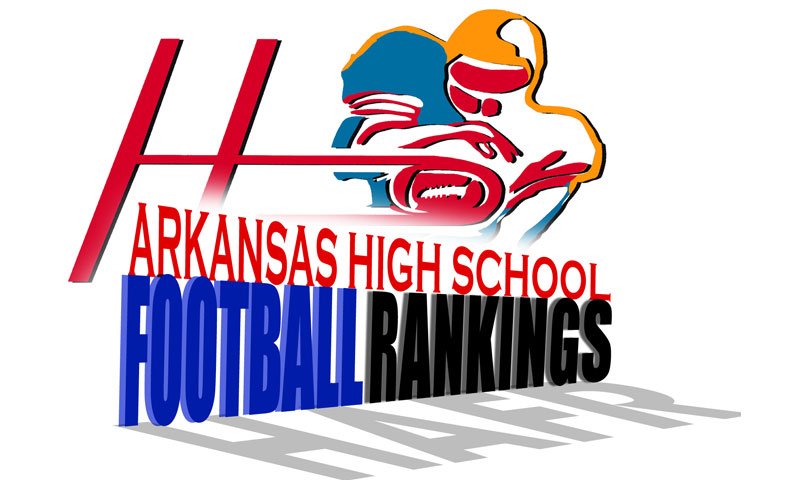 Hootens.com Rankings
Class 5A, Week 10, 2016
Copyright Hooten Publishing, Inc.
1. Pulaski Academy (8-1)
2. Wynne (9-0)
3. Morrilton (4-5)
4. Sylvan Hills (8-1)
5. Alma (6-3)
6. Batesville (6-3)
7. LR McClellan (6-3)
8. White Hall (8-1)
9. Greenbrier (7-2)
10. Blytheville (6-3)
11. HS Lakeside (5-4)
12. Harrison (7-2)
13. Watson Chapel (5-4)
14. Forrest City (6-3)
15. Valley View (6-3)
16. LR Christian (3-6)
17. Hot Springs (3-6)
18. Vilonia (5-4)
19. Nettleton (5-4)
20. Beebe (4-5)
21. Magnolia (4-5)
22. Farmington (3-6)
23. Camden Fairview (3-6)
24. De Queen (3-6)
25. Maumelle (2-7)
26. Mills (3-6)
27. Paragould (3-6)
28. LR Parkview (1-7)
29. Hope (0-9)
30. Clarksville (1-8)
31. Greene Co. Tech (0-9)
32. LR Fair (1-8)

GAME OF THE WEEK
No. 10 Blytheville at No. 14 Forrest City
Both teams are in the playoffs. The winner probably travels to Greenbrier, while the loser likely goes to Alma. Blytheville lost to Wynne 53-32 Week 4 and a heartbreaker two weeks ago at Batesville 33-30. The Chickasaws pounded Paragould last week 42-11. Three seniors start for Blytheville's offense, including running back Demekko Clark (169 carries, 1,615 yards and 22 TDs) and quarterback Desmond Moore (64 of 125 for 808 yards and eight TDs). Senior receiver and first-year player Rashon Amerson cracked the starting lineup three weeks ago, and caught a 69-yard TD on the first play against Paragould.

Forrest City must physically recoup after last week's 35-point loss at Wynne. The Mustangs lost at Batesville 36-8 in Week 6. Sophomore QB Randal Moore has completed 91 of 150 passes (61 percent) for 1,502 yards and 22 TDs. Moore often throws deep passes to seniors Noah Thomas (32 catches, 506 yards and eight TDs) and Trajen Norment (32 catches, 646 yards and 10 TDs). Senior Kendriel Johnson has 88 carries for 626 yards and eight TDs. "They do a great job protecting the quarterback and giving him a chance to throw it down the field," Blytheville coach Ben Fisher says.

TV SHOW
Hooten's Arkansas Football TV show airs on KATV (Channel 7) at 10:30 a.m. Saturday's this fall.

LAST WEEK
Hootens.com correctly predicted 13 of 16 games (81 percent). For the season, Hootens.com has correctly predicted 160 of 185 games (86 percent).

WEEK 10 PREDICTIONS (favored team in CAPS followed by point spread)
5A CENTRAL
SYLVAN HILLS (14) at Beebe (Thurs.): Beebe has won three of the past four in the series, including the past two by a combined 11 points. Sylvan Hills hasn't beaten Beebe since 2009. Beebe only makes the playoffs with a victory and a LR Christian loss to LR Fair. Beebe's Taylor Boyce ran 10 times for 113 yards and four TDs in last week's 36-point win over LR Fair. Sylvan Hills scored all of its points in the first half of last week's 48-7 win over LR Parkview.
LR MCCLELLAN (10) at LR Parkview (Thurs.): LR McClellan must emotionally recover after last week's four-point loss to No. 1 Pulaski Academy. Senior QB Dalvion Childs sprained his ankle in the first quarter and didn't return, while senior running back Pierre Strong injured his collarbone in the final minute after getting caught from behind. Both will miss this week. Childs should return for the playoffs, while Strong might miss the first round. Junior twins Tyrese Lair and Kyreek Lair were both initially ruled out of the remainder of the season, but doctors released them late last week and they'll play against LR Parkview. "We don't have one guy who'll get 200 yards like Pierre, but we have a committee of them who can get it," LR McClellan coach Maurice Moody says.
LR Fair at LR CHRISTIAN (32): LR Christian gets in the playoffs with a win over struggling LR Fair (outscored 46-4 weekly). The War Eagles have scored in just three games this year. LR Christian junior Ladarius Burns ran for five TDs and caught another in last week's 29-point win at Mills.
Mills at PULASKI ACADEMY (28): The Bruin offense didn't score in the second half of last week's 22-18 win at LR McClellan. But the defense made a game-saving tackle (Hayden Henry) and recovered a fumble in the final minute (Payton Titus) for the win. The Bruins are the league champion, top playoff seed and have homefield advantage throughout.

5A EAST
BLYTHEVILLE (2) at Forrest City: Hootens.com Class 5A Game of the Week.
Valley View at BATESVILLE (14): Batesville is the No. 2 seed and Valley View won't make the playoffs this year. Batesville led Greene Co. Tech 28-0 at halftime last week and won by 42 points. Valley View junior QB Joseph Waleszonia has passed for 939 yards and nine TDs this year and rushed for 1,100 yards and 18 scores.
WYNNE (23) at Nettleton: Wynne gets the No. 1 seed and likely matchup with No. 3 Morrilton in the first round. The Yellowjackets scored 63 points last week against rival Forrest City. Nettleton has lost two straight games by a total of 18 points.
Greene Co. Tech at PARAGOULD (3): Paragould has won consecutive Battle of Greene County games (by one point last year and 10 points in 2014). Paragould held Blytheville standout RB Demekko Clark to 147 yard last year (Clark's second-least productive game of the year).

5A SOUTH
WATSON CHAPEL (7) at Camden Fairview: Watson Chapel has lost consecutive games since beating White Hall by five points in Week 7. The Wildcats get the No. 3 seed with a win, but could fall to No. 4 with a loss. The Wildcats dropped their final three games of last season and final two in 2014. They've lost the past two years to Camden Fairview by a combined 27 points. Camden Fairview misses the playoffs for the first time since 2005.
Hot Springs at HS LAKESIDE (2): HS Lakeside gets at least a share of the conference title and either the No. 1 or No. 2 seed with a win. Hot Springs likely makes the playoffs with a win (could be left out with a Watson Chapel loss and if Magnolia wins by at least 10 points). HS Lakeside upended Watson Chapel 35-20 last week, with junior running back Dupree Swanson running in four TDs. Swanson has rushed for 1,064 yards and 20 TDs this fall. Hot Springs beat Magnolia 28-13 Week 7 and Camden Fairview 41-38 last week. Senior Kenny Byrd ran 3 yards for the winning TD against Fairview with 8.9 seconds left.
Hope at MAGNOLIA (10): Magnolia makes the playoffs for the first time since 2010 with a win and Hot Springs loss. Winless Hope gets outscored 40-16 weekly.
De Queen at WHITE HALL (18): White Hall completes a the biggest turnaround in the state with a victory, capturing the conference title and No.1 seed just one season after going 0-10. The Bulldogs blasted Hope by 34 points last week when senior running backs Montrell Roberson and Lance Smith combined for three TDs.

5A WEST
MORRILTON (35) at Clarksville: Morrilton makes the playoffs after forfeiting four wins (including two in conference). The Devil Dogs finish as the No. 4 seed with a win and Harrison victory. If Morrilton wins and Harrison loses, the Devil Dogs are the No. 3 seed and travel to Batesville in the first round. Morrilton senior QB Caleb Canady threw three TDs in last week's 42-point win at Farmington. Clarksville has lost eight straight games since beating Lamar Week 1.
HARRISON (7) at Farmington: Harrison is the in the playoffs for the first time since 2014 and only the second time since 2006. The Goblins are the No. 3 seed with a win or Morrilton loss, and travel to Batesville in the first round. Harrison junior QB Noah Ditmanson hit Daniel McCormick with the winning 34-yard TD pass with less than one minute left last week against Maumelle. Farmington lost at Maumelle 22-20 two weeks ago.
Vilonia at GREENBRIER (21): Greenbrier is the No. 2 seed and hosts either Blytheville or Forrest City next week. Greenbrier surrendered 507 yards in last week's 21-point loss at Alma. Senior QB Carter Burcham ran for 104 yards and a TD and completed 16 of 30 passes for 189 yards and a TD. Vilonia has scored a TD or less in five conference games.
ALMA (14) at Maumelle: Alma is the No. 1 seed and hosts either Blytheville or Forrest City next week. The Airedales gored Greenbrier 49-28 a week ago. Senior QB Noah Dotson ran for 247 yards and passed for 164 yards. Maumelle has lost three conference games by a TD.