Class 2A Week 10 Rankings, Notes & Picks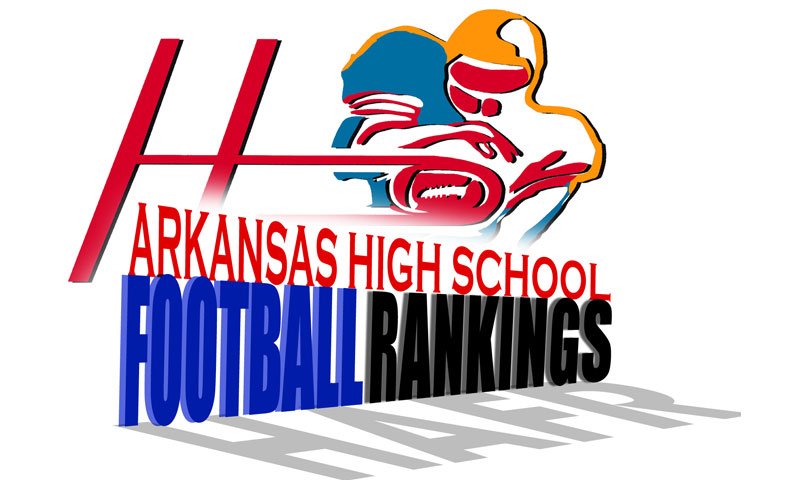 Hootens.com Rankings
Class 2A, Week 10, 2016
Copyright Hooten Publishing, Inc.
1. England (9-0)
2. Hampton (9-0)
3. Hector (8-1)
4. Danville (9-0)
5. Des Arc (8-1)
6. Rison (5-3)
7. C. Harmony Grove (4-4)
8. Bearden (4-4)
9. Hackett (8-1)
10. Dierks (6-3)
11. Conway Christian (7-2) 
12. Mount Ida (8-1)
13. Foreman (6-3)
14. Quitman (7-2)
15. Murfreesboro (6-3)
16. Carlisle (6-3)
17. E. Poinsett County (6-3)
18. Lavaca (5-4)
19. Cross County (7-2)
20. Earle (5-3)
21. Palestine-Wheatley (6-3)
22. McCrory (5-3)
23. Mountainburg (6-3)
24. Marked Tree (6-3)
25. Salem (5-4)
26. Parkers Chapel (4-4)
27. Woodlawn (4-4)
28. Lafayette County (2-7)
29. Hazen (3-6)
30. Mineral Springs (2-7)
31. Clarendon (3-6)
32. Strong (2-7)
33. Magnet Cove (2-7)
34. Bigelow (3-6)
35. Augusta (2-6)
36. Brinkley (2-6)
37. Cutter M. Star (3-5)
38. J.C. Westside (4-4)
39. Spring Hill (2-7)
40. Magazine (3-6)
41. Poyen (1-8)
42. Decatur (1-7)
43. Western Yell County (1-8)
44. Marvell (0-8)
45. Rector (0-7)
46. Midland (0-9)
47. Mountain Pine (0-8)

GAME OF THE WEEK
No. 15 Murfreesboro at No. 10 Dierks
There's a share of the 7-2A title on the line, and if both offenses ignite, the fireworks will light up north Howard County. Dierks averages 41 point per game with senior Lane Woodruff making a case for league MVP. Woodruff averages 13 yards per rush and 23 yards per reception. But defenses cannot key exclusively on Woodruff with junior Jarett Fox hauling in 21 passes for 472 yards (22.5 yard average). Senior LB Cale Adams paces an aggressive Dierks defense with 111 tackles. Murfreesboro has averaged 59 points the past three weeks. Senior slotback Gavin Gardner ran for 148 yards and three TDs and caught three passes for 98 yards and TD last week in a 62-35 win  over Foreman. The Rattlers amassed 542 yards and scored eight TDs on  their first 12 possessions. Defensively, the Rattlers are making timely stops. Last week senior Scott Evans, who missed last season with two broken feet, shifted to noseguard and led the team with 14 tackles. A Murfreesboro victory would drop Dierks to the fourth seed and bump Murfreesboro to the second playoff seed. A Dierks victory secures the top seed for the Outlaws and drops Murfreesboro to the third seed. Murfreesboro and Dierks will likely be favored in every first-round scenario.

LAST WEEK
Hootens.com correctly picked 15 of 21 games (71 percent) involving Class 2A teams. Hootens.com is 177-44 (80 percent) for the season.

WEEK 10 PREDICTIONS (favored team in CAPS followed by point spread)
3-2A
Earle at E. POINSETT COUNTY (2) (Thurs.): Earle (idle last week) plays for its third consecutive league crown, while EPC could claim its third title in the past four years after knocking off Cross County 36-22 last week. Tenacious EPC senior QB/LB Chanc Gray ran for 79 tough yards and three TDs, while completing two passes for 26 yards and TD. Gray also paced the Warriors with 12 tackles. Senior Trevor Walker carried 10 times for 101 of EPC"s 271 rushing yards. EPC converted five of eight times on third down at Cross County.
Marked Tree at CROSS COUNTY (6): Cross County led EPC by eight  points at halftime last week but did not score in the second half and lost 36-22, despite running 16 more plays and not committing a turnover.. Cross County needs to beat Marked Tree and have rested Earle knock off EPC to capture its third consecutive league title.  Marked Tree could still end up in a tie for second place with a win at Cherry Valley. It also traveled to Cross County last year and lost 37-21.
Midland at RECTOR (2) (Thurs.): Battle of two winless teams. Midland won this matchup 20-14 last year. Rector returns favor this year.
SALEM is open.

4-2A
HACKETT (42) at J.C. Westside (Thurs.): Hackett senior QB Ely Stormes completed seven passes last week, five to senior Robert Collins for 173 yards and three TDs in a 44-14 rout of Lavaca. As the second seed, Hackett gets the toughest playoff draw in the 4-2A with a second-round trip to No. 1 England.
LAVACA (17) at Decatur (Thurs.): Midseason transfers derailed a promising season for Lavaca, and the Golden Arrows will be road underdogs in the first round of the playoffs vs. the second-place team from the 7-2A.
Western Yell at MAGAZINE (2): The season ends for both, but better Friday nights ahead for Magazine with six freshmen moving up from an undefeated junior high team.
DANVILLE (20) at Augusta: Non-conference tune-up before playoffs for Danville, but the Little Johns have not seen a 'back this year like Augusta's All-6-2A performer Devin Taylor.
MOUNTAINBURG is open.

5-2A
Cutter M. Star at MAGNET COVE (10) (Thurs.): Magnet Cove secures league's final playoff berth and faces big challenge in the first round of the playoffs at No. 9 Hackett. 
Bigelow at CONWAY CHRISTIAN (15) (Thurs.): Bigelow needs to upset Conway Christian and for Cutter M. Star to upset Magnet Cove to make the playoffs. Neither are likely. Conway Christian put up 635 balanced yards and 62 points last week on Magnet Cove, which dumped Bigelow 35-8 two weeks ago.
ENGLAND (37) at Poyen (Thurs.): Poyen's struggles might continue, but success in the middle school promises a better long-term forecast. No.1 England's future is now. It has been the team to beat since knocking off Class 4A now-No. 9 Hamburg 42-28 in the Arkansas Blue Cross and Blue Shield Kickoff Classic. England's starting defense allows 8 ppg with only Hamburg and Class 3A No. 7 Junction City rushing for more than 100 yards on it.
Quitman at HECTOR (22): Hector has much to play for after its disappointing 35-6 loss Week 8 at top-ranked England. With a win over Quitman, Hector secures the second playoff seed and will play host to the fourth seed from the 8-2A, possibly the Rison Wildcats, who ended Hector's season 45-36 last year in the third round of the playoffs.

6-2A
Hazen at PALESTINE-WHEATLEY (1) (Thurs.): P-W trying to find its identity again after  opening last week in the Spread at physical Des Arc, which resulted in 73 yards offense, four turnovers and a 44-0 rout. Meanwhile, Hazen scored late to defeat Marvell 30-24.
McCrory at CARLISLE (4) (Thurs.): Carlisle rallied from a 28-14 halftime deficit last week to edge Clarendon 35-34 with two interceptions in the second half, including a 40-yard pick six by junior Tristan Seidenschwartz. Defending state champion McCrory quietly 5-2 in league play after a losing Week 2 to De Arc 36-8 and Week 5 to Palestine-Wheatley 8-0. The McCrory offense has improved weekly since.
BRINKLEY (3) at Marvell: Marvell almost pulled the upset last week, losing to Hazen 30-24. Brinkley just gave up 62 points in a 26-point loss to Augusta.
Clarendon at DES ARC (13) (Thurs.): Des Arc has already secured the 6-2A title (first since 2013) after holding Hazen to 15 rushing yards two weeks ago and P-W to 32 last week. Senior QB Hayden Flud, relegated to backup for six weeks, has started the past two weeks and provided a spark, passing for 150 yards in two wins. He completed three of three passes last week for 150 yards and two TDs. Senior LB Isaiah Williams continues lead the team and most of the state with 121 total tackles.
DANVILLE (20) at Augusta: Non-conference tuneup before playoffs for Danville, but the Little Johns have not faced a 'back this year like Augusta's All-6-2A performer Devin Taylor.

7-2A
Murfreesboro at DIERKS (2) (Thurs.): See hootens.com Game of the Week.
Lafayette County at MOUNT IDA (20) (Thurs.): Mount Ida has been stewing for  two weeks on a nasty (42-21) loss to Dierks. Mount Ida needs to win and for Murfreesboro to defeat Dierks to secure the top playoff seed, which will draw a quality opponent in the second round. Lafayette County surprised Mineral Springs 42-22 last week.
MINERAL SPRINGS (6) at Spring Hill (Thurs.): Both teams are out of playoff contention.
FOREMAN (13) receives forfeit from Mountain Pine.

8-2A
C. HARMONY GROVE (24) at Parkers Chapel (Thurs.): Camden Harmony Grove coming off bye week, looking to win by 13 points or more to secure the second playoff seed and send Parkers Chapel as the fifth seed to No. 1 England in the first round. As the second seed, Harmony Grove could meet Rison again in the second round or follow Rison as the second 8-2A team to make a postseason trip to Hector.
Strong at BEARDEN (15): Strong lined up in the I formation last week with senior Javonte Newton at QB, handing off to junior slotback Desmond Newton with surprising efficiency in a 22-20 mild upset of Parkers Chapel. Bearden shut out Woodlawn 32-0 behind junior RB Bobby Barker's 63 yards and a TD. Senior CB Chis Falls also returned an INT for a score.
Woodlawn at RISON (35): Rison did about all it could last week in a 44-33 loss at No. 2 Hampton, snapping the ball 67 times and burning 36.5 minutes of a 48-minute game. Rison sophomore Javion Brandon carried 17 times for 77 yards and a TD and returned a kickoff 85 yards for a TD. Senior QB Spencer Trail completed four of five passes for 65 yards. The Rison defense gave up 344 yards with Hampton senior Monta Thomas carrying nine times for 117 yards and four TDs. Since 1946, Rison is 307-5-1 when it scores 30 or more points, according to Rison historian Stan Sadler.
HAMPTON is open.