RECRUITING: Surprising LR Catholic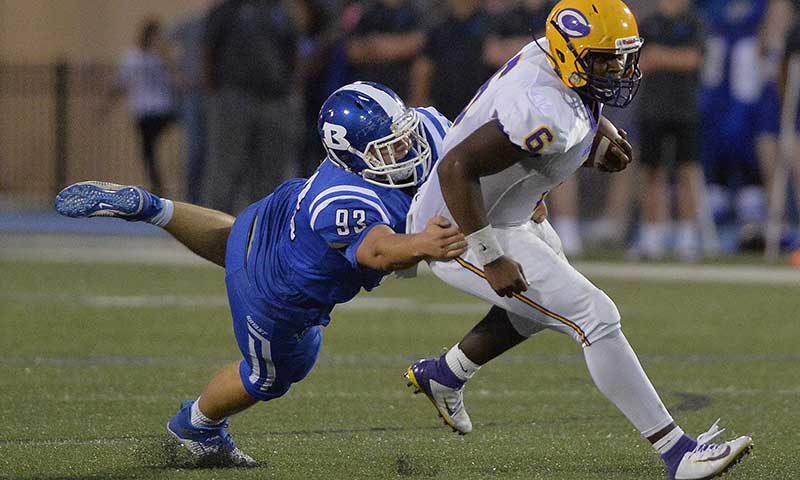 Little Rock Catholic hasn't won a conference championship since 2005, when it went 11-2 and lost in the semifinals at eventual state champion Springdale.
The 2019 Rockets (6-2) likely won't break that streak this fall after losing to No. 1 Bryant 56-7, but they could become the school's first team in more than a decade to finish as conference runner-up with a victory this week over Conway. LR Catholic finished second in the 7A Central in 2008 and beat Fayetteville in the first round of the playoffs.
Not much was expected this year from the state's only Class 7A private school. LR Catholic graduated three  Division I players from a team that went 5-6 last year and lost in the first round of the playoffs. Conference coaches tabbed the Rockets to finish last in the eight-team 7A Central in this summer's Hooten's Arkansas Football after former standout running back Samy Johnson (4,376 career yards, 52 total touchdowns) signed with Arkansas State, and two other players (Trevor Karther and Nick Gonzalez) accepted DI walk-on opportunities.
"We knew we were better than everybody thought," seventh-year coach John Fogleman says, "but we didn't know if that would translate into wins. You can't predict injuries, and you need breaks to go your way. Both of those have been in our favor. We focused on who we had coming back, rather than what we lost. We wanted to prove everyone wrong."
The 2019 Rockets don't have an explosive player like Johnson, who defenses must focus on. Instead, they distribute the ball more evenly this fall and keep defenses guessing.
Senior basketball player Jordan Edington (6-2, 237) took over at quarterback in the spring after playing on offense sparingly last year (451 passing yards and four TDs). Edington (in Jimmy Jones photo above) started at defensive noseguard/tackle in 2018.
"Quarterback and defensive lineman is an odd combination you don't see much," Fogleman says. "I don't know what side of the ball he'll play in college. He takes care of the ball on offense and is so good on defense because he can beat guys with a pass rush. He uses his hands well."
Most in-state Division II schools are recruiting Edington after his fast start. He's completed 94 of 169 passes for 1,211 yards and 12 TDS, with only two interceptions. Edington offers a dual threat in the power running scheme, rushing for 230 yards and six TDS. He's played only a few snaps on defense, but that will change as the playoffs approach.
A pair of sleek Rocket receivers should play in college. Senior Robert Bavon (6-3, 170) "is our best playmaker," Fogleman says. Bavon has 19 catches this year for 261 yards and three TDS.. The athletic Bavon has committed to play baseball at Oklahoma State, "but can play football for anyone," the coach says.
Senior Nathan Johnson (6-4, 185) lines up opposite of Bavon, "and it's tough for defenses to defend them both," Fogleman says. Johnson (4.0 GPA) plays basketball and golf. He took snaps at QB a year ago but has flourished as a receiver this year with a team-high 26 receptions for 439 yards and five TDs.
Most area colleges are after Johnson because of his size, "but he's more than a big body," Fogleman says. "He's a true athlete. He creates mismatches with his size. He knows how to go up and get the ball and run after the catch."
Senior Brian Alsbrook (5-11, 190) "is an old-school runner. He puts his head down and gets tough yards," the coach says. Alsbrook has 131 carries for 581 yards and seven TDS but versatility makes him a college prospect. With deft hands out of the backfield (13 catches, 90 yards and two TDS in 2019), most D2 and D3 schools have evaluated him this fall. 
Senior Sam Plafcan (6-3, 250), a three-year starter at offensive tackle, could play college football next fall  after gaining 20 pounds in the past year. Plafcan should fit in nicely at a D2 school, Fogleman says. "He has long arms and is so quick," the coach says.
The Rockets allow 22 points per game this year and just 15 ppg minus the Bryant debacle. Senior end/linebacker Cole Black-Ocken (5-11, 220) has 63.5 tackles to go with a pair of forced fumbles and one interception. The three-year starter "plays wherever we need him," Fogleman says.
Black-Ocken and senior linebacker Lance Hockersmith (5-11, 215) are D2 propsects. Hockersmith has tallied 56 tackles, two forced fumbles and two pass break-ups. "They are undersized for college linebackers, but they are tough," Fogleman says. "I think both can make good college players if given the chance.
"But that summarizes our team. We have a lot of guys people have underestimated, but we play so hard."