Hogs enjoy honors after Ole Miss win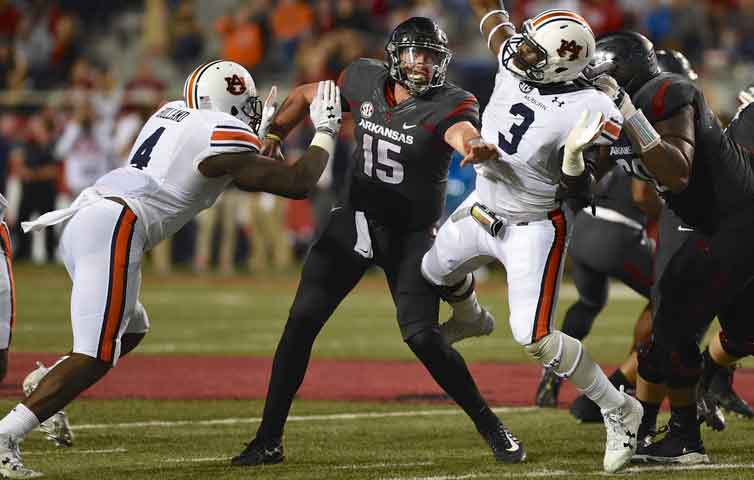 By OTIS KIRK
FAYETTEVILLE - Arkansas hauled in SEC honors Monday after rallying from a 24-point deficit Saturday to topple Ole Miss 38-37.
The SEC named Arkansas quarterback Cole Kelley (In Craven Whitlow photo vs Auburn) as its Freshman of the Week and kick returner De'Vion Warren as the Special Teams Player of the Week.

Arkansas returns to Reynolds Razorback Stadium at 3 p.m. Saturday to take on Sun Belt Conference member Coastal Carolina, 1-7 in its first season of FBS. Arkansas State whipped Coastal Carolina 51-17 a month ago. Arkansas' game Nov. 11 at LSU will be at 11 a.m. on ESPN.

Kelley passed for 189 yards and three touchdowns, while rushing for one TD at Ole Miss. Warren returned five kickoffs for 141 yards, including a long of 45.
"Obviously a game that (Cole) knows he did very, very well, and some things we've got to improve upon," Bielema said. "And then De'Vion Warren, so excited about his growth. Again, just a very exciting player and a lot of guys doing some good things around him."
INJURY REPORT
Bielema said injured starting quarterback Austin Allen will practice Tuesday, Wednesday and Thursday, with each day determining what the senior does the following day. 

"(Senior safety) Dre Coley was probably right on the cusp (last week)," Bielema said. "He got back out there on the practice field Wednesday and was moving around good, and then re-aggravated it a little bit during practice. Wasn't able to go. Tried to go, but couldn't go. (Sophomore cornerback) Britto Tutt basically re-aggravated an old knee injury. He should be back with us tomorrow full go."
Freshman running back Chase Hayden and senior center Frank Ragnow are out for the season with injuries sustained two Saturdays ago in the 52-20 loss to Auburn.
In addition, junior fullback Kendrick Jackson has returned after going home due to the death of his mother.
INTERNAL HONORS
Bielema named sophomore running back T.J. Hammonds as the UA's Offensive Player of the Game and outside linebacker Randy Ramsey as the Defensive Player of the Game. Bielema said five players won Special Teams Player of Week: sophomore kicker Connor Limpert, Warren and sophomore La'Michael Pettway, redshirt freshman Grant Morgan and junior Ryder Lucas on kickoff coverage.

Hammonds led the Hogs in rushing with 89 yards on 11 attempts. Ramsey recorded nine tackles, 1.5 tackles for loss, one pass breakup and a QB hurry. Limpert kicked a 34-yard field goal with four seconds remaining for the win.

RALLYING CRY
Arkansas defensive coordinator Paul Rhoads watched as Ole Miss took a 31-7 lead in the first 20 minutes of the game. Ole Miss scored six points after that.
"I think it was a constant message about just continuing to play, continue to execute what their assignments were and do their jobs as we like to say," Rhoads said. "On the sideline because of that they never wavered. I really marvel over how the kids responded. There was no friction, no getting after each other, no arguments, which is something you would expect in the middle of a losing streak and get down that fast. They were coachable. They were positive. They were encouraging each other. That was a huge factor in us coming back and playing some awfully good defense after the 10:51 mark of the second quarter."
Bielema suspended sophomore defensive end McTelvin Agim for the first quarter at Ole Miss for an undisclosed reason.
"I don't think it affected us from a scheme point," Rhoads said. "I can't look at any of those plays and say, 'Sosa would have made that play had he been in there.' You can't gauge necessarily the mental affect it has on a team."
TIMELY TURNOVERS
Arkansas senior cornerback Kevin Richardson came up with a turnover for the third week in a row. He intercepted passes against Alabama and Auburn. On Saturday, he picked up a Jordan Wilkins fumbled and raced 22 yards for a TD that pulled the Hogs within 37-35 with 6:01 remaining in the game.
"There's always a handful of plays that you can point to, but certainly Santos' (Ramirez) caused fumble and recovered fumble changed the momentum, and it changed our energy as a defense," Rhoads said. "I think it changed the energy of the offense, as well, as they went down and capitalized and scored on it.
"When we crept back and we knew we were in the game and the next thing you know, we're down two scores and we were on defense. To go out there and get that fumble, get that turnover and get that touchdown changed it right back again. We were playing at a higher level."