6A Week 10 Rankings, Notes & Picks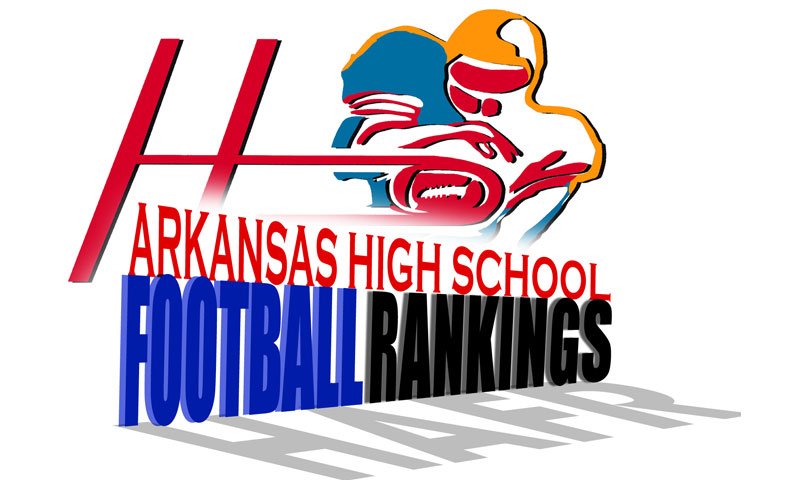 Hootens.com Rankings
Class 6A, Week 10, 2017
Copyright Hooten Publishing, Inc.

1. Greenwood (9-0)
2. El Dorado (8-1)
3. Pine Bluff (8-1)
4. West Memphis (8-1)
5. Benton (5-4)
6. Searcy (7-2)
7. Russellville (5-4)
8. Jonesboro (5-4)
9. Texarkana (5-4)
10. Lake Hamilton (5-4)
11. Marion (4-5)
12. Siloam Springs (2-7)
13. Jacksonville (3-6)
14. Mountain Home (1-8)
15. Sheridan (0-9)
16. LR Hall (1-8)

GAME OF THE WEEK
No. 8 Jonesboro at No. 11 Marion
Winner finishes as the No. 4 playoff seed with a first-round home game against the No. 5 seed from the West, which features four teams tied with 3-3 league marks. Marion has alternated wins and losses the past eight weeks and has not won a home game since Week 3 against Blytheville. The Patriots allowed a season-low six points in last week's 20-6 win at Jacksonville when sophomore running back Anthony Price sprinted for 132 yards and two touchdowns. Jonesboro has won nine straight games over Marion including 49-44 last year but has lost seven starters to injuries for the year since Week 2. Jonesboro snapped a three-game losing streak in last week's 56-6 romp over Hall. Senior receiver Daishon "Chunky" Fountain caught two TD passes while junior Solomon Johnson and sophomore Jashaud Stewart also scored. Ball security will be key in this game. Marion has committed 20 turnovers, while Jonesboro has forced 19.

LAST WEEK
Hootens.com correctly predicted the winners in six of eight games (75 percent) last week involving 6A teams. For the season, hootens.com has correctly picked 68 of 80 games (85 percent).

WEEK 10 PREDICTIONS (favored team in CAPS followed by point spread)
6A EAST
JONESBORO (3) at Marion (Thurs.): See Game of the Week.
Mountain Home at WEST MEMPHIS (24) (Thurs.): Mountain Home misses the playoffs for the first time since 2015. Mountain Home led Searcy 21-7 last week in the third quarter but lost 28-21. The Bombers appeared to take a 28-14 lead in the third on a 1-yard run by Junior Williams, but officials marked him short, and Mountain Home QB Isaac McKay was stopped on a fourth-down sneak. West Memphis is the No. 2 playoff seed, regardless of this outcome, and has a first-round bye and a quarterfinal home game. WM junior running back Guren Holmes scored a 1-yard TD last week, but Pine Bluff throttled West Memphis 33-7. Mountain Home has discovered its offensive identity, but West Memphis will want to finish unbeaten at home and revenge may be on its mind after last year's 14-7 loss at Mountain Home.
PINE BLUFF (21) at Jacksonville (Thurs.): Jacksonville is the No. 6 playoff seed and will play on the road against the No. 3 seed from the West. The Titans forced four Marion turnovers last week in a 20-6 home loss. Pine Bluff won its third straight conference title last week by holding West Memphis to 145 yards and nine first downs in a 33-7 romp. Pine Bluff's defense clamps down again this week.
LR Hall at SEARCY (31) (Thurs.): Hall misses the playoffs for the fourth straight year. The Warriors surrendered seven sacks and five turnovers in last week's 56-6 loss at Jonesboro. Searcy is the No. 3 playoff seed and will play the No. 6 seed from the West. The Lions rallied for a 28-21 win at Mountain Home last week when senior QB Mason Schucker completed 32 of 45 passes to five receivers for 365 yards. The Searcy defense shut out Mountain Home in the game's last 21:31.

6A WEST
Sheridan at BENTON (28): Sheridan misses the playoffs for the second straight year. Sheridan should return its leading passer (sophomore Brayden Sites) and junior playmakers Steve Reaves and Montana Korte in 2018. Benton is tied with three other 3-3 teams for third place, and the Panthers own the tiebreaker over Russellville and Texarkana but not Lake Hamilton.
GREENWOOD (17) at Lake Hamilton: Lake Hamilton is tied with three other 3-3 teams for third place, and the Wolves own the tiebreaker over Benton but not Russellville and Texarkana. Lake Hamilton out-gained Benton 204-66 in the first half of last week's 39-30 win. Greenwood earned its seventh conference title in eight years and will be the No. 1 playoff seed. Greenwood slammed Sheridan 54-0 last week, its third shutout this year. Greenwood scores 43.3 points per week and allows 11.4, both the best marks in Class 6A.
Texarkana at EL DORADO (10): Texarkana is tied with three other 3-3 teams for third place, and the Razorbacks own the tiebreaker over Lake Hamilton but not Benton and Russellville. Texarkana's 37-0 win at Siloam Springs last week was its second shutout this year, and the Razorbacks limited the Panthers to 72 yards. Razorback sophomore QB Sean Foreback completed 11 of 22 passes for 210 yards and three TDs at Siloam Springs. El Dorado is the No. 2 playoff seed and would salvage a share of the league title with a win and a Greenwood loss. El Dorado has won four straight games by a combined 148-48.
Siloam Springs at RUSSELLVILLE (14): Russellville is tied with three other 3-3 teams for third place and the Cyclones own the tiebreaker over Lake Hamilton and Texarkana but not Benton. El Dorado limited Russellville to 155 yards in last week's 35-7 win, and Russellville's TD came late in the game with a running clock. Siloam Springs will miss the playoffs for the third straight year. Siloam Springs should return sophomore QB Taylor Pool, junior running back Kaiden Thrailkill, junior receiver Dillon Ferguson and tight end/linebacker Nate Free.