HOGS: open week critical to future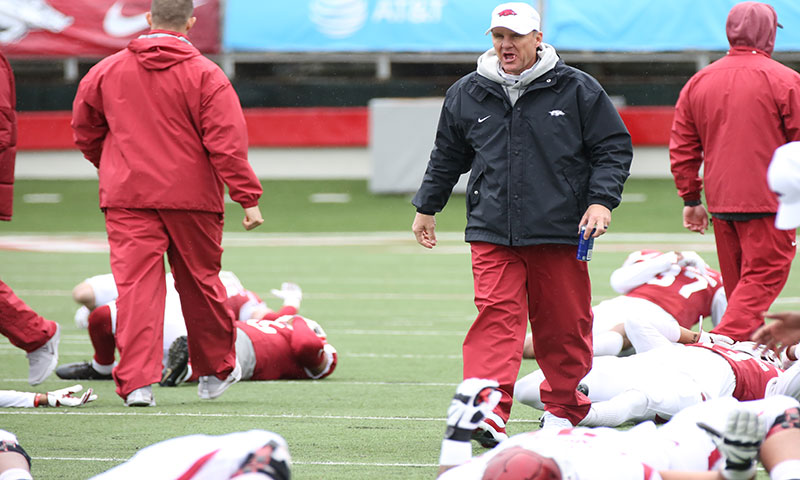 FAYETTEVILLE – Realistically, Arkansas' bowl hopes vanished in September when it lost to Colorado State and North Texas.
With a new coaching staff and schemes, a 6-6 bowl-eligible season in 2018 for Arkansas seemed the best possible scenario after former coach Bret Bielema's Hogs went 4-8 a year ago.
"We know our goals of getting to a bowl game are not attainable," Coach Chad Morris said. "As I shared with our players, our culture is not going to change. I'm not changing. Our coaching staff's not going to change. We're going to continue to show up every day and coach hard. We're going to find out who's on board."
With Arkansas out of bowl contention after Saturday's 45-31 loss to Vanderbilt, this open-date week seems the only real chance for Morris to cram in December-type bowl practices.
It's the ideal time to scrimmage the scout-teamers and redshirts with varsity coaches rather than just grad assistants evaluating.
And with the new rule allowing players to play a maximum four games and still redshirt to preserve their 2018 eligibility, the staff which of their un-played or seldom-played freshmen to play the final games against LSU, Mississippi State and Missouri.
Connor Noland, the freshman quarterback from Greenwood who mopped up in the North Texas game and started the victory over Tulsa, needs only to sit out one of the next three games to preserve his freshman eligibility for next season.
Noah Gatlin, the freshman offensive tackle who was an emergency early-season starter, is another who still could get more 2018 game experience and remain a freshman next season.
Morris has cause to use much of 2018 to build on 2019, but in his postgame press conference Saturday he said he expected these Hogs to play to win and not just play out the string.
Morris has been here before, inheriting a 1-11 SMU program that went 2-10 his first year then improved to 5-7 and a Frisco Bowl bound 7-5 under his third year before taking the Arkansas job last December.
"We can reference back only so many times," Morris replied to a question about first-year similarities to what he experienced at SMU. "At some point we have to make a step. We've got to do something to get us out of that rut. There are a lot of similarities I've shared this year, but that's no excuse. We're going to continue to go back to work."
Morris was most disappointed that a defense that skunked Tulsa, 23-0 on Oct. 20 gave up 45 points to Vanderbilt. Vandy's ground game amassed 250 yards on 49 carries, including running back Ke'Shawn Vaughn's 26 carries for 172 yards and three touchdowns, the first a 63-yard burst.
Offensively, Morris could cite running backs Rakeem Boyd (19 carries for 113 yards and a TD), Chase Hayden (five carries for 70 yards and a TD), tight end Cheyenne O'Grady (six catches for 83 yards and a TD) and walk-on receiver Tyson Morris (three catches for 19 yards and a TD) for their performances against Vanderbilt.
Chad Morris made note of them all and place-kicker Connor Limpert, his 10 for 10 string stopped short on the longest collegiate attempt of his life, a 60-yarder just before half. Limpert  came back to kick a career long 55-yarder in the third quarter.
"Connor has gotten better each week," Morris said. "He's been a consistency for us over the last several weeks. I wish he could have hit that 60-yarder right before half but him coming back and hitting that 55-yarder was big for him and his confidence. He hit it and it would have gone for 60."
The Razorbacks were off Sunday and had meetings Monday, their normal day off and have closed practices Tuesday, Wednesday and Thursday.