Class 5A Week 10 Rankings, Notes & Picks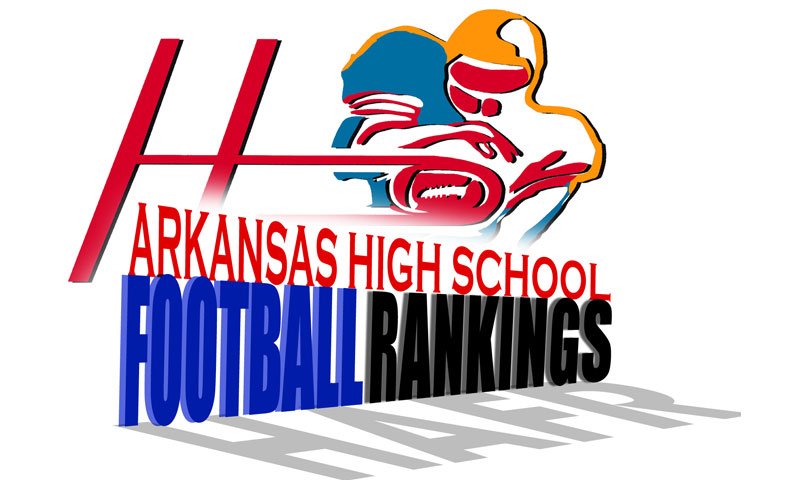 Hootens.com Rankings
Class 5A, Week 10, 2018
Copyright Hooten Publishing, Inc. 
1. Pulaski Academy (8-1)
2. LR Christian (8-1)
3. Texarkana (8-1)
4. Harrison (9-0)
5. LR McClellan (8-1)
6. Blytheville (4-5)
7. Camden Fairview (6-3)
8. Morrilton (5-4)
9. Greenbrier (6-3)
10. Alma (4-5)
11. Nettleton (7-2)
12. Batesville (4-5)
13. LR Parkview (4-5)
14. White Hall (5-3)
15. Wynne (5-4)
16. Valley View (6-3)
17. HS Lakeside (4-5)
18. Forrest City (4-5)
19. Beebe (4-5)
20. Vilonia (3-5)
21. Magnolia (5-4)
22. Farmington (4-5)
23. Maumelle (4-5)
24. Watson Chapel (2-6-1)
25. Greene County Tech (3-6)
26. Clarksville (2-8)
27. Huntsville (2-7)
28. Hot Springs (1-8)
29. De Queen (1-8)
30. Hope (1-8)
31. Paragould (0-8)
32. LR Fair (1-8)

HOOTENS.COM GAME OF THE WEEK
No. 5 LR McClellan at No. 7 Camden Fairview
The winner finishes second in 5A South and plays at Pulaski Academy in the quarterfinals, while the loser could match up with Harrison in the quarterfinals. Little Rock McClellan's only loss this season was 21-15 at Texarkana in Week 7, while Camden Fairview's only conference setback was 27-12 to Texarkana Week 5.
LR McClellan has given up just 78 points this year while holding five opponents to a touchdown or less, and beaten Hot Springs Lakeside and Magnolia the past two weeks by a combined 84-21. The Lions have won 18 games since switching to the Flexbone two years ago. Seniors Jaylon Williams and Xavion Morgan split snaps at quarterback, while senior Damion Martin and junior fullback Jeremiah Aikins pace the rushing attack. Junior center Kendall Woods (5-9, 260), sophomore left guard Justin Randall (6-1, 200), junior right guard Deshaun Alexander (5-10, 290) and junior tackles Erick Jenkins (6-4, 245) and Caleb Wade (6-2, 230) "have controlled the line of scrimmage," Coach Maurice Moody says. Williams (three interceptions) anchors the defense from his cornerback spot. 
Camden Fairview seems to be peaking at the right time after leading Hope and Hot Springs at halftime the past two weeks by an astonishing 110-3. Senior QB Keith Johnson has passed for more than 1,600 yards this year, including a 261-yard, three touchdown effort Week 6 against Magnolia. Sophomore Erik Hall has emerged as the primary running back the past two weeks, tallying 22 carries for 195 yards and four TDs. The Cardinals wear opponents down with physical left tackle Stacey Wilkins (6-7, 280) and right tackle Dakota Lawson (6-2, 265).

LAST WEEK
Hootens.com correctly predicted 13 of 16 games (81 percent) last week, nailing the point spread of LR Christian by 24 over Maumelle. For the season, Hootens.com has correctly predicted 147 of 180 games (82 percent).

WEEK 10 PREDICTIONS (favored team in ALL CAPS)
5A CENTRAL
LR PARKVIEW (42) at LR Fair (Thurs.): LR Parkview returns to the playoffs for the first time since 2014 after last week's 12-point win over White Hall. Senior running back Geary Allmon ran for 128 yards and a TD and threw a TD pass as the Patriots built a 24-0 halftime advantage. LR Fair has lost nine straight games and hasn't won a conference game on the field (received three forfeits) since Week 6, 2010.
LR CHRISTIAN (21) at Beebe (Thurs.): LR Christian is the No. 2 seed and Beebe misses the playoffs for the third straight year. LR Christian has beaten Beebe the past two years by a combined 92-61. The Warriors hung 87 points on Maumelle a week ago (third most in state history). Warrior junior Kendel Givens ran 29 times for 376 yards and five TDs in the 24-point win over Maumelle. Beebe senior Taylor Boyce has 216 carries for 1,216 yards (5.6 yards per carry) and 12 TDs.
PULASKI ACADEMY (26) at White Hall: White Hall finishes as the No. 4 seed and plays at Harrison in the first round, while Pulaski Academy gets its eighth straight conference title and won't leave Pulaski County in the playoffs. White Hall senior QB Josh Looney threw four second-half TDs in last week's loss at LR Parkview. Pulaski Academy puts up 541 yards per game. Senior Hudson Henry has 60 catches for 786 yards and eight TDs, while classmate John David White has 51 catches for 971 yards and 16 TDs.
Maumelle at WATSON CHAPEL (2): Neither team can make the playoffs, but both put up valiant efforts a week when Watson Chapel led Pulaski Academy 14-8 late in the first quarter, and Maumelle was tied with LR Christian 21-21 late in the first quarter. Maumelle senior QB Tyler Maxwell passed for 344 yards and five TDs a week ago.

5A EAST
GREENE CO. TECH (1) at Paragould: These teams have split the past 24 meetings, and the winner gets the Bell trophy, which was introduced in 1999. GCT gives up 49 ppg, while Paragould surrenders 39 points weekly. 
BLYTHEVILLE (10) at Forrest City: Blytheville makes the playoffs with a victory, while Forrest City needs a win and some assistance. Forrest City led Wynne 22-10 in the third quarter a week ago, but lost in overtime after failing on a two-point try. Blytheville has held four of its six league opponents to two TDs or less.
Valley View at BATESVILLE (2): The winner gets a playoff spot, while the loser needs help to get in. Batesville has never lost to Valley View. The Blazers were sparked by a defensive TD and stuffed a late two-point try. Batesville, winners of four of their past five games, could finish as high as the No. 1 seed. Pioneer senior QB Hayden Childers threw a pair of TD passes in last week's 32-point triumph at Greene County Tech. 
Wynne at NETTLETON (3): Wynne QB Holden Parker kicked the tying 46-yard field goal in the fourth quarter, then made the winning extra point in overtime against Forrest City. The Yellowjackets could tie for the league title but probably doesn't get the No. 1 seed due to the points tie-breaker system. Nettleton at least ties for its second straight conference title and gets it outright with a victory. The Raiders trailed Valley View 14-0 a week ago, then failed on a potential tying two-point conversion in the fourth quarter. Nettleton has only beaten Wynne twice in school history.

5A SOUTH
LR MCCLELLAN (7) at Camden Fairview: Hootens.com Class 5A Game of the Week.
De Queen at TEXARKANA (24) (Thurs.): Texarkana is the No. 1 seed and plays at home in the playoffs until at least the semifinals. The Razorbacks led Hope 45-0 in the first half last week, and Hot Springs 37-0 at intermission the previous week. They've scored at least one special teams or defensive TD in seven games this year. De Queen has lost five straight games by an average of 39-15.
Hot Springs at HS LAKESIDE (13): HS Lakeside is the No. 4 seed and Hot Springs can't make the playoffs. HS Lakeside has won 11 of the past 17 in the series, and the Rams travel to the winner of the 5A East in the first round. Lakeside has surrendered at least six TDs in five games this year, while Hot Springs has scored a TD or less in five games.
Hope at MAGNOLIA (18): Neither team can make the playoffs. Hope has been outscored 219-59 the past four games. Magnolia currently has five wins and the Panthers haven't finished above .500 since 2008.  

5A WEST
HARRISON (28) at Farmington: Harrison is the No. 1 seed and won't leave Boone County until the semifinals. The Goblins have allowed just 71 points this year. Junior Gabe Huskey has 169 carries this year for 1,486 yards and 21 TDs and caught more than 19 passes for 483 yards and five TDs (more than five teams in Class 5A have scored). Farmington senior QB Eric Hill has passed for 1,554 yards and 17 TDs in 2018.
Vilonia at GREENBRIER (7): The winner gets a playoff spot. Greenbrier has won 10 of the past 17 over Vilonia. Greenbrier junior Logan King blocked Alma's tying field goal attempt as time expired last week. Panther senior QB Andrew Johnson has passed for 1,598 yards and 11 TDs this year. Vilonia played its best games the past three weeks, sandwiching wins over Farmington and Clarksville around a heart-breaking three-point overtime loss to Morrilton. Vilonia senior QB Jordan Britton has passed for 1,898 yards and 17 TDs this fall. 
ALMA (21) at Huntsville: Alma failed to score on the potential game-winning pass with one second left, then the potential tying field goal was blocked on the next play in last week's 24-21 setback at Greenbrier. The Airedales finish between the No. 2 and No. 4 seed. Huntsville QB Sean McCone threw a pair of second-half TD passes last week at Harrison. 
MORRILTON (25) at Clarksville: Morrilton is in the playoffs and finishes as high as the No. 2 seed, but could drop to No. 4. Junior QB Jacolby Criswell injured his knee in an August preseason scrimmage, but returned in last week's 22-point win at Farmington, completing 18 of 26 passes for 297 yards and a pair of TDs. Clarksville's two wins this season are against teams with a combined record of 2-16. The Panthers rush for 313 yards weekly. Freshman Bryce Buckner has rushed for 424 yards and four TDs the past month since promoting to the varsity.