Class 2A Week 10 Rankings, Notes & Picks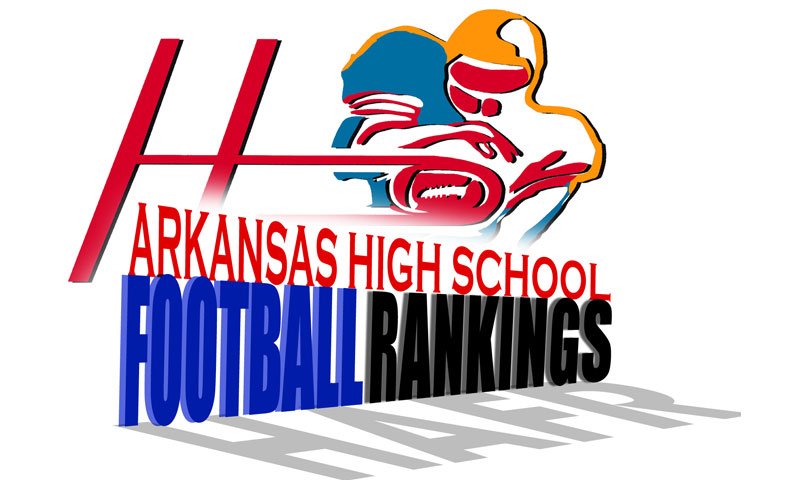 hootens.com Rankings
Class 2A, Week 10, 2018
Copyright Hooten Publishing, Inc.
1. Foreman (8-1)
2. Hazen (8-0)
3. Junction City (6-2)
4. Conway Christian (7-2)
5. Gurdon (8-1)
6. Mount Ida (7-2)
7. Des Arc (6-3)
8. Hampton (5-2)
9. Fordyce (5-4)
10. Salem (7-1)
11. Earle (6-3)
12. Mineral Springs (7-2)
13. Mountainburg (7-1)
14. Mountain Pine (6-3)
15. Hector (6-3)
16. England (4-5)
17. Magnet Cove (4-5)
18. Quitman (6-3)
19. E. Poinsett County (6-3)
20. Rector (5-3)
21. Poyen (5-4)
22. Bigelow (4-5)
23. Magazine (4-4)
24. Hackett (3-4)
25. Lavaca (4-5)
26. Bearden (2-6)
27. Marked Tree (1-7)
28. McCrory (4-4)
29. Carlisle (4-4-1)
30. Parkers Chapel (2-6)
31. Murfreesboro (3-6)
32. Clarendon (3-5)
33. Strong (1-8)
34. Brinkley (2-7)
35. J.C. Westside (2-7)
36. W. Yell County (2-6)
37. Midland (1-7)
38. Cross County (3-6)
39. Dierks (2-7)
40. Lafayette County (1-8)
41. Spring Hill (1-7)
42. Cutter M. Star (1-8)
43. Marianna (1-7)
44. Marvell (0-9)

HOOTENS.COM GAME OF THE WEEK
No. 5 Gurdon at No. 1 Foreman
Gurdon knocked off Mount Ida (14-6) last week to stay atop the 7-2A standings and set up this regular-season finale for the conference crown. Senior tackle Remi Williams spearheaded a five-man front (averaging 235 pounds) that held Mount Ida to a season-low 152 rushing yards. But Gurdon managed just 195 rushing yards against Mount Ida, which gave up 382 on the ground Week 7 in a 34-13 loss at Foreman. Foreman held Mount Ida to 200 rushing yards. Foreman senior quarterback Kyren Batey (976 rushing yards, nine TDs) twisted a knee in the loss two weeks ago at Mineral Springs but appears healthy now. Foreman rushed for 401 yards last week vs. Murfreesboro.

LAST WEEK
Hootens.com correctly picked 15 of 22 games (68 percent) played last week. Hootens.com has picked 187 of 234 (80 percent) for the season. 

WEEK 10 PREDICTIONS (favored team in CAPS followed by point spread)
3-2A
MARKED TREE (1) at Midland (Thurs.): For the first time all season last week, Midland got production out of senior QB Bobby Montgomery, FB Austin McAdams and slotback Gage Marx on the same night in a 28-14 win over Cross County. Midland rushed for 225 yards. Marx and Montgomery intercepted a pass apiece. Marked Tree senior ATH Jack Brown paces the Indians as a receiver and QB, running 24 times last week for 140 yards in a 20-0 loss to Rector.
E. Poinsett County at MELBOURNE (10) (Thurs.): Non-conference game at Class 3A Melbourne. Barring upsets, EPC will secure the 3-2A second playoff seed with a challenging first-round playoff draw vs. the fourth-place team from the 7-2A, likely Mineral Springs, which upset top-ranked Foreman two weeks ago.
SALEM (45) at Cross County: No. 10 Salem sweeps the 3-2A to capture its first conference crown since 2012. As the 3-2A top playoff seed, Salem could return to No. 1 Foreman in the quarterfinals. It lost last year at 2017 state champion Foreman 41-7 in the state semifinals.
RECTOR (12) at McCrory: Rector playing hard and with confidence with senior RB/LB Max Ford running behind senior center Connor Austin and right guard Zac McCluskey. Rector reaches the playoffs for the first time since 2001; McCrory misses the playoffs for the first time since 2007.

4-2A
LAVACA (10) at Lamar JV (Thurs.): Lamar JV already owns a victory this fall over a 4-2A member, topping Western Yell County 6-0 in OT Week 2.
MOUNTAINBURG (6) at Hector: No. 13 Mountainburg already has secured a share of its first conference crown in school history. It can win the 4-2A outright by beating nemesis Hector for the first time since 2012. In the three meetings since (2013-2015), Hector won all three while outscoring Mountainburg 128-20.
HACKETT (15) at J.C. Westside: Winner goes to playoffs; loser stays home. Hackett senior QB Brady Hester has delivered all season for a team limited by injuries. Hester ran 19 times last week for 104 yards and two TDs, while completing 11 of 16 passes for 132 yards in a 22-0 win over Lavaca. Senior wingback Pacey McBride caught six balls for 115 yards and a TD and intercepted a pass.
Western Yell at MAGAZINE (28): Barring a Hector upset of Mountainburg, Magazine secures the second playoff seed and a winnable first-round matchup vs. the 8-2A fifth seed. Magazine junior RB Caleb Hyatt has topped 1,000 rushing yards for the season. 

5-2A
Quitman at MOUNTAIN PINE (18) (Thurs.): With its 44-12 win Week 8 over England, No. 14 Mountain Pine finishes as 5-2A runner-up and plays host to a winnable first-round playoff game vs. the fourth-place team from the 4-2A. Quitman started 5-0 but has dropped three of its past four games, allowing an average of 47 points in those losses.
ENGLAND (22) at Poyen (Thurs.): England earns the third playoff seed with a challenging first-round opponent, likely No. 11 Earle. Poyen's junior high went 9-0 this fall, claiming consecutive junior high titles.
Bigelow at CONWAY CHRISTIAN (36): No. 4 Conway Christian captures consecutive league titles and its fourth conference championship in 11 years of varsity football. CC senior QB Jacob Wood has passed for 1,402 yards and 23 TDs this fall with four INTs. Senior TB Wyatt Lawrence has rushed for 944 yards, and Wood has carried for 747 yards. Both average 8.3 yards per carry. Wood burned Magnet Cove last week with 196 rushing yards (12.3 YPC) and two TDs.
Cutter M Star at MAGNET COVE (19): Magnet Cove hung with Conway Christian for a half last week, tied at 21-21 in the second quarter before losing 56-28. MC senior RB Eli Dawson ran 26 times for 232 yards and two TDs in the loss. Magnet Cove's defense allowed 9.5 yards per snap (578 total yards) to Conway Christian.

6-2A
DES ARC (6) at Clarendon (Thurs.): Des Arc jumps to No. 7 in the rankings after running over Earle 26-8 with senior QB Garrett Goodman keeping for 142 yards (7.5 YPC) and three rushing TDs. Junior Jackson Moreton ran for 107 yards (4.1 YPC). Playoff-bound Clarendon dumped Des Arc 42-20 one year ago.
HAZEN (56) at Marvell (Thurs.): No. 2 Hazen sweeps the 6-2A for the second year in a row and for the third time (2014) in the past five years. The Hornets should arrive safely to the second round when they will play host to top-ranked Foreman or No. 5 Gurdon. 
MARIANNA (13) at Brinkley (Thurs.): Both miss the playoffs.
EARLE (21) at Carlisle: The winner finishes third in the league; loser slips to fourth. Either way, this marks Earle's lowest conference finish (on the field) since 2013. Earle forfeited every win in 2017, and it has lost the past two weeks: Hazen gutted Earle for 351 rushing yards, and Des Arc ripped Earle for 337 rushing yards.

7-2A
Gurdon at FOREMAN (8): See Game of the Week.
MURFREESBORO (5) at Dierks (Thurs.): Murfreesboro grabs league's final playoff berth after enduring an 0-10 season in 2017. Senior Nathan Plyler paces the Rattlers in receiving and ranks second in tackles.
Lafayette County at MOUNT IDA (42) (Thurs.): Best news coming out of Mount Ida's 14-6 loss last week at Gurdon was MI all-state RB/LB Jonathan LaGrange (shoulder) did not break his collarbone as speculated. As the league's third playoff seed, MI gets a favorable playoff draw that could lead to a quarterfinal matchup with Conway Christian for the second year in a row.
MINERAL SPRINGS (45) at Spring Hill (Thurs.): Barring major upsets, Mineral Springs, which tripped up Foreman two weeks ago,  earns the league's fourth playoff seed and a five-hour bus trip to Lepanto (E. Poinsett County) next week.

8-2A
JUNCTION CITY (35) at Parkers Chapel (Thurs.): PC defeated Strong 36-14 last week with junior QB Caleb Jacobs completing 11 of 20 passes for 235 yards and four TDs. Senior SE/LB Amari Bell caught three passes for three TDs and returned an INT 60 yards for a score. JC throttled 4-2A member Hector 48-7 and has already secured at least a share of its seventh league title in the past 10 years.
Strong at BEARDEN (14): Bearden grabs sole possession of fourth place in the league standings to earn its 15th playoff berth in the past 17 years (missed in 2005 and 2015).
Hampton at HARDING ACADEMY (3): Hampton, led by defensive linemen Kade Pennington (6-3, 290) and Desmond Brown (6-1, 235) and linebackers D.D. Stephens and Tre Murphy, held Fordyce to 215 total yards (17 passing yards) last week in a 21-7 victory. Harding Academy, which was idle last week, will be the No. 2 playoff seed from the 2-3A, opening the postseason at home against the No. 4 seed from the 1-3A. Harding did not allow a pass completion and intercepted three passes two weeks ago in a 41-8 victory at Marshall. 
Fordyce at MCGEHEE (6): Fordyce struggled offensively last week at blitzing Hampton in a 21-17 loss, completing just four of 12 passes for a season-low 17 yards.