HOGS vs Vanderbilt in-depth preview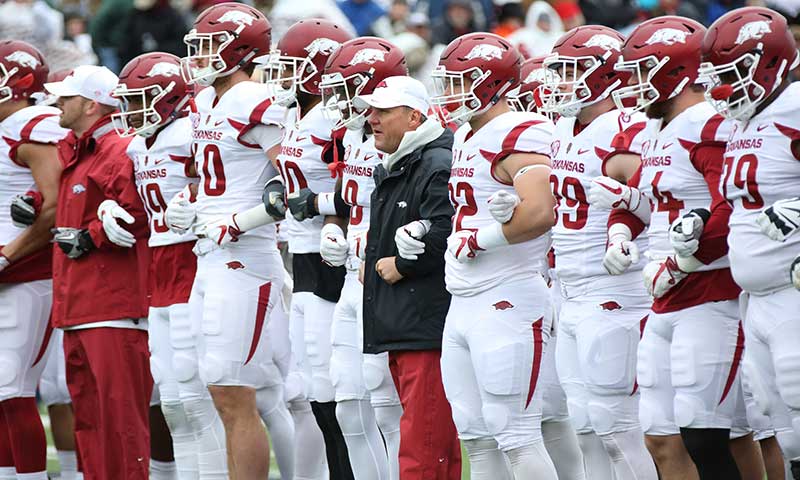 FAYETTEVILLE - Despite their winless SEC records, Arkansas and Vanderbilt feel pretty good about themselves entering Saturday's game at Reynolds Razorback Stadium.
Arkansas (2-6 overall/0-4 in SEC West) and Vanderbilt (3-5, 0-4 in SEC East) kick off at 11 a.m. Saturday on the SEC Network.
A week ago at No. 12 Kentucky, Vanderbilt battled the Wildcats in a 14-7 loss without injured running back Ke'Shawn Vaughn (concussion), who returns to the lineup Saturday. The Commodores also lost 22-17 on Sept. 15 at No. 4 Notre Dame and 37-27 to No. 9 Florida.
No wonder Vandy coach Derek Mason foresees the Commodores setting sail in their final four SEC games against Arkansas, Missouri, Ole Miss and Tennessee.
"When you look at our football team, we are not that far away," Mason said. "We have played some close ballgames. This football team doesn't lack confidence at all. They understand what they've done and where they've been and opportunities missed and looking forward to capitalizing on the opportunities of what's in front of us."
And what's in front looks a whole lot more winnable when Vaughn, a powerful and fast 5-10, 222 pounds, runs over and around defenders.
"He's a difference maker," first-year Arkansas coach Chad Morris said of the Vandy 'back.
Vaughn not only makes the Vandy running game better, but the entire offense better, Arkansas defensive coordinator John "Chief" Chavis said.
Senior Vandy quarterback Kyle Shurmur's play-action passes to wideout Kalija Lipscomb (54 catches for 588 yards and six TDs) and tight end Jared Pinkney (25 catches for 392 yards and three TDs) become far more difficult to defend with the Hogs committed to stopping Vaughn on the run. Vaughn also has slipped out of the backfield to catch seven passes for 131 yards, fourth on the team.
"I'm not taking anything away from the quarterback because he is a veteran quarterback who does a really good job," Chavis  said. "But when you've got No. 5 (Vaughn) back there you can hand it to or throw screens to, then it makes their offense a lot more difficult to defend."
A former defensive coordinator, though this year he hired Jason Tarver as defensive coordinator, Mason always has overseen strong Vandy defenses. The Commodores are especially strong with senior middle linebacker Jordan Griffin leading the SEC with 86 tackles.
"Watching his production over the last five weeks, man, it's looked like really good football from him," Mason said.
Arkansas has received good football from its tough but likely overused linebackers, junior De'Jon "Scoota" Harris (82 tackles) and senior Dre Greenlaw (58 tackles). They rank second and seventh in the SEC in tackles despite Greenlaw missing two September games with injuries.
Junior defensive end Sosa Agim and senior defensive tackle Armon Watts lead Arkansas' D-line. Senior safety Santos Ramirez and junior cornerback Ryan Pulley lead a secondary bolstered by shutting out Tulsa.
Offensively, junior starting quarterback Ty Storey has been cleared from the concussion that sat him out of the triumph over Tulsa, while freshman Connor Noland gained valuable experience in a game-winning start.
If they can keep him healthy for four quarters, sophomore running back Rakeem Boyd has played superbly, while big tight end Cheyenne O'Grady has emerged as a big receiving threat.
Like Mason on the Commodores, Morris talks of how close his Hogs are to getting on a roll.
Only one of these two SEC winless can roll out of Reynolds Razorback Stadium on Saturday with their first SEC success.