Hogs: New Ole Miss QB a dual threat; notes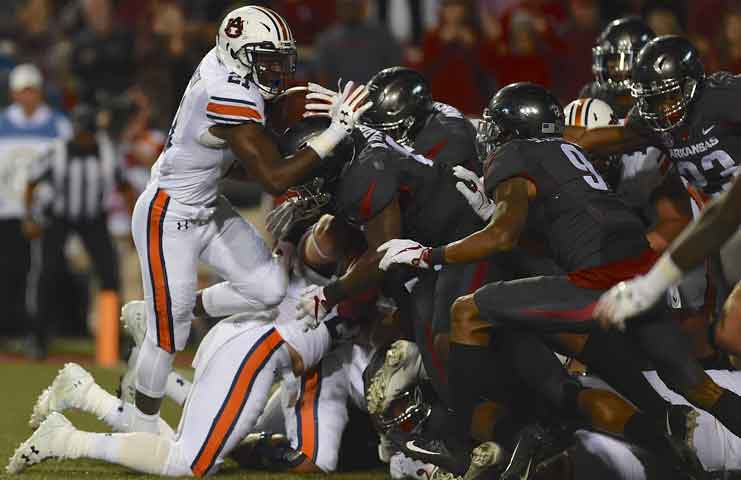 By OTIS KIRK
FAYETTEVILLE - Saturday's Arkansas at Ole Miss game won't draw any national attention, but for these two teams, it will be a battle for survival.
Both will be without their starting quarterback, and the two squads are a combined 1-7 in the SEC. Arkansas (2-5, 0-4) seeks its first SEC win. Ole Miss (3-4, 1-3) has lost four of its last five games after starting the season 2-0. The Rebels blasted Vanderbilt 57-35 for their lone SEC win.
Arkansas (Craven Whitlow photo) and Ole Miss kick off at 11 a.m. Saturday in Vaught-Hemingway Stadium in Oxford, Miss. The SEC Network  will televise the game.
Arkansas redshirt freshman QB Cole Kelley has played nine quarters. Former starter, senior Austin Allen, exited the South Carolina game on Oct. 7 with an injured shoulder and hasn't returned. Allen isn't listed on the depth chart for Saturday even though he is getting some work this week.
"Yeah, he threw yesterday during (skeleton drills) and during one on ones and had no regression today," Bielema said Wednesday. "Yesterday by far was his biggest work load since the injury. Today we'll plan on moving him into team periods and seeing exactly what he does.
"Yeah, he's moving along and again no regression or setback. That's kind of just what we're monitoring, is to make sure he's constantly moving forward. Of course, he wants to get out there as soon as possible. But you also have to measure the fact that he's doing it without regression."
This season, Kelley has completed 49 of 86 passes for 549 yards for  four touchdowns with two interceptions while rushing 35 times for 46 yards.

Ole Miss lost its starter, Shea Patterson, last week during a 40-24 loss to LSU. Patterson led the SEC in passing with 2,259 yards and 17 TDs with nine INTs. Ole Miss leads the SEC in passing but ranks last in rushing offense.
Junior QB Jordan Ta'amu has replaced Patterson. Ta'amu has completed seven of 11 passes for 78 yards, while rushing for 52 on six attempts.
"It's a lot of pressure because you've got to be able to cover, set your feet and when the quarterback takes off be able to go get him," Arkansas linebacker Greenlaw said. "We've got to do a good job this week of setting our feet and play the run."
Ole Miss interim Coach Matt Luke likes Ta'amu's athletic ability and his potential.
"Jordan is a dual-threat guy," Luke said. "He's a very good athlete. He's definitely a capable thrower. He was really an unknown to everybody until last weekend. He got limited snaps earlier in the season, but that was the first time really he led a drive at halftime against a good LSU defense. He did really, really well.
"I'm looking forward to seeing how he does. I think everybody around him, running backs, receivers, need to step up their game to take pressure off of him. Get him some throws early in the game to get him comfortable. He's a guy who hurts you with his legs and he can do some things with the run game that may be advantageous to us."
Arkansas' senior cornerback Henre' Toliver (20 tackles, one FR, one INT) said Ta'amu is "very accurate. He has a pretty good arm, and he'll use his feet a lot, too. He's very capable. We have to respect the run game from the quarterback."
While all the talk is on the quarterbacks, Ole Miss is most concerned with Arkansas' ability to run the football even though the Hogs rank No. 65 nationally and No. 10 in the SEC in rushing offense.
"Yeah, I think that's what we're preparing for," Luke said. "We have had our troubles in stopping the run. I think they have always done a great job of getting in big personnel against us and being able to run the football. You mentioned Cole Kelley and being the threat of a run game. They don't do it a whole bunch, but when they do, he's a big, strong guy. So that's what I'm expecting for them to lean on the run."
Arkansas' weakened running attack misses the departed Rawleigh Williams III and injured Chase Hayden.
"We've got to load the box," Luke said. "We've had our struggles in stopping the run so that's what they are good at. They are gonna get the run game going early and get big personnel.
Arkansas' John Scott Jr. coaches the defensive line and said tackling will be a big key for the Razorback defense. The Hogs rank 10th in the SEC in passing and rushing defense.
"I think that's going to be a big deal," Scott said. "Any time you play defense, you've got to be a great tackler, especially the way offenses put you in space and create space with formations and stuff like that. So we've got to be improved with our tackling. We've got to do a good job of being able to get off the field when we can and have some gas in the tank in the second half to finish off tackles and get guys down."