Hogs, Vandy boast top 'backs, 'backers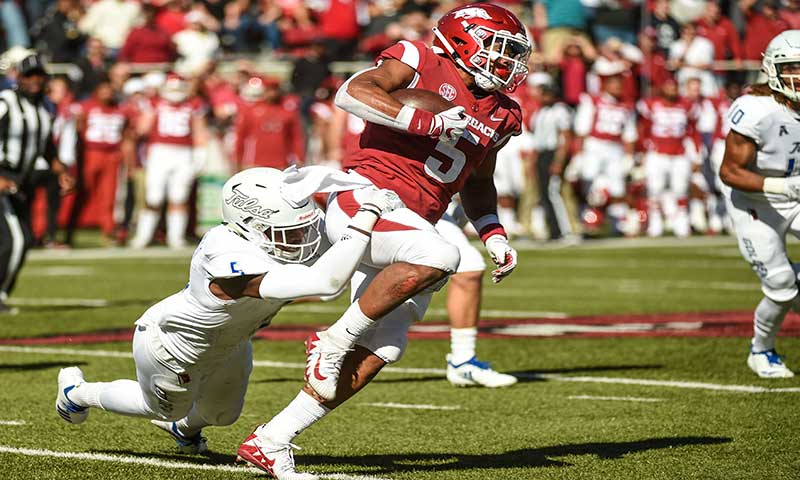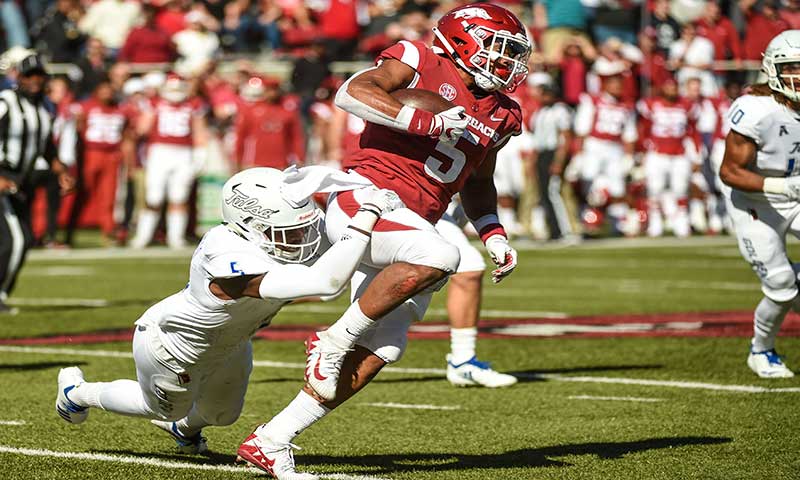 FAYETTEVILLE - You wouldn't expect two winless SEC teams to feature the league's top two tacklers and two of its top rushers.
Those attending Saturday's 11 a.m. clash between visiting Vanderbilt (3-5, 0-4 in SEC East) and Arkansas (2-6, 0-4 in SEC West) will see middle linebackers with more tackles than any in the league and running backs averaging the SEC's best and third best in yards per attempt.
Vanderbilt senior middle linebacker Jordan Griffin leads all SEC tacklers with 86. Arkansas junior middle linebacker De'Jon "Scoota" Harris ranks next with 82.
Vanderbilt fourth-year running back Ke'Shawn Vaughn averages an SEC-leading 6.88 yards per carry, while Arkansas sophomore Rakeem Boyd (in Craven Whitlow photo above) ranks third at 6.69 YPC.
TRACKING TRANSFERS
Vaughn and Boyd post similar stats from similar backgrounds. Vaughn transferred to Vanderbilt and redshirted in 2017 after netting 1,024 rushing yards on 217 carries for the 2015 and 2016 seasons at the University of Illinois.
Boyd redshirted his first year at Texas A&M in 2016. He transferred last season to Independence (Kan.) Junior College with freshman eligibility and rushed for 1,211 yards before transferring to Arkansas as the nation's third-rated junior college running back.
Arkansas and Vanderbilt likely would own an SEC victory this fall had Boyd and Vaughn stayed entirely healthy.
Unable to report to Arkansas until August while completing academics at Independence JC, the speedy Boyd (6-0, 200) had to work his way into game shape. His 10 carries for 47 yards in the 24-17 loss to Texas A&M in the season's fifth game marked his season high until rushing 15 times for 102 yards vs. No. 1 Alabama and 22 for 99 yards in last week's 23–0 victory over Tulsa, a game he couldn't finish because of dehydration while coming off a back injury.
The back injury the previous week against Ole Miss  limited Boyd to seven first-half carries for 109 yards. With Boyd, Arkansas led Ole Miss 27-17 at half. Without him, the Razorbacks netted two field goals in the second half and lost 37-33, being outscored 13-0 in the fourth quarter.
Boyd also excels as a receiver with 18 catches for 154 yards.
"He's got great hands," Morris said. "He's been targeted as much as anybody, and it's because of his ability to catch balls."
A Nashville (Tenn.) native, Vaughn (5-10, 215) runs with a low center of gravity, authority and the speed to net 131 yards from seven pass receptions. Without Vaughn (concussion protocol) last week, Vanderbilt lost to No. 12 Kentucky 14-7.
"He's a difference-maker," Morris said. "When he's on the field, they're an entirely different unit. I mean he's as good as there is in our league."
With Vaughn medically cleared, Vandy coach Derek Mason has big plans for his best 'back against Arkansas.
"I understand the running back by committee, but we're in late season," Mason said. "It's about your dudes touching the ball."
And Ke'Shawn Vaughn is one bad dude.
SCOOTA THE BALLER
So is Scoota Harris, Mason said from watching Arkansas game film, calling Harris "a flat-out baller."
Vandy's Griffin (6-0, 232) sports ordinary linebacker size, but he plays with extraordinary violence and intelligence, Morris said.
"He has a great grasp of their defensive scheme and philosophy and that really sets his skills up," Morris said. "He's a downhill player, always around the football. The closer he gets to the ball, the more violent he gets."
JUST FOR KICKS
The Razorbacks went into their Thursday practice as confident in their place-kicker as any SEC school could.
Connor Limpert is 10 for 10 on his most recent field attempts, and his kickoffs have been effective since Texas A&M returned the opening kickoff for a TD four games ago.
"I think you've seen his confidence really, really grow,"  Morris said. "I think it goes back to just the confidence in the snapper (Jordan Silver), the holder (Jack Lindsey), the execution of the kick and the blocking up front. I think he's found where he fits, and it's a tribute to him."
Repeating the formula has perfected his place-kicking, but diversifying has enhanced his kickoffs.
"We've mixed it up," Morris said of kicking deep and kicking the short but hard-to-handle squib kicks. "We've done several squib kicks, and he's really good at that."