Hogs: Line not only problem w/offense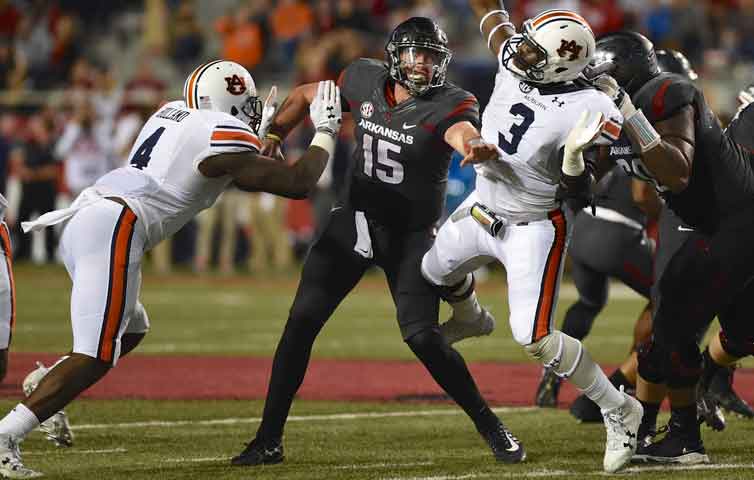 By OTIS KIRK
FAYETTEVILLE - Arkansas' offensive line has taken much criticism this season and now has lost its leader, likely the best player on the team.

Senior center Frank Ragnow has graded higher this season than any offensive lineman in the nation, according to Pro Football Focus. In fact, PFF has graded Ragnow higher this season than any player in the SEC regardless of position.

"It's definitely tough not having Frank (Ragnow) out there any more," said close friend and starting left guard Froholdt said. "That extra voice, that leader the guy who's dependable. It's tough, but he laid a great foundation with the guys. We're comfortable with that and just got to move forward."
Arkansas plays at Ole Miss at 11 a.m. Saturday after losing last week to Auburn 52-20. (Craven Whitlow photo)

Froholdt called Ragnow a friend, mentor and "great guy."
"There's not enough great things to say about Frank," Froholdt said. "I think it has already been said before multiple times, but he's an amazing friend and great guy. He's going to the next level, and now he can focus on that. I wish him a speedy recovery."
Junior Zach Rogers will step in at center in the absence of Ragnow.
"Zach is extremely smart," Froholdt said. "He's a guy who doesn't want to go out on the field and not know what he's doing. He's just as smart as Frank and maybe smarter. He's a guy who knows the playbook inside and out. He knows everything before the play like Frank does. We're extremely lucky to have a guy who was backing up Frank and now is gonna get in that starting role."

Arkansas line coach Kurt Anderson, also receiving much criticism, said his unit will press on with out Ragnow.

"When you lose a guy like that, you take a hit in terms of leadership, in terms of your go-to guy in the room, in terms of a captain," Anderson said. "But the guys understand that they have to step up and the expectation is on the position. The way he played for three and a half quarters (vs Auburn), you talk about a warrior and you talk about inspiration.
"I think it actually brought some juice to the guys in terms of some passion, in terms of what the game means to Frank Ragnow for him to play on that (injury). He's a guy who's never been injured, so he wasn't aware of how significant of an injury it was. Guys have to step up. All those reps that they've had, those are ultra important reps. It's time for those guys to step up with the expectations on the position and go out there and play ball and have fun. It's their time to shine."
The offensive line hasn't protected the quarterback very well the past two years. Arkansas ranks No. 124 nationally this fall in sacks per game allowed (3.43). Only five FBS teams allow more sacks per game. The Razorbacks rank 65th nationally in rushing offense.

"It's a lot of things," Anderson said. "It's our ability to execute the protection plan. It's getting five guys to execute it at all times. It's not just five guys. There are tight ends involved. There are running backs involved in that. There are receivers getting open and there's the quarterbacks in their pocket.
"It's a team. It's an offensive thing and yes, we've struggled. We have dissected and worked on the issues tirelessly since we've been here. So it's something that guys are frustrated and coaches are frustrated. It's about execution of the protection plan and they've got to go out and execute it.
"I think we've simplified it as about as simple as you can simplify it."
Arkansas also lost freshman running back Chase Hayden to an injury Saturday night. Sophomore T.J. Hammonds returns to running back from wide receiver.
"He looked good (Tuesday)," UA running back coach Mitchell said. "He really has got fresh legs it looks like even though he has been at wide receiver. The thing about him is he is that change-of-pace guy, has a burst, has good vision and I am excited to see what he is going to be able to do this weekend."