Hogs: Much blame to share post-Auburn debacle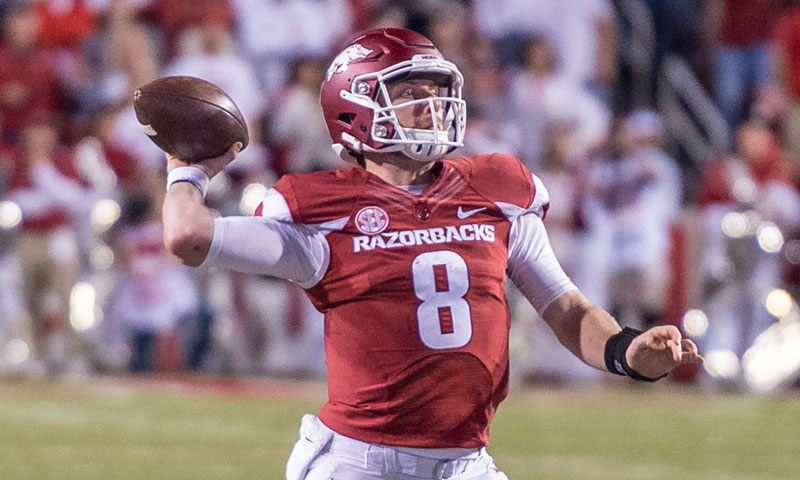 FAYETTEVILLE - No thanks to those assigned to protect Arkansas starting quarterback, according to senior left tackle Dan Skipper, Austin Allen said Tuesday, "I feel a lot better than I did on Sunday."
As he did in SEC losses to Alabama and Texas A&M, Allen took a physical beating when the Razorbacks (5-3, 1-3) were annihilated 56-3 last week at Auburn. This was worse because of the final score and because Allen suffered a sprained knee that required second-quarter attention before he returned after one series and didn't leave the game until limping off with his knee swelling in the fourth quarter.
Allen, whose knee was drained Saturday and checked Sunday by a MRI, didn't practice Tuesday and likely won't this open week with the Razorbacks playing host to Florida Nov. 5 at Reynolds Razorback Stadium.
"Just taking it day by day and I'm sure I'll feel a lot better by the end of the week and going into next week," Allen said. "Just rehabbed all day today and went out there and got mental reps. That's kind of what I'll do this week and try to get right."
Skipper said it's the line blocking for Allen that needs to get it right.
"That kid over there is one of the toughest guys I have ever met," Skipper said of Allen nearby being interviewed by media after Tuesday's closed practice. "He proves that week in and week out. I am embarrassed and ashamed that he has to get knocked every week. It shouldn't be like that. We need to have enough intestinal fortitude to step up and body up and be a man and protect someone who does his best every day to step up in the pocket and deliver a good ball. And he shouldn't get knocked off. That's not what we stand for."

DEFENSE DEJECTED, TOO
Two of the defense's senior leaders, middle linebacker Brooks Ellis and end Deatrich Wise, acknowledged the defense didn't stand at all in a 56-3 rout, yielding 543 yards rushing, including a 78-yard TD on Auburn's first play from scrimmage.
"Everything went wrong," Ellis said. "We didn't fit it the way we're supposed to. We didn't run the game plan like coach wanted it to, and it just killed us. Just the snowball effect. It kept on piling on. We just didn't play the way we're capable of playing. They were ready and we weren't."
Wise, on several postseason award watch lists when the season began, said the defense never recovered from Auburn's first punch.
"It was kind of a quick little shock after the first touchdown," Wise said. "It kind of started affecting the people around us. We were down 21-0 in the first quarter. Just a bunch of things happened during that game. They were hitting downfield and we had a bunch of guys out of position."
Why were defensive players out of position eight games into the season? "I think it was more of just everybody had a bad day at once," Wise said.
Too many trying to do too much while things continue going all too wrong? "That was mostly what was going on," Wise said.  "People were doing too much and trying to overcompensate for somebody else. It ended up messing up a little bit."
FILM REVIEW ALL THUMBS DOWN
Coach Bret Bielema, offensive coordinator Dan Enos, defensive coordinator Robb Smith and the assistants pulled no punches during Sunday's film review, the players said.
"It was ugly," Skipper said. "If you show up and don't play hard or don't play well, you are going to get beat, you are not just going to get beat, you are going to get embarrassed. That's what happened."
Awful as the Razorbacks were, they were ranked 17th in the country before the Auburn game and in September upset then No. 15 TCU and upended then 12th-ranked Ole Miss in Fayetteville the week before losing at Auburn.
"We are the same team that's played well and won fourth-quarter games," Skipper said. "We just have to get back to what we do and attack each week and each challenge that we face.  The (four) SEC teams we have left are all really good teams, but right now we have to focus on Florida. We have two weeks to prepare for them and get after it."

WALLACE REMAINS SIDELINED
Arkansas sophomore starting right offensive tackle Brian Wallace, also injured and limping to the sidelines at Auburn, did not practice Tuesday.
Redshirt freshmen Colton Jackson of Conway and Jalen Merrick worked at right tackle Tuesday.