HOGS: Wagner goes unnoticed at left tackle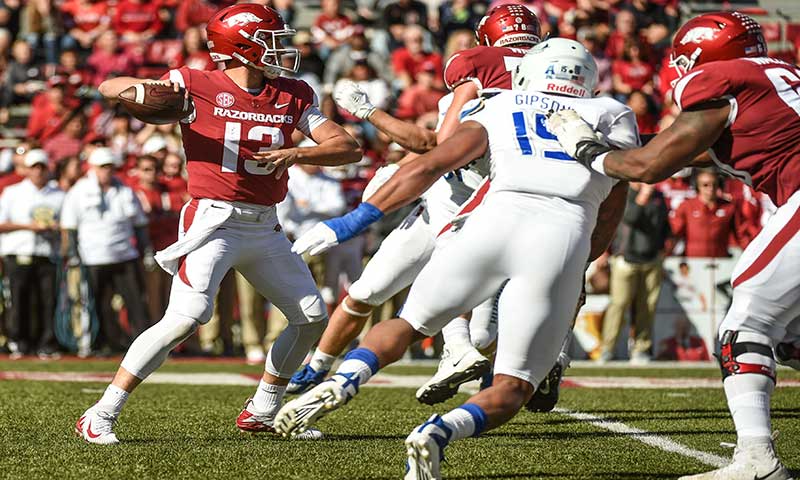 FAYETTEVILLE - Surely few 6-9, 300-pounders are asked to blend anonymously in plain sight.
Yet, that's what Arkansas coach Chad Morris, offensive coordinator Joe Craddock and line coach Dustin Fry asked of Dalton Wagner.
Arkansas' redshirt freshman of big frame and little experience was told Saturday morning that starting left tackle Colton Jackson awoke with disabling back spasms.
Coaches then informed Wagner he just became the starter.
Arkansas kicked off its homecoming game at 11 a.m. against Tulsa, giving Wagner little time to prepare. The past few weeks the redshirted reserve had practiced more at right than left tackle.
Since the Hogs won 23-0 and neither first-time starting quarterback Connor Noland nor backup QB Cole Kelley got sacked, Wagner (in Craven Whitlow photo above)  performed to anonymous expectations.
"Coach Fry was very pleased with what I did," Wagner said after Tuesday's practice as the Razorbacks ready for Saturday's SEC game with Vanderbilt. "So very good that they didn't have to change anything, and I didn't disrupt anything and did my best out there."
Craddock and Morris said Wagner's play stood up by not standing out.
"We told Dalton, 'If we don't notice you're in there, that's a good thing,'" Craddock said. "When we notice you are the one giving up a sack or missing a block, that's a bad thing. I thought he did a really nice job going in for Colton."
Morris praised both junior guard Austin Capps, filling in late in the Tulsa game when starting right guard Johnny Gibson was injured, and Wagner for their anonymous effectiveness.
"As an offensive lineman when you put Dalton Wagner in there, for his name not to come up means, usually, the O-linemen are playing pretty good or doing some good things," Morris said, "Austin Capps has continued to progress. I think Coach Fry has done a really good job of relating and managing what we can do up front. I think they're definitely heading in the right direction."
Wagner said his start wasn't as anonymous as he had wished.
"Yeah, I think I had two mental errors, and they were just stupid mistakes," Wagner said, "just antsy jitters, first start, left side, all that stuff."
Redshirted last year after signing out of Spring Grove, Ill., Wagner trained at right tackle but moved in August to left tackle after Jackson had back surgery in July.
An abrupt August appendectomy kept Wagner from starting at left tackle. Redshirt freshman Shane Clenin started one game. True freshman Noah Gatlin started twice before Jackson returned as the starter for Arkansas' four SEC games.
In the meantime, Wagner healed and cross-trained at both tackles.

Wagner acknowledged feeling like it was "a stomach dropper" when apprised Saturday morning he would start, but said since last spring Fry told him to prepare every day like he's the starter. And if he had questions during the game, he figured senior left guard Hjalte Froholdt had answers.
"I'm like, Coach Fry has me prepared," Wagner said. "I got my offensive linemen with me and they're all smart dudes, especially the leadership of Hjalte. It was next-man-up mentality. It was just like you're prepared for this, you've studied film for this, you've seen the scouting reports, you've done everything. I was ready to go."
Then he started Saturday morning at left tackle, and the line did not allow a sack by Tulsa.
"Especially with a freshman (QB) back there," Wagner said. "You want to keep him healthy and keep him confident. Connor had a great game, and you just want to make sure, just as an O-line, it's never acceptable to have a sack."
Wagner practiced first-team left tackle Tuesday while Jackson worked on a limited basis. Morris does expect Jackson to be game ready.
Cleared of concussion protocol Sunday, junior QB Ty Storey practiced Tuesday and said, as does Morris, that he  is ready to start against Vanderbilt.
"I feel really good," Storey said Tuesday night. "I just keep feeling better every day and  I feel 100 percent normal. So feeling really good, especially just being back out there at practice with the guys, it's a better feeling than having to sit out and watch them."