HOGS: Vandy D preps for 3 QBs; notes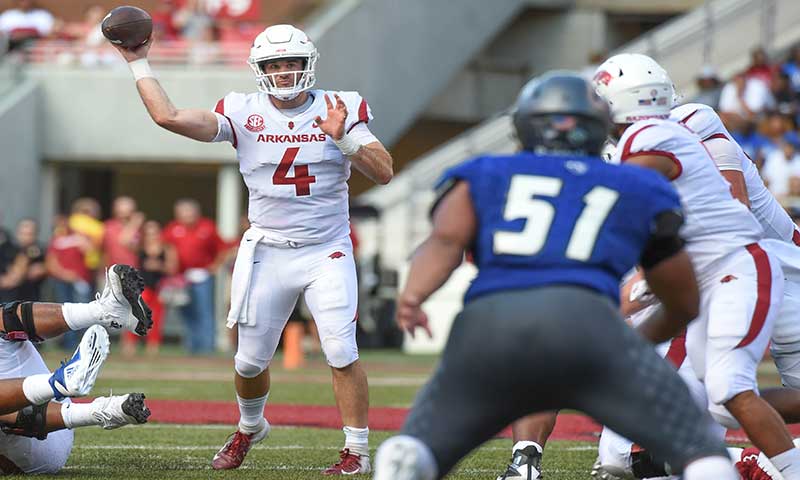 FAYETTEVILLE - Arkansas freshman quarterback Connor Noland of Greenwood started the victory last week over Tulsa with sophomore backup Cole Kelley operating the goal-line and short-yardage packages.

The Razorbacks (2-6, 0-4 in the SEC West) play host to Vanderbilt (3-5, 0-4 in the SEC East) at 11 a.m. Saturday at Reynolds Razorback Stadium.
Vanderbilt coach Derek Mason expects to see three Arkansas QBs.
"I think (junior starting QB) Ty Storey is a tremendous quarterback, obviously," Mason said. "You look at where he is right now, he's working on trying to figure out how to be consistent, as is (Vanderbilt senior starting quarterback) Kyle Shurmur. The bottom line is last week they got a win with Connor Noland, and I'm not so sure that he won't be the starter. Looking at the guy who's hot and just won a football game is really where we're starting. I'm planning on seeing all three quarterbacks. We have preparation in play for all three."
Arkansas head coach Chad Morris sees Mason's point prepping for all three.
"I think that with Connor getting the start last week and getting the win, he'll continue to get better each week," Morris said. "We know Cole and the role he's played, so they've got to be prepared for that. Ty has been as gritty and as tough a player as we've had. I think he presents challenges. So absolutely you've got to prepare for all three of these guys."

STOREY WORKS AGAIN
Storey of Charleston, passing Sunday the concussion protocol that he hadn't been able to meet for the Tulsa game, practiced Tuesday and Wednesday and seems likely to start against Vandy.
"Ty was back yesterday and practiced the entire day as he did last week," Morris said. "He will be back out there today practicing and we anticipate Ty being ready to go for us."
Storey was removed from the Ole Miss game because of a fourth-quarter head injury.

ACTION JACKSON
Originally set to practice Wednesday in a green no-contact jersey, Arkansas senior left tackle Colton Jackson drilled without the restrictive garment and appears likely to start Saturday against Vanderbilt.
Morris said Jackson likely would be restricted Wednesday as he had been Tuesday but should play against the Commodores.
Missing the season's first two games in September because of August back surgery, Jackson had started Arkansas' four SEC games but missed last week's 23-0 non-conference victory over Tulsa because of severe back spasms.
GIBSON, WATTS GOING
Senior right guard Johnny Gibson of Dumas practiced in a green restricted jersey Tuesday and Wednesday but is expected to play against Vanderbilt. Gibson started last week against Tulsa, though he was re-injured during game.
Junior Austin Capps of Star City worked first-team right guard Wednesday and finished for Gibson against Tulsa.
Senior defensive tackle Armon Watts, restricted this week while resting a quadriceps strain, "will be back" against Vandy, Morris said.
Redshirt freshman Dalton Wagner started for Jackson against Tulsa. Senior receiver Jared Cornelius has not practiced since injuring an ankle against Tulsa.

HAYDEN PRACTICES
Funeral plans for the grandmother of sophomore running back Chase Hayden apparently will be next week. Hayden, of Memphis, has practiced all week and will back up starting running back Rakeem Boyd against Vanderbilt.
"Our thoughts and prayers go out to Chase and his entire family," Morris said. "He will play. After the game on Saturday he will go back and spend time with his family. We will get him back Tuesday of next week."
With junior running back Devwah Whaley out since undergoing ankle surgery after the Oct. 13 loss to Ole Miss, and Boyd not finishing the past two games because of back and dehydration issues, the Razorbacks need the speed of Hayden and redshirt freshman power 'back Maleek Williams.
The Hogs already have lost running back T.J. Hammonds to knee surgery.
"That's why you recruit those guys and have several on scholarship," Morris said of running back, often the most injury-prone positions. "Rakeem (Boyd) is having a great year. Chase stepped in last week and did some really good things. Maleek Williams came on and has been there all year long. He is slowly progressing. We feel like we've got three good ones right there. Kendrick Jackson (a fullback in the previous Bret Bielema regime) is another one who is getting some reps, but we anticipate really going with those three."