Class 6A Week 9 Rankings, Notes & Picks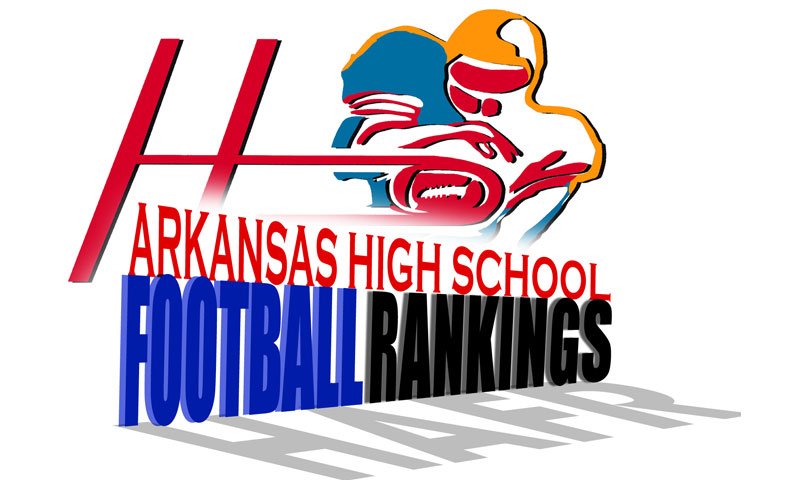 Hootens.com Rankings
Class 6A, Week 9, 2016
Copyright Hooten Publishing, Inc.
1. Greenwood (8-0)
2. Russellville (7-1)
Russellville vs Lk Hamilton highlights
3. Jonesboro (7-1)
4. Pine Bluff (5-2)
5. Benton (5-3)
6. West Memphis (6-2)
7. Marion (4-4)
8. Lake Hamilton (5-3)
9. Searcy (4-4)
10. El Dorado (4-4)
11. Texarkana (2-6)
12. Mountain Home (2-6)
13. Siloam Springs (1-7)
14. Sheridan (1-7)
15. Jacksonville (2-6)
16. LR Hall (2-6)

HOOTENS.COM GAME OF THE WEEK
No. 4 Pine Bluff at No. 6 West Memphis.
These two last met in the 2009 playoffs with Pine Bluff winning at West Memphis 24-16.
Both will be big favorites next week so the winner likely earns a share of the East title with Jonesboro. Pine Bluff has won 24 of its past 26 games, losing at Jonesboro 41-34 three weeks ago. Jonesboro lost at West Memphis 40-38 the following Friday.

West Memphis lacks a breakaway threat but rotates four quality backs while junior QB Amaurius Stinnett improves weekly. Stinnett guided the Blue Devils to 381 yards offense last week, running for two TDs and passing for two more scores in a 54-7 win at Jacksonville. West Memphis' defense records 2.125 sacks weekly with 11 interceptions this season. Senior linebacker Jerry Edwards (5-10, 190) leads the Blue Devils with 71 tackles this fall, including eight stops for loss.
Pine Bluff's two losses have been on the road by a combined 3 points, including 28-27 at Class 7A Cabot in the season opener. The Zebras score 46.8 points per conference game but have allowed 28 or more points the past three Fridays. Senior Simeon Blair, a transfer QB from Pine Bluff Dollarway, threw a 65-yard TD pass on third-and-15 with 51 seconds left and then added a two-point conversion to beat Marion 44-42 last Friday. Blair accounted for all six Pine Bluff TDs last week.
West Memphis hasn't won more than six games in a season since 2012 when Coach Lanny Dauskch guided the Blue Devils to an 8-4 finish.
Pine Bluff at Cabot extended highlights.

LAST WEEK
Hootens.com correctly picked winners all eight games involving 6A teams. For the season, hootens.com has correctly predicted 71 of 87 winners (82 percent).

WEEK 9 PREDICTIONS (favored team in CAPS followed by point spread)
6A EAST
Pine Bluff at WEST MEMPHIS (1): Game of the Week.
Jacksonville at MARION (35): Marion senior receiver Collins Chambers caught 8 passes for 191 yards and four TDs in a last-minute loss at Pine Bluff last week. Jacksonville's 54-7 loss to West Memphis last week was its worst since losing to Pulaski Academy 55-7 in 2014.
JONESBORO (43) at LR Hall: Jonesboro scores 51.8 points and gains 608 all-purpose yards weekly with 510 yards offense (309 passing). LR Hall has totaled 53 points in six straight losses.
Mountain Home at SEARCY (8): Searcy rides a three-game losing streak but should win its final two to make the playoffs. Mountain Home has won two of its past three games. The Bombers last scored multiple wins in 2005 when they finished 7-4.

6A WEST
Lake Hamilton at BENTON (7): Look for Benton to bounce back from its 16-point loss at Greenwood last week with consecutive wins (at Sheridan next week) to take the league's No. 3 playoff seed from Lake Hamilton, which travels to top-ranked Greenwood next Friday. Lake Hamilton returned a kick 77 yards early in the second quarter to beat Sheridan 14-7 last Friday. Lake Hamilton at Russellville extended highlights.
RUSSELLVILLE (11) at El Dorado: Resurgent Russellville looks for its eighth win in a season since 2009. Russellville passes for 213 yards and rushes for 152 yards weekly while the Cyclone defense has recorded 25 QB sacks this season. Watch extended Russellville vs. Lake Hamilton highlights. El Dorado led 42-6 midway through the third quarter last week at Siloam Springs. The Wildcats battered Siloam with 49 rushes for 338 yards. El Dorado likely travels to Pine Bluff, West Memphis, Jonesboro or Marion in the first round of the playoffs.
GREENWOOD (35) at Sheridan: Greenwood headed for 10-0 for the fifth time in six years. Senior safety Clayton Palmer made 12 tackles as Sheridan held Lake Hamilton to a season-low 177 yards in last week's 14-7 loss. Sheridan senior fullback McKinley Williams leads Class 6A in rushing.
Siloam Springs at TEXARKANA (7): Texarkana secures a playoff spot with a win and likely plays for the No. 5 next week against rival El Dorado. Siloam Springs could actually finish as a No. 5 seed with two wins and two El Dorado losses but most likely is out of playoff contention with a loss this week.