Class 5A Week 9 Rankings, Notes & Picks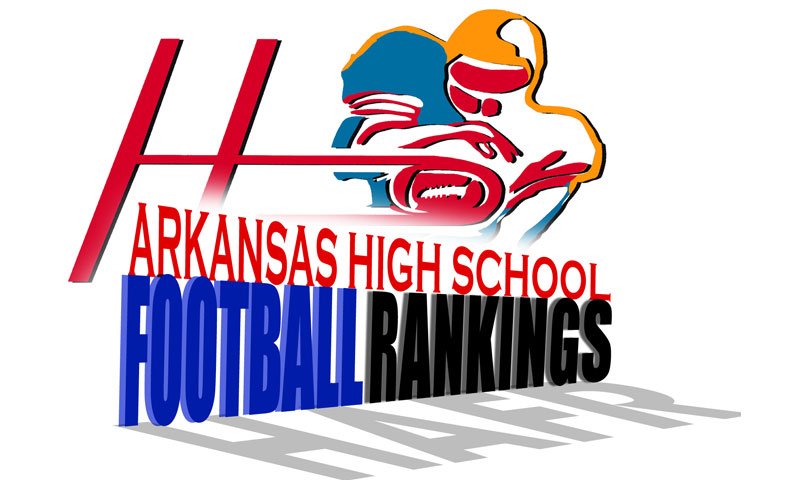 Hootens.com Rankings
Class 5A, Week 9, 2016
Copyright Hooten Publishing, Inc.
1. Pulaski Academy (7-1)
2. Wynne (8-0)
3. Morrilton (3-5)
Morrilton vs Alma highlights
4. Sylvan Hills (7-1)
5. Alma (5-3)
6. Batesville (5-3)
7. LR McClellan (6-2)
McClellan at LR Christian highlights
8. Greenbrier (7-1)
9. White Hall (7-1)
10. Watson Chapel (5-3)
11. Blytheville (5-3)
12. Forrest City (6-2)
13. HS Lakeside (4-4)
14. Harrison (6-2)
15. Nettleton (5-3)
16. Valley View (5-3)
17. LR Christian (2-6)
18. Farmington (3-5)
19. Camden Fairview (3-5)
20. De Queen (3-5)
21. Hot Springs (2-6)
22. Vilonia (4-4)
23. Maumelle (2-6)
24. Beebe (3-5)
25. Magnolia (3-5)
26. Mills (3-5)
27. Paragould (3-5)
28. LR Parkview (1-6)
29. Hope (0-8)
30. Clarksville (1-7)
31. Greene Co. Tech (0-8)
32. LR Fair (1-7)

GAME OF THE WEEK
No. 5 Alma at No. 8 Greenbrier
The winner probably gets at least a share of the conference title and the No. 1 playoff seed. Alma must win its final two games to get the No. 1 seed, while Greenbrier locks it up with a victory this week. Alma lost to Morrilton 28-26 in Week 6, while Greenbrier lost to Morrilton 35-27 a week earlier but was awarded a forfeit five days later.
Alma dominated Harrison a week ago, sprinting to an early 21-7 first quarter advantage and leading 35-7 at halftime. "I told the team I screwed up and put too much pressure on them against Morrilton," Alma coach Doug Loughridge says. "We reevaluated schemes and changed some personnel. Since, our offense and defense are playing lights out, more aggressive and physical."
Alma senior quarterback Noah Dotson ran for 62 yards against Harrison, and he has 97 carries for 542 yards and four TDs this season, while completing 105 of 181 passes (58 percent) for 1,709 yards and 14 TDs. Junior Garrison Jensen plays QB in short yardage and goal line situations, rushing for 226 yards and five TDs. Senior Jaedon Mitchell paces Alma with 77 tackles, while Jensen has 67 tackles (nine tackles for loss). The Airedales have racked up 45 tackles for loss this season. Alma put sophomore Zach Henson (6-4, 240) at end after the Morrilton game, and he's racked up 14 tackles and 2.5 sacks this year. Watch Alma at Morrilton extended highlights.

Greenbrier rolled to a 36-0 halftime advantage last week at Clarksville before winning 36-8. Senior QB Neal Burcham "is unbelievable," Loughridge says. "He's a Houdini, gets in and out of situations better than anyone we've seen." Burcham has completed 114 of 193 (59 percent) passes for 1,693 yards and 24 TDs this season, with just two interceptions. Burcham has 38 carries for 427 yards (second-most on team) and four TDs. Senior Cody Hooper leds Greenbrier with 96 carries for 576 yards and three TDs, while junior Sam Sutterfield has 67 carries for 397 yards and seven TDs.

TV SHOW
Hooten's Arkansas Football TV show airs on KATV (Channel 7) at 10:30 a.m. Saturday's this fall.

LAST WEEK
Hootens.com correctly predicted 15 of 16 games (94 percent). For the season, Hootens.com has correctly predicted 147 of 169 games (87 percent).

WEEK 9 PREDICTIONS (favored team in CAPS followed by point spread)
5A CENTRAL
BEEBE (35) at LR Fair: LR Fair averages less than three points and 90 yards per game. The War Eagles trailed Sylvan Hills last week 43-0 in the first quarter. Beebe ran for 443 yards in last week's 32-point win over Mills. Junior Nathan Burnett ran for 135 yards and one TD, while Kahlil Anthony had 134 yards and two TDs.
LR CHRISTIAN (10) at Mills: LR Christian didn't put up much resistance in the second half of last week's 28-point loss to LR McClellan, after trailing by seven points at halftime. Junior QB Jackson Bowersock passed for 198 yards and a TD. LR Christian vs. LR McClellan highlights. Mills surrenders 31 ppg.
PULASKI ACADEMY (17) at LR McClellan: This is a rematch of last year's state title game, which Pulaski Academy won 50-30. The Bruins also beat McClellan 41-30 in the regular season. PA averages 50 points per game this season. Junior QB Layne Hatcher has passed for 2,520 yards and 33 TDs, while senior Ray Jackson (27 catches, 545 yards and five TDs) and juniors Brett Lynch (24 catches, 413 yards and six TDs) and Trajen Johnson (26 catches, 462 yards and eight TDs) are the top receivers. Little Rock McClellan employs a time-consuming approach against passing teams, often milking the play clock under five seconds before snapping the ball. Senior Pierre Strong has rushed for almost 1,400 yards this season. Strong went off for 200 yards and three TDs in last week's 42-14 win over LR Christian. Strong and senior QB Dalvion Childs rotate on defense after season-ending injuries to junior twins and cornerbacks Tyrese Lair (foot) and Kyreek Lair (knee). LR McClellan at LR Christian extended highlights.
LR Parkview at SYLVAN HILLS (37): Sylvan Hills notches its second straight blowout (beat LR Fair 50-0 last week). The Bears finish anywhere between the No. 1 and No. 3 seed (depending what happens with Pulaski Academy and LR McClellan). Senior QB Jordan Washington ran for a pair of TDs and threw two more in the first quarter against LR Fair. LR Catholic at Sylvan Hills extended highlights. LR Parkview's Geary Allmon III ran for two TDs last week against Pulaski Academy.

5A EAST
BATESVILLE (28) at Greene Co. Tech: Batesville has won 14 of the past 15 over Greene County Tech. Batesville likely finishes as the No. 2 playoff seed after rallying with a pair of TDs in the final six minutes of last week's 33-30 win over Batesville. Greene County Tech QB Garrett Stovall has completed 91 of 169 passes (54 percent) for 995 yards and seven TDs in 2016.
Paragould at BLYTHEVILLE (14): There is bad blood between these programs, with the 2014 game getting called in the fourth quarter after a brawl. Blytheville can't get too down after collapsing last week at Batesville. The Chickasaws led 30-18 with less than six minutes left before giving up two late TDs in a 33-30 setback. Senior Demekko Clark has rushed for 1,480 yards this season. Paragould senior QB Zac Hoggard has passed for 317 yards and two TDs this season and rushed for 671 yards and eight TDs.
Forrest City at WYNNE (21): No. 2 Wynne has won nine of the past 12 in the series, including 36-6 last season. The Yellowjackets average 49 ppg. Junior QB Luke Chapman ran for a pair of first-quarter TDs in last week's mercy-rule win at Paragould. Forrest City is in the playoffs for the second straight season and could get the No. 1 seed with a victory. The Mustangs gained almost 400 yards in last week's 15-point win over Nettleton. Senior Trajan Norment caught six passes for 152 yards and one TD at Nettleton.
Nettleton at VALLEY VIEW (1): This is the seventh regular-season game between these rivals, with Nettleton holding a 3-2-1 advantage after winning the past two by a combined 77-23. Valley View led Greene County Tech by 28 by points in the third quarter last week. Nettleton trailed Forrest City 16-15 early in the fourth quarter last week before losing by 15 points. Nettleton vs. Pocahontas extended highlights.

5A SOUTH
CAMDEN FAIRVIEW (6) at Hot Springs: The Cardinals beat Hot Springs nine of the past 10 years, including 21-20 last season. Camden Fairview looks for its third straight win. Cardinal senior Chris Hargraves leads the state with 1,489 yards and 14 TDs. Hargraves ran 24 times for 270 yards and three TDs in last week's 21-point win over Hope. Hot Springs must win out and get some help to make the playoffs.
Magnolia at DE QUEEN (2): De Queen has won three of the past four over Magnolia since the two joined the same conference in 2012. De Queen trailed HS Lakeside last week 41-8 at halftime. Magnolia shook up the conference with last week's overtime win over Watson Chapel. Magnolia sophomore running back Kadyn Roach has 943 yards and eight TDs this year.
WHITE HALL (22) at Hope: White Hall can at least share the conference title if it wins out, and get the No. 1 seed coupled with a Watson Chapel loss. White Hall senior running back Lance Smith has rushed for more than 1,000 yards and 25 TDs this season, while senior QB Cameron Walden has thrown six TDs. Winless Hope allows 40 ppg.
HS Lakeside at WATSON CHAPEL (1): This game plays a huge role in the conference title chase after Watson Chapel's shocking seven-point overtime loss last week at Magnolia. The Wildcats failed to score on their final possession and again in overtime. Wildcat junior QB Jacobi Jackson has passed for 1,906 yards and 19 TDs this fall, while rushing for 301 yards and four TDs. Watson Chapel lost its final three games last season (including 52-48 at HS Lakeside) and its final two in 2015) Defending conference champion HS Lakeside scored two defensive TDs in the first half of last week's 34-point win over De Queen. Senior Dupree Swanson has 213 carries for 1,163 yards and 24 TDs this season.

5A WEST
ALMA (2) at Greenbrier: Hootens.com Class 5A Game of the Week.
Clarksville at VILONIA (10): Vilonia has scored just 36 points in conference games this year. Clarksville has lost seven straight games. Clarksville senior Diamante Polidore has rushed for 503 yards and one TD this season.
MORRILTON (21) at Farmington: Morrilton has never lost to Farmington. The Devil Dogs probably finish as the No. 2 or 3 playoff seed. Senior QB Caleb Canady passed for 296 yards and three TDs in last week's 28-point win over Vilonia. Canady has 1,700 yards, 21 TDs and just four interceptions this fall. Farmington failed on a two-point conversion attempt in the fourth quarter of last week's two-point loss at Maumelle. Senior QB Trey Waggle passed for 178 yards and one TD, but threw a pair of interceptions.
Maumelle at HARRISON (3): The teams split their two meetings, with Harrison winning 28-24 last season. Maumelle kept its playoff hopes alive with last week's 22-20 win over Farmington. The Hornets led 22-8 at halftime, between a TD run and pass from sophomore QB Xavion Morgan. Harrison trailed Alma 35-7 at halftime last week.