Class 4A Week 9 Rankings, Notes & Picks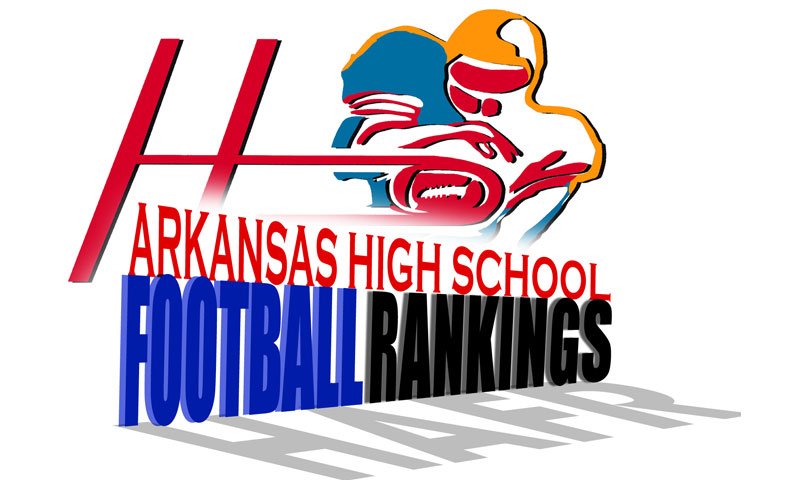 Hootens.com Rankings
Class 4A, Week 9, 2016
Copyright Hooten Publishing, Inc.
1. Nashville (8-0)
Nashville at Ftn. Lake highlights
2. Warren (8-0)
3. Prairie Grove (8-0)
4. Joe T. Robinson (7-1)
Robinson vs. CAC highlights
5. Pea Ridge (7-1)
6. Hamburg (6-2)
7. Ashdown (6-2)
8. Shiloh Christian (7-1)
9. Gosnell (7-1)
10. Dardanelle (6-2)
11. Pocahontas (6-2)
Poky vs. Nettleton highlights
12. Mena (5-3)
13. Dumas (6-2)
14. Booneville (4-4)
15. Heber Springs (4-4)
16. CAC (6-2)
17. Ozark (5-3)
18. Gravette (5-3)
19. Stuttgart (5-3)
20. Malvern (5-3)
21. Southside Batesville (5-3)
22. Dover (6-2)
23. West Helena (5-3)
24. Trumann (5-3)
Trumann vs. Hoxie highlights
25. Waldron (5-3)
26. Highland (5-3)
27. Pottsville (3-5)
28. Fountain Lake (2-6)
29. Arkadelphia (3-5)
30. Monticello (3-5)
31. Jonesboro Westside (5-3)
32. Crossett (2-6)
33. Riverview (3-5)
34. Cave City (3-5)
35. Huntsville (3-5)
36. Star City (2-6)
37. Dollarway (1-6)
38. Lonoke (2-6)
39. Lincoln (2-6)
40. Brookland (2-6)
41. Berryville (3-5)
42. Gentry (2-6)
43. Bauxite (0-8)
44. DeWitt (0-8)
45. Baptist Prep (0-8)
46. West Fork (1-7)
47. Subiaco Academy (0-8)
48. Harrisburg (0-8)

HOOTENS.COM GAME OF THE WEEK
No. 6 Hamburg at No. 2 Warren
Both teams played emotional rivalry games last week (Hamburg clipped Ashley County neighbor Crossett 27-21 in overtime, while Warren bested Monticello 28-14).
The winner gets the 8-4A title and No. 1 playoff seed. Warren has won four straight conference championships and 12 since Bo Hembree took over as coach in 2000. Hamburg hasn't won a conference championship since 1998, when coach Cecil Ray Cossey was a senior tight end. Warren has won six straight over Hamburg since a 7-6 loss in 2009.
Warren battled injuries early in the season (eight starters were out), but only two projected starters will miss this week. Lumberjack senior quarterback Hayden Lassiter has passed for almost 1,600 yards this season, but he's added another dimension to the explosive scheme with crafty runs. Lassiter (almost 700 yards this fall) blasted for a pair of TDs in the third quarter at Monticello. Senior Dennis Daniels capped the victory with an 18-yard TD sprint. Daniels has rushed for 1,106 yards this year. Warren gives up 22 points per game, but they'll use more two-way players when needed. Both Daniels and Lassiter play defense in crucial games, and both should see ample time this week. Senior Byron Person leads Warren in tackle.
Hamburg outscores opponents 37-20 this fall. They rallied with two TDs in the final three minutes last week against Crossett to force overtime. Senior QB Stetson Shelby threw three TDs and ran for another a week ago. "He's a ton better than last year," Warren coach Bo Hembree says. "He's throwing the ball better and is a threat to take off running." Hamburg's attack features receiver Laquan Bryant (6-4, 200), who could enjoy a big game against Warren's smaller cornerbacks.

TV SHOW
Hooten's Arkansas Football TV show airs on KATV (Channel 7) at 10:30 a.m. Saturday's this fall.

LAST WEEK
Hootens.com correctly predicted 21 of 24 games (88 percent). For the season, Hootens.com has predicted 211 of  250 games (84 percent).

WEEK 9 PREDICTIONS (favored team in CAPS followed by point spread)
1-4A
Gravette at SHILOH CHRISTIAN (14): Shiloh Christian gets the No. 2 playoff seed if it wins out. The Saints shutout Lincoln 49-0 last week, their first shutout since blanking Lincoln 40-0 a year ago. The Saints led 35-0 in the first quarter. Shiloh Christian QB Connor Reece completes 60 percent of his passes (125 of 208) for 2,056 yards and 22 TDs this fall, with just three interceptions. Gravette senior QB Kilby Roberts completes 83 of 150 passes (55 percent) for 904 yards and nine TDs this year, and he's ran for five TDs.
Berryville at PRAIRIE GROVE (30): Prairie Grove needs one more victory to wrap up its second straight conference title and fourth in five years. Prairie Grove gained 535 yards in last week's 34-point win at Gentry. Berryville rushes for 203 yards weekly, paced by senior Jacob Graham (91 carries, 643 yards and seven TDs).
PEA RIDGE (21) at Huntsville: Pea Ridge likely hosts Shiloh Christian next week for the No. 2 seed. The balanced Blackhawks gain 328 yards per game (200 rushing, 128 passing). Senior Zaine Holley has 126 carries for 799 yards and 10 TDs, while junior Drew Winn has 41 carries for 542 yards and 10 TDs. Huntsville gets in the playoffs by winning one of its final two games (travel to Berryville next week).
Lincoln at GENTRY (2): These teams were outscored by a combined 111-28 last week. Gentry QB Jon Faulkenberry ran for 103 yards and two TDs and passed for a score in last week's 62-28 loss to Prairie Grove. Lincoln has won six of the past nine against Gentry. The Wolves fell to Shiloh Christian 49-0 last week and have been outscored by the Saints 89-0 the past two years.

2-4A
CAC (32) at Baptist Prep: Defending league champion CAC has new energy after Heber Springs' loss last week at Southside Batesville. CAC senior QB Noah Evans has passed for 1,910 yards and 21 TDs this year. Watch CAC at Robinson and CAC vs. Clinton extended highlights. Baptist Prep has scored just 10 TDs this fall.
HEBER SPRINGS (10) at Riverview: Heber Springs still claims at least a share of the conference title and the No. 1 playoff seed with two more wins. Junior Andrew Engel paces a rushing attack that averages 157 yards per game. Engel has 103 carries for 540 yards and seven TDs this season. Riverview had three TDs negated by penalty in last week's 6-0 win at Baptist Prep.
Lonoke at STUTTGART (8): Lonoke owns Stuttgart, winning four straight times and seven of the past nine meetings, including a 34-7 triumph last year and a 28-7 decision in 2012 (Stuttgart's only loss during its state title run). Lonoke turned the ball over five times in last week's 28-point loss at CAC. Stuttgart has won three straight since losing to Heber Springs.
Southside Batesville at WEST HELENA (1): Southside Batesville's 24-20 win last week over Heber Springs was the biggest in school history. The Southerners set a school record with five wins this fall and likely make the playoffs for the first time. QB Josh Millikan was injured against Heber Springs, but sophomore backup Koby Rich threw a TD and ran for another against Heber Springs. West Helena won its previous two match ups over Southside Batesville by a combined 99-50.

3-4A
Cave City at TRUMANN (9): Trumann probably finishes as the three or four seed, depending on  headed to playoffs as the No. 3 seed. The Wildcats ran for 301 yards in last week's 28-point win over Brookland, with junior Cade Gartman dashing 12 times for 132 yards and three TDs. Cave City can make the playoffs with two wins and if Trumann loses Week 10 at Highland. Trumann beat Cave City 44-43 a year ago. Watch Trumann vs. Hoxie extended highlights.
BROOKLAND (17) at Harrisburg: Both are out of playoff contention. Harrisburg gives up 48 points per game, while Brookland allows 42 ppg.
Jonesboro Westside at GOSNELL (14): Jonesboro Westside likely headed to the playoffs for a school-record fifth straight year and sixth time in school history. Warrior senior Tyke Taylor ran for three TDs in last week's 42-0 win over Harrisburg. Gosnell has never lost to Jonesboro Westside, and the Pirates need one more win to earn their third league title in four years after beating Pocahontas by six points last week. Sophomore Cadarius Young bulled 4 yards for the winning TD with 1:49 left.
POCAHONTAS (8) at Highland: Pocahontas has split the past two with Highland, winning 67-35 last year (Highland won 27-22 in 2014). Highland sophomore QB Tristan Hudson accounted for 353 yards and five TDs in last week's 19-point win at Cave City. Redskin senior Barkley Sorg has 136 carries for 853 yards and 12 TDs this year after gaining just 38 yards against Gosnell. Watch Poky vs. Nettleton extended highlights.

4-4A
BOONEVILLE (30) at West Fork: Booneville likely needs one more win to secure a playoff spot, and the Bearcats can tie for the league title and get the No. 1 seed with some help. Booneville passed for 137 yards and one TD, but threw four interceptions, in last week's 17-7 loss to Dardanelle. West Fork makes the playoffs with two wins and a Booneville loss next week to Subiaco Academy.
Ozark at DARDANELLE (1): Ozark has won five of the past nine in the series. But this could be for the conference title. Ozark can get its first league championship since 2011 with two more wins. Ozark sophomore QB Dawson Dietz has completed 57 of 100 passes for 784 yards and nine TDs, with five interceptions. He's also ran 54 times for 315 yards and five TDs. Dardanelle was won back-to-back league titles. Junior QB Elyas Carter showed out last week against Booneville, completing 19 of 27 passes for 267 yards and two TDs, and rushing 14 times for 111 yards. Sophomore cornerback Caynan Taylor leads the Sand Lizards with five interceptions.
Waldron at DOVER (2): Waldron must win one more game to make the playoffs (host Dardanelle next week), and the Bulldogs can share the league title if it wins out and gets some help (Ozark and Booneville losses the next two weeks). But they can miss the playoffs with two losses coupled with two Pottsville victories. Dover gives up just 18 ppg.
POTTSVILLE (28) at Subiaco Academy: Pottsville will be favored in its final two games, but the Apaches could be squeezed out of the playoffs if they don't get some help (need a Waldron loss). They gave up 62 points to Ozark last week, the second-most in school history (allowed 63 at Pulaski Academy in 2011 quarterfinals).

7-4A
Ashdown at JOE T. ROBINSON (2): The winner gets the No. 2 playoff seed. Ashdown led Arkadelphia 19-0 at halftime last week and held on 39-29. Ashdown gains 432 yards weekly, and had almost 600 yards against Nashville and 520 against Arkadelphia. Junior QB Jaden Hill gets better every game after missing most of the off-season with a sore arm from playing baseball. Hill has completed 132 of 239 passes (55 percent) for 2,153 yards and 22 TDs this fall. Joe T. Robinson has never beaten Ashdown (0-4 record). The Senators blasted Bauxite 44-0 last week, jumping to a 38-0 halftime advantage. Junior TE/LB Hunter Swoboda (concussion) and WR/DB Nathan Page (hand) didn't play against Bauxite. Watch Robinson vs. CAC extended highlights.
Bauxite at ARKADELPHIA (18): Bauxite has lost 10 straight games, dating back to last year's seven-point win at Waldron. Arkadelphia has lost five straight games but likely makes the playoffs if it wins out. The Badger offense woke up last week with four second-half TDs at Ashdown.
MENA (13) at Fountain Lake: Mena probably finishes as the No. 3 or 4 seed. The Bearcats gave up a TD in the opening minute of last week's 35-point loss to Nashville. Fountain Lake gave up a TD on the first play of a 37-point loss at Malvern. The Cobras gained just 176 yards. Watch Fountain Lake vs. Haskell extended highlights.
Malvern at NASHVILLE (17): Nashville claims its third straight conference title (and fifth in eight years) with one more win. Scrapper junior QB Tyler Hansen passed for 256 yards and two TDs in last week's mercy-rule win at Mena, while senior Darius Hopkins ran for 109 yards and three TDs. Hopkins has 1,318 yards this fall and a state-best 27 TDs. Expect Malvern to try to score or at least set up a TD with superb special teams. Junior QB Demias Jimmerson threw five TDs last week against Fountain Lake, and he's also the Leopard punter.

8-4A
Hamburg at WARREN (6): Hootens.com Class 4A Game of the Week.
STAR CITY (10) at DeWitt: Star City can make the playoffs if it wins out and Crossett loses this week to Dollarway. The Bulldogs returned a blocked punt for a crucial fourth-quarter TD last week against Dollarway.
Dollarway at CROSSETT (7): Dollarway hasn't lost a conference game to Crossett since 1983. But the Cardinals score just 14 ppg this year. Can Crossett muster enough emotion this week after a last week's gut-wrenching overtime loss to rival Hamburg? The Eagles likely need one more more victory to make the playoffs. They led Hamburg by 14 points late in the fourth quarter last week but gave up two TDs in the final 2:31 of regulation, then failed to score in overtime.
DUMAS (8) at Monticello: Monticello makes the playoffs with one more win, and the Billies have won four of the past six over Dumas. Monticello led Warren by one point at halftime last week before losing 28-14. Dumas can finish anywhere between the No. 1 and No. 4 seed. Dumas senior D.J. Fuller has 156 carries for 1,119 yards and 25 TDs this year.