Class 2A Week 9 Rankings, Notes & Picks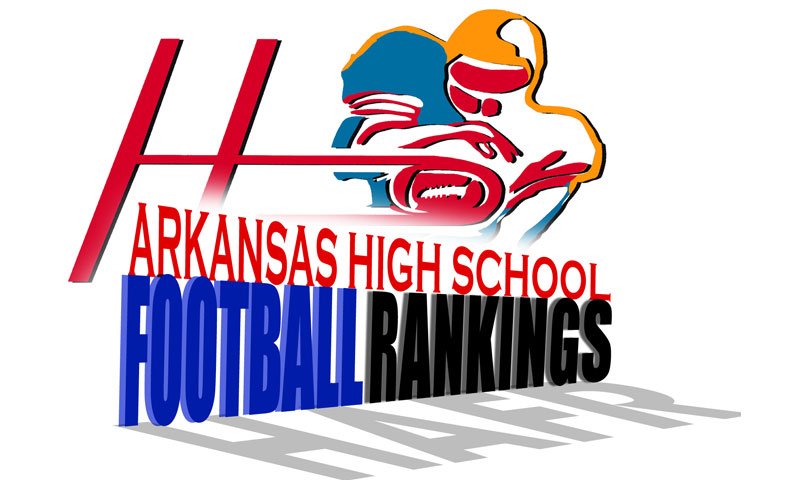 Hootens.com Rankings
Class 2A, Week 9, 2016
Copyright Hooten Publishing, Inc.
1. England (8-0)
England vs Hector highlights
2. Hampton (8-0)
Hampton vs C. Harmony Grove highlights
3. Hector (7-1)
4. Danville (8-0)
5. Des Arc (7-1)
Des Arc vs. Bald Knob highlights
6. Rison (5-2)
7. C. Harmony Grove (4-4)
8. Bearden (3-4)
9. Hackett (7-1)
10. Dierks (5-3)
11. Conway Christian (6-2) 
12. Mount Ida (7-1)
13. Foreman (6-2)
14. Cross County (7-1)
15. Quitman (7-1)
16. Carlisle (5-3)
17. Lavaca (5-3)
18. Murfreesboro (5-3)
19. Earle (5-3)
20. Parkers Chapel (4-3)
21. Palestine-Wheatley (6-2)
22. McCrory (5-3)
23. Mountainburg (5-3)
24. E. Poinsett County (5-3)
25. Marked Tree (5-3)
26. Salem (4-4)
27. Woodlawn (4-3)
28. Mineral Springs (2-6)
29. Cutter M. Star (3-4)
30. Hazen (2-6)
31. Brinkley (2-5)
32. Lafayette County (1-7)
33. Magnet Cove (2-6)
34. Clarendon (3-5)
35. Bigelow (2-6)
36. Augusta (2-6)
37. Spring Hill (2-6)
38. J.C. Westside (3-4)
39. Strong (1-7)
40. Magazine (3-5)
41. Poyen (1-7)
42. Decatur (1-6)
43. Western Yell County (1-7)
44. Mountain Pine (0-7)
45. Rector (0-6)
46. Midland (0-8)
47. Marvell (0-7)

GAME OF THE WEEK
No. 6 Rison at No. 2 Hampton
It's the biggest game at Boyd Arnold Stadium (named for Hampton program founder and former 1950 Rison championship coach) since Hampton lost to Augusta in the 2001 state quarterfinals. Hampton owns wins over Camden Harmony Grove and Bearden this year. Bearden's defense schemed to take advantage of Hampton senior offensive tackle Rusty Williams (6-1, 180) and sophomore OT Rylan Turner (6-2, 180) last week, and the plan backfired. Hampton senior QB Monta' Thomas (1,255 rushing yards) carried 12 times for 245 yards and five touchdowns, smoothly running the midline option and fooling the Bearden defense with his ball-handling. Senior FB Emmanuel Hegler carried 16 times for 101 yards. Hampton's defense (allows 16 ppg) must get off the field against a slow, grinding Rison offense that held the football 36 minutes (eight series) last week to Camden Harmony Grove's 12 minutes in a 34-26 overtime victory. Rison ran the football 73 times with sophomore Malik Chavis carrying 25 times for 132 yards and two TDs, including the game-winner in OT. Rison allowed a 60-yard punt return for a TD, the first it has given up since Junction City's JaQwis Dancy took one back in 2012, according to Rison historian Stan Sadler. Rison has dominated the series (21-7) that dates to 1965 with Hampton's wins coming in the 1970s and early '80s. Hampton last beat Rison in 1982, but Rison had to score late to defeat Hampton 41-33 in 2013.
Hampton vs C. Harmony Grove highlights

LAST WEEK
Hootens.com correctly picked 17 of 22 games (77 percent) involving Class 2A teams. Hootens.com is 162-38 (81 percent) for the season.

WEEK 9 PREDICTIONS (favored team in CAPS followed by point spread)
3-2A
E. Poinsett County at CROSS COUNTY (6): Cross County outscored Earle 12-0 in the second half last week for a 20-14 win, claiming sole possession of first place  in the 3-2A. Cross County junior Kaylob Boykin made a team-high 11 tackles as CC held Earle to 221 yards and 11 first downs. Earle did not convert on third down all night (0 for six). CC sophomore Jackson Henderson (6-1, 235) ran 36 times for 147 yards and senior Marcus Boykin caught four passes for 59 yards and a TD. EPC executed well early last week in a 52-7 rout of Rector.
SALEM (35) at Midland: Salem back up this week, beating EPC 28-24 two weeks ago and losing last week to Marked Tree 30-28.
MARKED TREE (42) at Rector: A Marked Tree win, coupled with an EPC loss this week at Cross County, would set up a big Week 10 game at Cross County for Marked Tree. Marked Tree overcame four turnovers last week in a 30-28 win over Salem.
EARLE is open.

4-2A
HACKETT (21) at Lavaca: Hackett senior QB Ely Stormes completed 10 of 13 passes last week for 248 yards and three TDs in the first half of a non-conference 46-6 blowout of Mountainburg. Robert Collins caught five passes for 165 yards and a TD. As the 4-2A second playoff seed, Hackett likely runs into top-ranked England in the second round of the playoffs.
Decatur at DANVILLE (45): Decatur notched its first win of the season last week, 28-14 over winless Western Yell. Danville passed its 4-2A test two weeks ago at Hackett, 32-22. As the 4-2A top seed, Danville has a clear path to the quarterfinals.
Magazine at MOUNTAINBURG (33): Mountainburg should lock up the third playoff seed with a win. Junior Conner Rogers racked up 12 tackles last week in a 40-point loss at Hackett. Rogers has 66 tackles (26 solo) for the season.
J.C. WESTSIDE (16) at Western Yell County: J.C. Westside eyes league's fifth and final playoff berth after getting past Magazine 6-0 in overtime last week.

5-2A
CUTTER M STAR (21) at Bigelow: Cutter M. Star rebounds from a 49-0 beatdown last week by visiting Conway Christian. CMS managed just 98 yards and six first downs in the loss.
Poyen at HECTOR (35): Hector could not hang with top-ranked England last week, trailing 28-0 at halftime. Hector managed just 113 yards and five first downs in a 35-6 loss. As the second seed from the 5-2A, Hector plays host to the fourth seed from the 8-2A, possibly Bearden, which it beat 30-14 Week 2. Highlights of Hector's Week 5 win over Conway Christian.
ENGLAND (28) at Quitman: No. 1 England did not suffer letdowns after early-season wins over Class 4A Hamburg in the Arkansas Blue Cross & Blue Shield Kickoff Classic and at Class 3A Junction City, and likely won't this week after handling Hector 35-6. As the top playoff seed, it's hard to imagine England slipping up in November. Watch England vs Hector highlights.
Magnet Cove at CONWAY CHRISTIAN (6): Magnet Cove playing best football of the season, and it has defended fast-paced Conway Christian well in previous years. CC won 27-14 last year and 17-14 in 2014. Magnet Cove won 32-26 in OT in 2013. Magnet Cove produced 351 balanced yards last week in a 35-8 win over Bigelow, and senior RB Zach Dunlap topped 100 yards for forth time this season. Conway Christian sophomore QB Jacob Wood running more outside zone read as the season progresses. Wood carried seven times for 55 yards and a TD last week in a blowout of Cutter M. Star. He also completed 12 of 17 passes for 234 yards and five TDs.

6-2A
Palestine-Wheatley at DES ARC (33): Three weeks ago, this matchup loomed large, but P-W has since lost to Carlisle 38-12 and Lavaca 39-12. Unbeaten Des Arc should sweep the league, capturing its first league crown since 2013.
Clarendon at CARLISLE (37): Carlisle stays in position to secure the No. 2 playoff seed with McCrory coming to Carlisle Week 10.
BRINKLEY (12) at Augusta: Brinkley led Carlisle 30-6 in the first half last week but lost 40-36 despite three TD runs and a 10-yard TD toss by senior QB Accoreia Couch.
HAZEN (35) at Marvell: Hazen stays in hunt for fifth playoff berth.
MCCRORY is open.

7-2A
Murfreesboro at FOREMAN (2): Could be a shootout. Murfreesboro fairly healthy and clicking offensively, running senior RB Gavin Gardner 25 times two weeks ago for 196 yards and six TDs in a blowout of Mineral Springs. Last week, senior QB Ryan Roberts took off for 227 yards and four TDs in a blowout of Spring Hill. Foreman senior FB/LB and team captain Kolton Moore (ankle) is is questionable, but sophomore speedster Kyren Batey (887 yards, 11 TDs) will be ready to go. Senior QB Tucker Hall makes the Gators' Flexbone flow, rushing a team-high 114 times for  923 yards and 12 TDs.
MINERAL SPRINGS (12) at Lafayette County: Mineral Springs moved the football and stayed close for awhile last week in a 42-24 loss to Foreman. Mineral Springs likely secures the league's fifth playoff seed.
Spring Hill at DIERKS (37): Dierks took advantage of Mount Ida's standard  three fumbles a game last week and whipped the Lions in all phases of the game en route to a 42-21 victory. Mount Ida led 14-13 at halftime but struggled on offense all night, producing 157 yards rushing (3 ypc). Dierks ran for 312 yards (9 ypc) with senior Lane Woodruff carrying seven times for 134 yards (19 ypc) and TD.
MOUNT IDA (13) receives forfeit from Mountain Pine.

8-2A
Rison at HAMPTON (1): Hootens.com Game of the Week.
BEARDEN (26) at Woodlawn: Bearden junior QB Tyler Berry ran for 100 yards and senior WR Keshawn Lee had 60 yards in receptions last week in the 18-point loss to Hampton. Senior LB Kendal Porter and junior LB Gage Word have recorded 80 and 79 tackles, respectively this year.  Woodlawn fell behind Strong early last week but rallied for a 29-18 victory behind senior slotback Tyler Gulledge and sophomore RB Nick Ward.
PARKERS CHAPEL (8) at Strong: Parkers Chapel stays in position to earn the fifth and final playoff spot,
CAMDEN H. GROVE is open.