RECRUITING: No. 1 Junction City vs. No. 2 Fordyce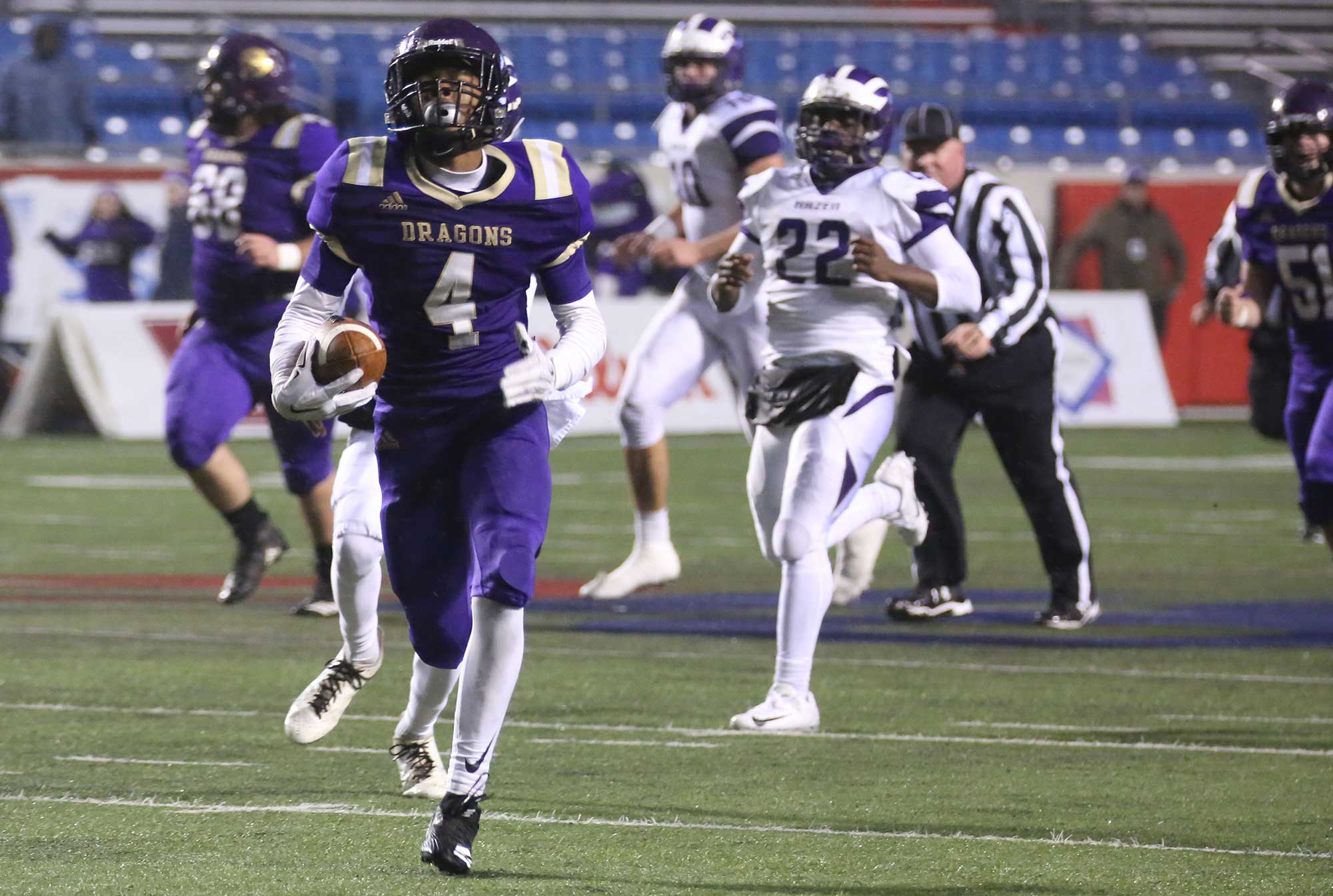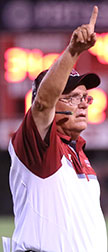 FHS hc Rodgers
It's the biggest game in the state this week and the Class 2A Game of the Year to date. 
Undefeated and No. 2 Fordyce (7-0) travels Friday to battle Class 2A No. 1 Junction City (6-1) for the 8-2A championship.
Big games are the norm for top-ranked Junction City. The Dragons have won seven state titles since 2003 and played for two more. They've won 19 straight games with their last home loss in 2016 (26-13 to Fordyce).
People in Union County know you don't build a powerhouse without talent (five Division I signees in the past decade), and the 2019 Dragons feature plenty of skill players. Watch highlights of Junction's 30-26 loss earlier this year to Class 3A No. 1 Camden Harmony Grove HERE.

Senior running back Jakiron Cook (6-0, 180) averages 9 yards per carry this year while running in 13 touchdowns. At cornerback, Cook (in Rhonda Sharp photo above) "made as fine of an interception as you'll see against Hampton," Junction City head coach Brad Smith says. "He delivers violent hits and is always around the ball."
Ouachita Baptist has pursued Cook this off-season, and Smith believes Arkansas-Monticello will recruit him later in the fall.
Cook paced Junction City in receiving in 2018 but has just one reception this year after the emergence of senior Harlandus Frazier (5-11, 155).
Frazier rejoined the program in the spring after not playing football since junior high "and has been our key addition," Smith says. "He has elite (4.5) speed and can burn defenses." Frazier averages 31 yards per catch this fall. He's caught 10 TDs and scored four more on kick/punt returns.
The University Arkansas-Pine Bluff started recruiting Frazier "once they found out who he was," Smith says. Frazier's brother Shuvasceiaye Frazier was an all-state quarterback for the 2017 Class 3A state runner-up Dragons.
Senior Kyle Kidwell (6-0, 250), an all-conference defensive lineman in 2018 (end, noseguard and tackle), is getting recruited by colleges as an H-back. Kidwell squats almost 500 pounds, bench presses 305 pounds and power cleans 265 pounds. Kidwell anchors a defense this fall that allows 10 points weekly.
"The hotter the action, the more he likes it," Smith says. "He's fast enough to play (H-back) and has a nasty, mean and physical disposition."
Senior Jamie Carroll (6-2, 195) shifted from the defensive line to linebacker in the spring "because he moves like a running back," Smith says. "If a college takes a chance on him and he adds 25 pounds, they'll have a true pass-rush, hammer guy." Smith believes Carroll will sign in February with a Junior College.
Junction City senior QB Brady Hutcheson (5-10, 195) has passed for 907 yards and 11 TDs. He completes 70 percent of his passes with only two interceptions. Receivers have dropped eight of his attempts. Smith says Hutcheson throws the ball 50 yards in the air and can play college football.
While Junction City has stacked recent playoff success, second-ranked Fordyce hasn't won a state title since claiming consecutive championships in 1990-1991. But this week's showdown at Junction City "is what we've been preparing for the past two years," Coach Tim Rodgers says. "We started a lot of sophomores and three freshman (in 2017). We were close last year (lost to Junction City 7-6) and feel this our year."
Fordyce has outscored opponents 338-94 this year. Watch highlights of the Redbugs 46-22 win earlier this year over Class 3A No. 1 Camden Harmony Grove HERE. Senior receiver/defensive back De'Arius Sledge (6-1, 175) has garnered recruiting interest from Henderson State, Ouachita Baptist, Southern Arkansas and UAM. His brother Ketric Sledge plays for Henderson State.
De'Arius Sledge (4.5 speed) has 10 carries for 262 yards and four TDs this fall. He has caught 14 passes for 207 yards and two TDs and 31 tackles in the secondary. Sledge excels at baseball (batted .357 last year) and could play both sports in college.
Junior Josh Harrington (5-10, 180) bench presses 275 pounds and could develop into a D2 linebacker. Harrigton paces the Redbugs this fall with 52 tackles. Harrington has started every game at offensive guard and linebacker the past two years.
"We noticed on film last year that Junction City bullied him around," Rodgers says. "He went to the weight room to make sure it wouldn't happen, and no one has pushed him around this year."
Junior defensive tackle Gary Lewis (6-2, 200) was another key freshman starter in 2017. Lewis missed the past two games with a knee injury, practiced Monday in a knee brace "and will be a game-time decision," Rodgers says. Lewis (21 tackles, two sacks in five games) visited the University of Arkansas on Oct. 19 for the Auburn game, and should be a big-time recruit, Rodgers says. Lewis shut down Class 3A No. 2 Rison with 10 tackles Week 1. "His dad is big, and he'll grow another three or four inches," the coach says.
Another two-way player, junior Ja'Quez Cross (5-9, 150), is Fordyce's top skill player. Cross, who played in junior high at nearby Hampton, "can do a little bit of everything," Rodgers says. "He recognizes things on the field and lets the coaches know. He can make adjustments and has a sense for football you can't teach."
Cross leads the Redbugs with 29 catches for 537 yards and eight TDs, averages 15.2 yards per carry and 27.3 yards per kickoff return and 17.3 yards per punt return. Defensively, Cross has logged 25 tackles and five interceptions.
The Redbugs are underclassmen-heavy up front, and several linemen could play in college. Sophomore center/defensive tackle Carson Williams (6-2, 275) should develop into a DI prospect. William's brother, Sam, starts at Louisiana-Monroe.
Junior Ethan Carpenter (6-3, 265) and sophomore Dakota Wimberly (6-1, 275) own the size to play in college.
For more on the Class 2A Game of the Week and hootens.com prediction click HERE.