Hogs: Ragnow lost as injuries mount; notes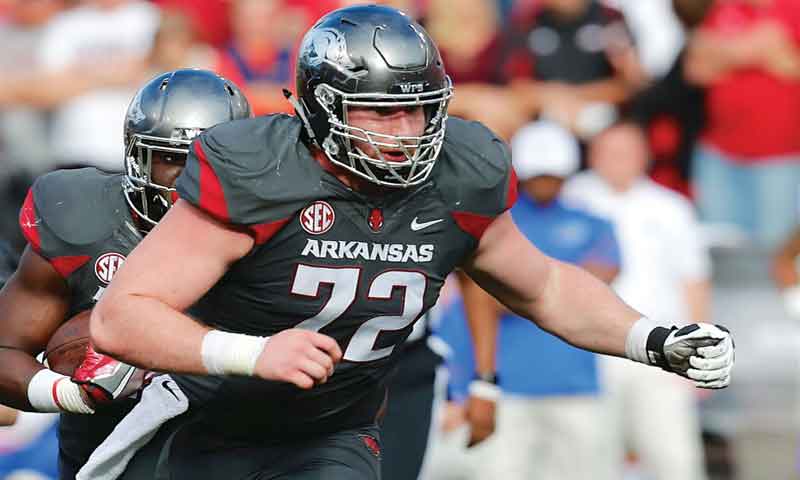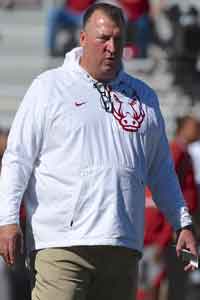 Hog HC Bret Bielema
By OTIS KIRK
FAYETTEVILLE - Arkansas got a double dose of bad injury news following its 52-20 loss to Auburn, including the loss of senior center Frank Ragnow (in photo above).

Freshman running back Chase Hayden limped off the field early in the second quarter following a 40-yard run. Ragnow also suffered a high-ankle sprain in the game and is out for the season.
Arkansas (2-5) plays at Ole Miss (3-4) at 11 a.m. Saturday on the SEC Network. Arkansas' homecoming game Nov. 4 against Coastal Carolina will kick off at 3 p.m. and be televised on the SEC Network.
"The big news is Frank Ragnow unfortunately received basically a high ankle sprain," Bielema said. "A pretty severe one that on Sunday we took a close look at it and has been confirmed that he'll be out for the rest of the year unfortunately. Sustained an injury that will probably need a procedure. The procedure we're looking into is about a 12-week recovery. It's unfortunate it takes that long, but it has a great success rate."
Arkansas cannot replace Ragnow's intelligence and athletic ability up front.
"At 315 pounds, the way he runs, his genetics, his ability to bend, move, flex," Bielema said, "and just his competitive nature is off the charts. Had several NFL people tell me during the course of this first seven weeks of the season he's probably playing not just as the best interior lineman, but one of the best linemen in the country they've seen all year. So he's playing at a high, high level."

Hayden rushed twice for 42 yards and caught a 23-yard pass against Auburn before fracturing his lower leg.
"It's non-surgical," Bielema said, "so he'll need about four to six weeks to recover. If we qualify for a bowl, he'd have a chance there. But he'd be out for the rest of it."
Arkansas also didn't have the services of safety De'Andre Coley against Auburn due to an ankle injury.
"De'Andre Coley, got a chance for him to come back this week," Bielema said. "We brought him with us to the hotel. He actually received treatments all weekend, doing everything he can to get back. Hope to get him back at some point this week, as well as (tight end) Jack Kraus."
Senior quarterback Austin Allen hasn't played since the third quarter of the South Carolina game due to a shoulder injury.
"He was throwing Saturday out on the field," Bielema said. "If there is a chance for him to play on Saturday, this Saturday, it's been the best of any of them to this point. But Cole Kelley will get the majority of the workload, unless Austin really comes on strong at the end of the week. And see where we go from there."
Bielema said sophomore T.J. Hammonds will play exclusively running back now. The Joe T. Robinson grad spent most of this season at wide receiver, but played running back at Robinson and as a UA freshman last season. He work with Devwah Whaley and David Williams.
"Excited to get the ball in his hands," Bielema said. "He has not been healthy. He really hasn't. He had a meniscus tear, had surgery. A simple, clean procedure, but it set him out for 2-4 weeks at the beginning. We had a couple plays designed to get the ball in his hands I think against A&M, might have been South Carolina and literally got his foot stepped on Wednesday late in practice that curtailed him from really playing in that game. That lingered into the next week just being able to practice full-go."