Class 7A Week 9 Rankings, Notes & Picks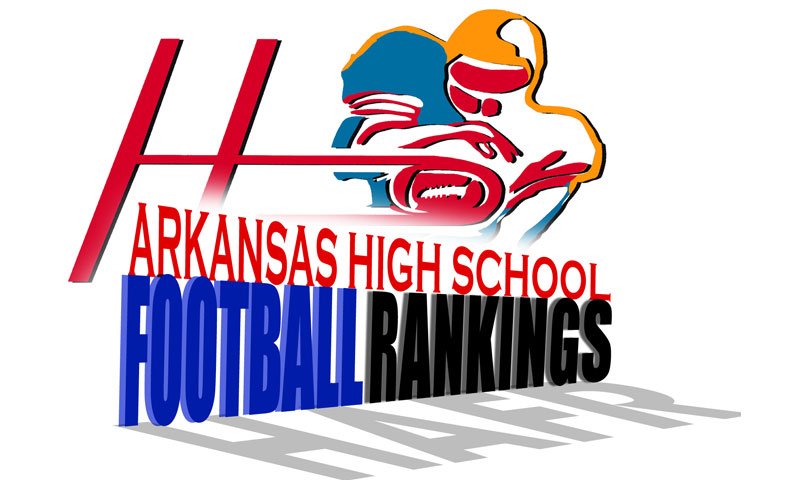 Hootens.com Rankings

Class 7A, Week 9, 2017

Copyright Hooten Publishing, Inc.


1. Bryant (8-0)

2. North Little Rock (8-0)

3. Bentonville (6-2)

4. Bentonville West (8-0)

5. Conway (6-2)

6. Fayetteville (4-4)

7. Springdale Har-Ber (5-3)

8. Springdale (5-3)

9. Cabot (4-4)

10. Little Rock Catholic (3-5)

11. Rogers (5-3)

12. Fort Smith Northside (2-6)

13. Fort Smith Southside (2-6)

14. Little Rock Central (2-6)

15. Rogers Heritage (1-7)

16. Van Buren (0-8)



GAME OF THE WEEK

No. 2 North LR at No. 1 Bryant.

Big one. It's a regular-season matchup of Class 7A's top-ranked teams taking place in Central Arkansas for the first time in 25 years. North LR belted Bryant twice last season, 38-7 in the regular season and 46-13 in the playoff semifinals. "We weren't even close," Bryant second-year coach Buck James says. "We hope we've narrowed the gap." 
North LR scores 39 points weekly and its offense appears better than a year ago. The Charging Wildcats totaled 572 yards in last week's 49-23 win over FS Northside. Graduation and the transfer of three returning starters to LR Parkview didn't help North LR's defense, though, especially at linebacker. Still, North LR's speedy stop troops have held six opponents to three TDs or less this season. All-state tackle Zavion Moore (6-2 250) is on the Farm Bureau Awards watch list for Class 7A/6A Defensive Player of the Year.  
Bryant starting QB Ren Hefley remains sidelined with a broken collarbone but could return in the early rounds of the playoffs. Sophomore QB Jake Meadors (5-9, 170) efficiently led Bryant to wins the past two Fridays, including 17-10 at Cabot last week when the Hornets had just five possessions. Bryant junior running back Latavian Scott (5-10, 175) rushes for roughly 125 yards weekly. Bryant's secondary has played well all season while junior middle linebacker Jakob Neel (6-0, 200) leads the team in tackles. The Hornet defense held Cabot to 170 yards (150 below its average) last Friday.
"North Little Rock is by far the best team we've seen on film," says James, now 17-4 at Bryant. "I think they are even better than last year."



TV SHOW

Hooten's Arkansas Football airs 10:30 a.m. Saturdays on KATV (ABC Little Rock) Ch. 7, covering the Razorbacks, high school teams and players to watch.



LAST WEEK

Hootens.com correctly predicted six of eight winners (75 percent) in games involving Class 7A teams. For the season, hootens.com is 61-19 (76 percent) in Class 7A.



WEEK 9 PREDICTIONS (favored team in CAPS followed by point spread)

7A CENTRAL

NORTH LR (7) at Bryant: Hootens.com Game of the Week

FS SOUTHSIDE (1) at LR Central: Southside QB Taye Gatewood passed for more than 300 yards in the first quarter and finished with 560 yards and six TDs in last week's 53-29 win over LR Catholic. It was Southside coach Jeff Williams' 100th career victory. LR Central lost at Conway 45-3 last Friday.
CABOT (4) at FS Northside: The return of Cabot's college prospect Dayonte Roberts (6-2, 280) at noseguard makes the Panthers much more formidable. FS Northside led early last week and trailed by just 15 points late in the third quarter of a 49-23 loss to undefeated North LR. Northside junior QB Derrick "Deuce" Wise (5-11, 180; 4.6 speed), a college prospect, stars for the Grizzlies.
CONWAY (7) at LR Catholic: Catholic totaled 356 yards but gave up 560 yards passing and committed four turnovers in last week's 53-29 loss at FS Southside. Conway likely plays at home in the first round as a No. 3 seed but could finish as high as No. 1 and get a first-round bye. Wampus Cat senior running back Michael George (4.5 speed) gains 8 yards per carry for 174.6 yards weekly.


7A WEST

Rogers Heritage at BENTONVILLE (35): Tigers tune up for next week's showdown with crosstown rival Bentonville West to decided the West championship. Bentonville has already earned a first-round bye.

BENTONVILLE WEST (35) at Rogers: Wolverines remain undefeated in just their second season of football and will play Bentonville for the league title next week. Rogers plays at Springdale next Friday with playoff seeding on the line.
Springdale at FAYETTEVILLE (14): Fayetteville earns the league's No. 3 playoff seed with a win and homefield advantage in the first round.
Van Buren at HAR-BER (35): Har-Ber ends a three-game losing skid and likely plays at home in the first round as a No. 4 seed.