HOGS: QB Storey ready; injury report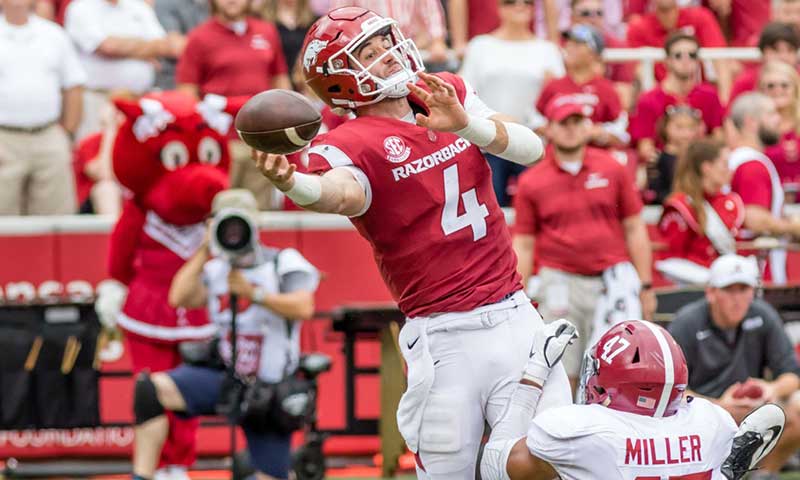 FAYETTEVILLE - Arkansas junior quarterback Ty Storey of Charleston passed concussion protocol Sunday and should start this week against Vanderbilt.
Arkansas (2-6 overall, 0-4 in the SEC West) plays host to Vanderbilt (3-5, 0-4) at 11 a.m. Saturday at Reynolds Razorback Stadium.
Arkansas coach Chad Morris and offensive coordinator/quarterbacks coach Joe Craddock confirmed Storey's status Monday. Storey exited in the fourth quarter of Arkansas' 37-33 SEC loss to Ole Miss on Oct. 13 in Little Rock. Though practicing Tuesday and Wednesday last week, he did not pass concussion protocol and did not play Saturday against Tulsa.
True freshman Connor Noland of Greenwood started with 6-7, 250 third-year sophomore backup Cole Kelley playing on short-yardage situations for Arkansas' 23-0 non-conference victory over Tulsa.
"He is cleared and was great and everything, excited to be back and ready to go," Morris said Monday while the Razorbacks took their weekly NCAA-mandated day off. Though unable to play, Storey was on the sideline last week assisting Noland and Kelley, Morris said.
"Looking back and watching the film, we definitely missed Ty's leadership on the field," Morris said. "But it was good to see him helping out on the sidelines."
Craddock said he fully believes Storey is ready to pick up where he left off exiting the Ole Miss game up 33-24 and not needing to punt until after his exit.
"He's doing good," Craddock said. "He tried everything he could do last week to play.   He prepared himself as if he were going to get the nod. He just couldn't clear the protocol. I know he wanted to play. But he passed his test yesterday and he'll be ready to go this week."
Morris and Craddock praised Noland for his poise, recovering a Rakeem Boyd fumble on Arkansas' first play and overcoming an interception on that first series.
With four games to play, Noland, previously mopping up the 44-17 loss to North Texas before starting against Tulsa, can play a maximum two more games and still under new NCAA rules preserve his freshman eligibility for 2019.
O-LINE RESERVES
Noland not only started for an injured QB but had a redshirt freshman, Dalton Wagner, starting at left tackle because junior starting left tackle Colton Jackson of Conway awoke Saturday with severe back spasms. Jackson missed the season's first two games recovering from July back surgery. Senior right guard Johnny Gibson of Dumas injured his knee during the Tulsa game and was replaced by junior guard Austin Capps of Star City.
Running back Rakeem Boyd and receiver Jared Cornelius were injured during the game. Reserve junior T.J. Hammonds (surgery) was on crutches at last Saturday's game. He likely won't play again in 2018 and should redshirt having played just four games.
"It was good to find a way to get it done, considering all the injuries that we've had to deal with on this side of the ball," Morris said.
On defense, starting cornerback Jarques McClellion exited Saturday's game injured.
Regarding the aforementioned injured players and their availability against Vanderbilt, Morris said Jackson's back spasms were not related to his back surgery and that he's "probable" against Vanderbilt.
Gibson is "day to day," but also expected to play, Morris said.
Morris said, "Boyd is back," but that Cornelius (ankle) will be reevaluated.
McClellion should play as should cornerback Montaric Brown (groin), Morris said.
DALTON BANISHED
Nate Dalton, the special-teamer/reserve nickel back Morris banished to the locker room after his deadball foul after a Tulsa fair catch, remains in the coach's doghouse. "He won't be around this week," Morris said.
CHIEF SMILES
After the Arkansas defense yielded 600-plus yards in the previous two losses to Alabama and Ole Miss, Arkansas veteran defensive coordinator John "Chief" Chavis had said he wanted cause to come smiling to a Monday press conference.
Shutting out Tulsa did the trick.
"Obviously it's a better feel today," Chavis said, "but what we've got to do to keep that better feel is get better."